Official CBS Sports app is ready to kick off on Windows Phone 8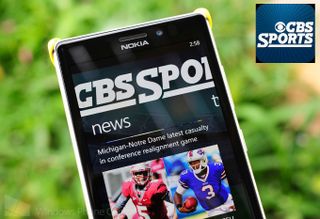 It has been some time since a big titled, official app landed for Windows Phone 8, so it's great to see CBS Sports launch theirs today. The app, resting at version 1.0 (although it oddly says 2.0 on the About screen) and freshly published to the Store, comes in at a modest 3 MB and will surely keep you up to date in the sporting world.
The app comes with numerous features and is generally what we would expect from such a high caliber media company.
CBS Sports version 1.0 Features
Scores - Football (NFL, NCAA); Baseball (MLB); Basketball (NBA, NCAA); Hockey (NHL)
Game Details - Tap a score to see score and stat updates. Follow the live action for NCAA, NBA, MLB, NHL and NFL with GameTrackers.
News - CBS Sports' industry leading sports writers provide you with great sports content
Standings - Standings for every league, including rankings for college sports
There is also a nice Video section as well. The CBS Sports app is certainly quick to load and the graphics are well done though Windows Phone 8 features are limited. There is no double wide tile, no pinnable sections or Lockscreen features, which is a bit of a shame. But the HD images and extremely fast performance may make up for the lack of options early on.
Overall, the CBS Sports app is a solid but somewhat lacking app, but it should provide a robust foundation for CBS to build off of. Let us know in comments what you think.
Pick up the official CBS Sports app for Windows Phone 8 here in the Store. Thanks, Nate, for the tip
Daniel Rubino is the Executive Editor of Windows Central, head reviewer, podcast co-host, and analyst. He has been covering Microsoft here since 2007, back when this site was called WMExperts (and later Windows Phone Central). His interests include Windows, Microsoft Surface, laptops, next-gen computing, and arguing with people on the internet.
No, not really. The app sucks.

YES!!! Support Support Support!!

The question is does it have a NFL fantasy app or section (WP8)? Many are missing including NFL, Yahoo, and CBS. (you can use the mobile website though)

100% agree. We need a fantasy app. ESPN has one and it's great.

You can access your NFL.com fantasy team through the NFL Mobile app.

Weeellll... Not really, but OK.

Yes, we need a CBS Sports FF app, either separately, or incorprated into this new app. NFL.com incorporated their fantasty football into the NFL Mobile app, so strike that off your list. Not sure how good it is. I am in two leagues on ESPN, so that app is great to have. I am in one league on CBS Sports, which we have used for 15+ years (the league is entering our 20th season overall), so it would be nice to have an app. However, the iOS app that I used on my iPhone was never the greatest, so I ended up using the full web-site many times, which I have to do now on my WP.

I dont see any support for FanFB or FB Pools... looks great but doesnt offer the same as iOS or Android :-(

NFL.COM Fantasy Football app should go live any day now as well Edit: it's already live in the Windows 8 store https://www.windowscentral.com/e?link=https2F%2Fclick.linksynergy.co...

That's nice for my PC and/or Tablet. Would be nice for my WP8 that's on the go for my last minute changes when I'm busy.

You can already access control of NFL.com fantasy teams through the NFL Mobile app that is already available on WP8.

Some functions don't work. I use IE Mobile that works great compared to the NFL Mobile app.

I haven't used it much, my draft was just last night.

Yahoo can do the fantasy Live draft on the mobile app too. Hopefully they come soon or before week 6.

The NFL fantasy app for window phone 8 should be live within a week

Really, they couldn't be bothered to make the logo square.

Just in time for my football pool!!

Damn, really wanted that fantasy function enabled. Maybe next year

Nice! I only wish it had notifications and live tile scores, like ESPN ScoreCenter used to have before it messed up.

Have you contacted them about this?
Please do if you haven't, I've been complaining for months and all I ever get is the "unpin from start screen, reinstall the app" and eventually "we've forwarded your concerns to the appropriated division".

Within their app settings/other/send feedback, it actually works unlike the support link in the CBS app.
Alternatively, I'm sure there is a contact link on their website.

"its has been some time...".
Come on Daniel... The last weeks were fully filled with numerous great official apps...
The vast majority of them were American specific channel televisions...
In fact, "it has been long time" since a not American exclusive official app was released...

It was kind of sarcastic...

About time, now they just need to add those missing features and include the ability to watch their live feeds (like for the Masters).
..
I just checked and they actually have it listed on their site right with the other OS apps.

They're coming, they're all coming! The naysayers will choke on their own words.

OneLouder made this app. Good grief... This just in, WPC is a hack.

What are you talking about? Apparently they made the CBS app for iPhone & Android too.

They probably didn't even run the app. Not that I blame any1, its quite lame. Wonder how much you have to pay to make " news "

What is WPC?!!! Also, yes, "this just in"... OneLouder makes the CBS Sports app on iOS and Android. So, what are you talking about?
http://onelouder.com/#sportcaster

Let me know when u read the article, until then u cannot discuss it intelligently. I'll give ya a week, let me know if you need more!

What's up your a$$? Yes, the app is lacking to start, but it is a start. I knew nothing about OneLouder, maybe you can enlighten us?

What on earth are you talking about?

Pretty lame. No support for favorite teams, no live tile, no thanks!

Very nice! Just in time for the NFL season. I'd like Fantasy Football access but hopefully that'll come soon after they notice user interest

I just tried to contact support through the app to list all the things missing and what is like to see added.
Unfortunately, as soon as I sent the message I got one back saying I don't have permission to post to the group or I may misspelled the group name... blah, blah, blah.
Interestingly, their "support" is through google. Coincidence?

Yea, that happened to me too. They're using Google Apps for their email service, and it looks like their support email address is (currently) non-existent so the emails get bounced back.

Crazy, I gave it couple of hours & tried again. No dice.
So, I went to their website and sent them the message there.

I dnt know what it is!! But i am happie just coz the word official.

Mine won't load twitter statuses - I'm getting an "Error at parse of statuses!" error. Anyone else have that issue?
Anyway, I contacted support via the app, so we'll see.
It's nice to see big names jumping on the WP bandwagon - let's hope it continues.

When you sent your message via the app to support, did it actually go through? I instantly received an email telling me it failed... twice.

No, it bounced back right away (within a minute or so).

Mine too. Send the feedback on the CBS Sports website.

Gametracker is clutch. No other sports app allows you to follow games live from within the app using play-by-play!

'Gamecast' on the ESPN app.

It's ok I've been playing with it now. it's smooth and functions good. but no live tile, no favorite team, the only thing that the settings do is ask if you would like to sign out of twitter, The app is ok. But to me when you make a WP8 app make sure that the tiles can actually do something after all it's really the main function of the device also it's all about that fast glance of information while on the move that is so important and what is so dam cool about WP8.

woo hoo, a picture of Jameis Winston on the cover photo! Go Noles!
[edit I just realized the other guy is E. J. Manuel!]

I wonder if this means we might get games streaming video for March Madness this year... Been left out for a couple of years now while Android and iOS have had it. I'm not even going to hope for it, but it would be nice.

...and The Masters.
I included that in my suggestion that I sent them via their website (their in app support link doesn't work for me).
I hope everyone here who cares do the same and reflect it in a review. Making our voices heard might actually work.

Do you have a link to the web page?

http://m.cbssports.com/s/9/Feedback? You may want use the site on a PC though, the comment box is a little hanky.

So no fantasy baseball? Without fantasy, why would anyone use this?

Wish someone would finally make a good scoreboard app that has a working live tile, scores on the lock screen, and most importantly can handle more than one favorite team.

I'm tired of ESPN showing me a baseball score from last week on it's broken live tile.

Oh my god yes!
Please tell ESPN about this! They refuse to acknowledge that their app is at fault and continuously tell me to unpin/reinstall and that's the only response I've got from them for months!

I switched to Bing Sports and have been happy with it.

I use both (I have about 15 sports apps - including one of my own). The thing is, only ESPN has the scores on the live tile - when it works.

Now NBC sports please so I can watch the Premier League!
Windows Central Newsletter
Get the best of Windows Central in in your inbox, every day!
Thank you for signing up to Windows Central. You will receive a verification email shortly.
There was a problem. Please refresh the page and try again.