The official companion app for Grand Theft Auto V is finally here on Windows Phone 8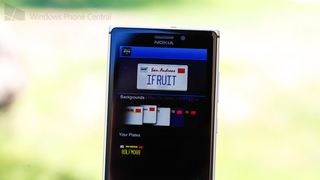 It took a while, but we're finally getting it. The official Windows Phone companion app for Rockstar's Grand Theft Auto V video game is available in the Store. We've gone over it before, but we'll give you a brief overview again and the download link after the break. Let's check out iFruit for Windows Phone 8.
Yeah, the app is called iFruit and is a dig at a certain company from Cupertino, California. It launched on iOS back when GTA V came out in September, but the Android and Windows Phone versions were listed as coming "later". Today is that later day. The app consists of two main parts, Los Santos Customs and Chop the Dog. Here's what they do in iFruit for Windows Phone 8:
Los Santos Customs
The Los Santos Customs app offers players the freedom to create their ultimate vehicle in Grand Theft Auto V from anywhere. At the bar, on the beach, on the toilet. This is the future, we're almost sure of it.
You can even create and reserve custom license plates for both Grand Theft Auto V and Grand Theft Auto Online – order your personalized plates before they're gone!
Chop the Dog
Depth of content, high production values, defecation. It's the app that has it all. Because who doesn't love tending to a virtual pet? Chop is Franklin's canine sidekick in Grand Theft Auto V. Look after him well in the "Chop the Dog" app and you will reap the benefits when playing as Franklin in Grand Theft Auto V. Pet him, feed and water him, play fetch and tug-of-war, teach him tricks. Too much or too little of an activity, however, will cause Chop to become unhappy, and nobody likes an unhappy Rottweiler. Take Chop on walks to give him a chance to work off last night's steak and Piswasser and to mark his turf in the hood - defending his ladies, fending off gang members and even protecting the beach babes of Los Santos from unsightly tan lines by removing their bikinis.
We quickly loaded up iFruit on our Lumia 1020 and were pleasantly surprised. We had no issues with performance in the brief few minutes playing with it. What we're really saying is that doesn't appear to be a lazy port of an iOS app, something we've seen a little too often for our liking.
The app is a fun way to manage your GTA V experience when you're away from your console and we're glad it's finally here for Windows Phone 8. Play GTA V? Download it and let us know what you think.
Want to get iFruit for Windows Phone? It's a free app that you can get from the Windows Phone Store, by using the QR code below, or swiping to the right in our app.
Thanks for the tip @wpscoops!
Get the Windows Central Newsletter
All the latest news, reviews, and guides for Windows and Xbox diehards.
Yeah, just in time for when people are moving on, just like the timing of 95% of the apps for WP. These types of apps need to launch with the game. On a similar note, I think they'll be announcing Candy Crush for WP at next years e3.

Agreed. It's funny too because a WP clone is present in the game (Trevor's phone), go figure. Why they waited so long to release it is beyond me.

95% People are moving on?? maybe around you but when either my bro and I play its always packed out lol. I just started.. but his on lvl 98.. damn addict lol, but I asked when I read you comment and he says its always packed out. He does shift work right now but his had very few shifts as his employer is bleeding cash like no tomorrow, so its cheaper to keep people on shifts then shelling out redundancy packages.

'it doesn't appear to be a lazy port'
Rockstar don't do lazy, their games are consistently incredible.

So you never came across any bugs in previous GTA's? San Andreas, although one of the best games of all time, was glitchy as fuk! However so was Just Cause 2 and that us epic too, but hints of laziness or rushing to get the game out there are visible

While San Andreas does have some bugs, its still a great game and was at the time a feat of engineering (may I remind you it came out almost 10 years ago)

Besides I was talking more about their recent games (red dead, GTA 4 and 5, max Payne 3 etc)

I'd imagine the glitches are less to do with programming skill and more with just how much they manage to cram into every game using the technology at hand. GTAV and San Andreas are both pinnacle achievements of their console generations and Rockstar was really able to squeeze every last drop of performance from the consoles they had to work with.

Waiiiiiit a minute EVERY GTA GAME HAS GLITCHES LOL

Gta V is riddled with bugs on multi and single player including a well known one that makes your single player game no unplayable

Finally :D this is good news for the platform, really

Mine doesn't appear in the app list??

Cool. Now that I don't play it anymore. Lmao

Ha, me too. Probably should have launched before One week. Unless they somehow get V on the one, I am probably done with it....

Yesss! Playstation app next!

Ha! Nice try Thorsten Heins

Who cares? Already finished the game and not playing anymore, late as usual.

Some of us have yet to dig into GTA V. Its next up in my to buy list.

A bit too late for me. I'm getting ready for Xbox one while this app just comes out

Seriously, just in time for the Xbox one...bad timing for this billion dollar earned game

Wow, that's a big file. Wish there was a way to do the same things online. :-/ Or on a Surface (when I get one).

Cool. Now I can really start playing it.

It crashes when you tap "Los Santos Customs." I'm using a NL920

It does on Apple, Android too. At this point I'm positive they are lampooning terrible phone apps.

A day late and a dollar short.

Custom plate is not working for me. Keeps saying social club error.

Two days after I beat it lol

Still can't get online so this app sucks for me :(

Just 2 months after the game's been released.. Thanks, I guess.

Just beat the game the other day badass game

We need EA/DICE to make a Battlelog app!

Do lurk in the forum about the complains about the worst game experience ever with BF4? First they need to fix their bloody game

Tip for new players: don't get your username or password wrong on sign in, because the sign in button gets permanently disabled after the first try ... Now to uninstall and download 218MB over again ...

The app crashes for me when I have to select xbox or ps3... I got both PS3 and xbox linked to my social club and when I select it I get out of the app... any help? :)

I haven't even got that far yet... :)

I had that problem, too. I set my phone's language to English (United States) and it worked. You need to have your phone in English everytime you wish to use the app, otherwise it just crashes.

Not really. Wait a bit and it gets enabled again. You should have waited.

I waited for quite a while. How long should I have left it for?

U should just remove the password and email

Happened with me, I just experimented with the fields a little and it flashed back on. Happened on the android version too when I used an emulator for it which is why I believe it's a lame port.

Now, if they could only get GTA V on Windows...

Hey I am having problems with new app customs car app not woking

This app makes my Lumia 925 get really hot within 10 minutes when I use it... And I mean hot as in temperature hot, coz I just realized how that statement can sound as soon as I started typing this comment.

Downloading now. Now if Activision updates the ghosts app for 512mb devices, I'll be good to go.

Now only need GTA V on PC.

While I appreciate the sentiment and the fact that they didn't forget us I forgot about this app once I beat the game.

More useful if it was released on the Surface

For those people saying it's too late, there are still the PC gamers lol.

uhh the UI are we on IOS ? I am not downloading it.

Its a pretty damn completely stupid app,in this point of the aging games life. Chops is cool but every one already missed the the 3 day advantage iPhone users had to create/join clans, social club is just a browser page that I had already been using on internet explorer, and the custom car shop is hilarious. Im just glad Rockstar used its resources to devote to making a windows app. Great great game but I stopped playing a while ago. also glad to at least get to play with chop

+1... I mostly use the stats page which is basically just a large website on a small screen. Useless.

Too late to the party Rockstar. I've sold the game already.

Yay a "companion app".. Great. Where the f*** is GTA 3, released on iphone and android ? Nowhere, but wait, we have a "companion app" for GTA 5. Wooohoo.

Every time i log in, accept ToS and select Xbox account, it quits the app. Anyone having same problem? Lumia 820

Yeah exactly the same thing when I try to select PS3. Kind of sucks when I'm unable to use the whole app. I tried to install it again but it didn't help.

I am glad to have it. I linked PS3 account and it is working fine for me [L920]. I just purchased the game so the timing is good for the those who may get the game for black friday deals.

Crashes every time I get to ls customs

Holy Moly, 218 mb download???

252mb install. LS customs is only meh as it said I was customizing my gauntlet, but it was actually my sabre. Still glad to finally have it. Anybody out there have really bad battery drain after installing this? Charged my phone last night and after being off the charger and in my pocket this morning during my 30 minute drive to work, I'm at 79%. Hadn't even touched it till now. Edit: have since disabled the background task as a precaution.

I don't even play the game anymore, let alone my PS3 or 360. I've moved on to my PS4. Like others have said, these sort of apps need to come out alongside the game, on all platforms.

The game is buggy, cant choose platform.. And much more.. Redo rockstar

it would be nice if i could download it