Grand Theft Auto V companion apps coming to Windows Phone from Rockstar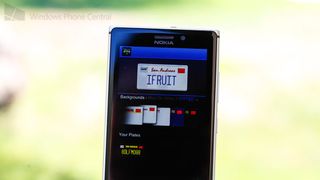 In a few short hours, the next installment in the Grand Theft Auto universe will be released. Rockstar hasn't had a main entry in the GTA universe since 2008, to say Grand Theft Auto V has been highly anticipated would still be underselling the hype surrounding the game. Earlier today we showed you guys and gals Windows Phone making a show in GTA V, but now you're going to take your game experience on your Windows Phone.
In that last post, we mention how Rockstar created a real app for the iPhone called iFruit. We pondered (not George) whether or not we'd see a similar app for Windows Phone. Turns out, we will.
There are two apps coming to mobile platforms from Rockstar: iFruit and The Manual. Both will be available for iOS first, with apps coming soon to Android and Windows Phone. Both apps will also be free when they're available for their respective platforms. Here are the descriptions of what you'll be getting with the apps
Grand Theft Auto: iFruit will feature two sections in the app called Los Santos Customs and Chop the Dog. Here's what you'll be doing in each of them.
Los Santos Customs - The Los Santos Customs app offers players the freedom to create their ultimate vehicle in Grand Theft Auto V from anywhere. At the bar, on the beach, on the toilet. This is the future, we're almost sure of it. You can even create and reserve custom license plates for both Grand Theft Auto V and Grand Theft Auto Online – order your personalized plates before they're gone! Also choose from paint jobs, window tints, smoke colors, wheels, hoods and spoilers. Upgrade your engine, brakes, exhaust, suspension, and accessorize with new lights, horns, tires and body armor. Place your order on-the-go and find it waiting for you in the garage the next time you play Grand Theft Auto V, or send your order in while playing and get a call from your local mechanic to swing by. Everybody's had some work done in Los Santos, so don't let your ride be the exception to the rule.
Chop the Dog - Depth of content, high production values, defecation. It's the app that has it all. Because who doesn't love tending to a virtual pet? Chop is Franklin's canine sidekick in Grand Theft Auto V. Look after him well in the Chop the Dog app and you will reap the benefits when playing as Franklin in Grand Theft Auto V. Pet him, feed and water him, play fetch and tug-of-war, teach him tricks. Too much or too little of an activity, however, will cause Chop to become unhappy, and nobody likes an unhappy Rottweiler. Take Chop on walks to give him a chance to work off last night's steak and Piswasser and to mark his turf in the hood - defending his ladies, fending off gang members and even protecting the beach babes of Los Santos from unsightly tan lines by removing their bikinis.
Grand Theft Auto V: The Manual
As this is the biggest Grand Theft Auto game to date, we literally couldn't fit everything into an old fashioned style printed booklet anymore so instead we have taken the tradition of the classic GTA game manual into the digital era properly and have created for you a massive over-100-page free digital app for smartphones, tablets as well as desktops called Grand Theft Auto V: The Manual. The official manual app has everything from essential and practical Game Controls, Features and Credits info to a tour through the activities and local shops and brands in the game – and best yet, a special digital version of the game map to zoom in and explore with an interactive legend to browse neighborhoods and points of interest all over the entire world of Los Santos and Blaine County.
No word on when either of these two apps will become available on Windows Phone, but we'll be sure to update you folks when you can download them. Rockstar will be uploading their page with links to download when they become available, which you can find as the source like below.
Earlier today the embargo on reviews of the game lifted. So far it's averaging 98 out of 100 on review aggregator Metacritic for the Xbox 360 version. Universal praise is flowing in for the massive open world and the sheer variety of gameplay options. New to the series is the addition of three main protagonists. Each of them actually have a smartphone that parodies either Windows Phone, an Android device, or the iPhone. The Windows Phone-like device is used by Trevor, the craziest and most clinically insane of the three characters.
How many of you pre-ordered GTA V? Looking forward to taking your GTA experience on the road with these companion apps for Windows Phone?
Source: Rockstar Games
Thank you everyone for the tips!
So eagerly waiting for my pre-order copy of GTA V to arrive and these apps. Ms store had best preorder deal, u get 1600 points i.e. 10$ in ur account. Yay!

I'm pretty sure that it is $20

Oh yeah, poor maths n awareness, greedy me was only happy with $10, now I have $20 to spend on apps everywhere.

Just ordered right now for that sweet 1600 points. Thanks for the info

Agreed, thanks for the info., just pre-ordered now. Great deal!

Awesome! Rockstar, supporting Windows Phone!

Its good to see Windows Phone getting the app and also being featured in the game.

This news made me want to buy the game sooner than later.

I Preorderd, having the companion app will be awesome!

Can't wait to pick up my copy tomorrow

Meh. Everybody goes on about GTA like it's the next coming of Christ. I don't get it personally. I mean, I've played them, I just don't get all the hype.

Play them again, they are worth the hype, trust me

I'm with fiann. GTA just doesn't do it for me

I liked 4 but my issues with being distracted kept me from finishing the game. I constantly found a fast car and just wanted to see how far I could jump it. I never even unlocked the second island.

I agree. I'm not a fan of these types of games, they tend to get repetitive and boring quick for me. But in all honesty I'll rent the game to at least try it out.

What other game let's you... Own stocks Buy a house Buy and customize cars Scuba dive Buy a plane Traverse against a world 3.5x the size of NYC Rob banks Do missions Complete races alone and with friends Ride in a submarine
Hm?


Don't worry they are over 30.

Your point is? Repetition in video games is boring regardless of age.

its like playing battlefield in 3rd person killing civilian's, once you finish the game kill a few more civilian's and put the game in closet for a year take it out and your like omg I still got this game you play for 30 mins. And take it to the nearest gamestop cause its boring.

Nah , have to get it the old fashioned way, Rockstar games store doesn't deliver to Saudi Arabia & I couldn't find a way to get it ... Hopefully tomorrow morning according to the local retailers !!! Can't wait to get the app

hmm maybe a little
I don't know......piracy
(sayings of an android fan which is not me)

I've got the iOS version of iFruit, and it's a neat idea. You can look after your in-game dog on your phone so that he behaves better in the game. And of course, designing your custom rides on the fly is pretty sweet. It's kinda bloated as an app though, but it's great that Rockstar is embracing mobile as part of the experience.
In an hour I'm heading out to get in line to pick up my pre-order too :D

This game will be massive

The question is: when? Because when the matter is Windows Phone, we never know when; and they never come. Nothing but empty promises...

Yup. MS should leverage their Xbox muscles and demand they make the WP version first.

Yeah, to hell with 96% of people with smartphones. They should demand that they cater to us first.

That's the spirit! Not forever dude. Just enough to start upsetting the iOS first ecosystem.

I freaking hate all these apps on iOS that aren't on WP It's like, come on, we're in the dark, man.

Same can be said from iOS devices (outside of the US). Android should always come first. Also in quit a few countries WP is allready bigger then iOS, so yes for those users: WP first :)

Where are Path, Vine, Instagram, Gameloft Games, Firefox, Opera Mini, 9gag, Pinterest...???!?? Almost they all promised apps like one year ago, and until now we have nothing from them, just unnoficial apps! I'm not a developer, but I want to know: is it this hard to develop for Windows Phone?? Does it have some kind of secret code that we have to burry in the sands of the desert to find the elements that allow to build an app? If they are not ready to release the app, it's simple: DON'T MAKE PROMISES! Please!
I don't expect to see Rockstar games before december 2013. :/ Maybe in june 2014 they arrive. If there won't have snow hampering them from making their work.

No, WP is the easiest platform to develop for, by far. The market is extremely small, offsetting the ease of development. Coming from a dev.

It's 100% Microsoft fault.
The marketshare on WindowsPhone its low, and everybody knows that, but to make it bigger, Microsoft needs to spend millions if they want to earn billions! Common sense!
They need to get people to go to Facebook, Instram, Youtube and many other HQ and even pay them to make an App. This popular services and apps would make WindowsPhones sells like hot cakes and I bet 90% of the people would chose WindowsPhones over any Android.
But once again, Microsoft is screwing everything. They even screwed all customers and developers with the bad transition from WP7 to WP8 that increased a lot the unedeed fragmentation...

Yes can't wait to get my copy. On the PS3! Oops... O.O

We banish you
You are banished

lmao I'm getting it for ps3 as well

I'll get around to playing this eventually, probably not until the price drops. Love the series... so many games, so little time.

Just torrent the game on PC

Or actually spend money towards the company so they can make future games without idiots pirating games/music....fuck stain. #umadbro

But most of the time pirates don't have problems with some ridiculous kinds of DRM

GTA V has not been announced for the PC yet

What he meant is to torrent it for the console

I'm playing now!!! Fantastic!
If they had implemented SmartGlass support this application would be available for all platforms at the same time.
I don't understand why they have built three different app!

Because they want you to be signed in to their own service. Which for a game like GTA V isn't at all unreasonable. It will sell by the bajillion

Or maybe for ps3 users to whom they would have had to make an app anyway

Probably because this is content to be used anywhere at anytime... not just when you are hooked up to Xbox.

How about porting gta 3 and vice city to wp8 now rockstar!

I'm waiting for it to be released for PC as it's not the kind of game I like to play on the PS3. However, I'm waiting for reviews this time...I still remember that God awful thing that was GTA4 and how, even today, I can't properly run the game on my PC 'cause the optimizations sucked big time.

I haz per ordr GTA sp3cial 3dit-ion!!!

This may be the start of rockstar acknowledging windows phone, hopefully followed by some GTA ports . . . Hopefully
Its about time

Suprised. thought they would only do iOS...

I'll be picking up my copy at midnight. Too off tomorrow. Had a lot of personal time to use or lose.

I didn't think we'd get this. Mind blown

Big up's to Rockstar for including WP!

At least you get a windows phone in the game!

One of the many reasons I love Rockstar.

Great news. I've been playing the game since Friday and when I saw there was going to be a companion app for real smartphones I thought we would get the shaft.

Good news and some WP love! The great news is that I haven't resorted to real crime in order to satiate my need to commit virtual crime. Of course I still have a few hours till I can actually get my hands on it...

Going to the mid night release tonight!

Something about them hiring gang members to do voice overs in the game doesn't sit right with me. So no, I will not be supporting this game and let that be the reason.
Great way to incentivize gang membership, Rockstar. How much do you contribute to gang members aspiring to be voice actors as they continue in their lawlessness? Are you financing their next weapon of choice?
This just sickens me and I don't know why no one else sees this as a problem. News media, I know you overuse the word controversy, but this is the real deal.
http://www.theverge.com/2013/9/4/4693052/gta-v-features-real-gang-members-as-voice-actors

When I heard about Rockstar doing this, I joined a gang so I'd have a shot at doing a voice-over. Only had to kill one person for initiation! What a deal!

Gang members played on a tv show before. I didn't see anyone complaining about it. People still like "The Wire" right?

You're complaining about gang members getting a real job? Lol

Nice! Hopefully EA will follow through on Windows Phone for Battlefield 4

I think they're using SmartGlass for the tablet mode in BF4. Wonder if it'll make the jump to WP through SmartGlass too.

I'm more of a PC guy. Is Smartglass slated only for Xbone? I imagine there would actually be nothing technically limiting them from doing it on PC also

I have smartglass on my Windows 8.1, Xbox One Smartglass is supposed to be much improved.

Well, the app is a nice thing, especially if they do release it for all platforms. The game itself? Dunno. To me the GTA franchise peaked back in the day with Vice City. The ones after that never really managed to hold my attention for more than a few hours. Hoping this one will be better.

My sentiment exactly. San Andreas was the last one I actually bought. Sure I played it for hours but it never really held my attention like Vice City did. Perhaps it was the 80s theme or the rad soundtrack? My hopes for this one are high. The GTA's post San Andreas were just "more of the same.". I'm hoping the multi character, in depth mini games, mission planning and more playable area gives V that extra dynamic to make this one fun. I just plunked down my 60 bucks to hold one down the street so I can pick it up and lunch (then waste 4 hours thinking about how I should be going home). Here's to hoping my expectations will be met/exceeded!

Vice City is by far the best. I think it was the sweet 80s music, Miami setting and characters/story. I could never finish San Andreas, enjoyed IV and I have been living in a cave as I forgot about V coming out. Came out of nowhere for me, I will give it a whirl though.

More goodness for GOTY & GOTG (Game Of This Generation)

Picking my Special Edition up at midnight! :D 5 hours to go!

But of course first the app for Iphone and Iphone, just read about it.

So Windows phone is still seen as something extra, not as a main system, a shame!

Even Garmin doesn't have an app, like connect for WP, only Iphone and Android :(

I got the app for iPad and it crashes like a Bar-stool
Windows Central Newsletter
Get the best of Windows Central in in your inbox, every day!
Thank you for signing up to Windows Central. You will receive a verification email shortly.
There was a problem. Please refresh the page and try again.