Official DragonCon 2016 Windows Phone app will help you keep track of its events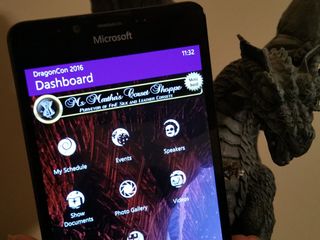 Windows Phone 8.1 and Windows 10 Mobile smartphone owners who are also planning to attend the massive DragonCon fantasy and science fiction event in Atlanta on September 2-5 will get some extra help. The official app for the convention is now available to download from the Windows Store.
In case you are not familiar with DragonCon, it first started in 1987 and has grown to become a huge event, with over 65,000 attendees for the 2015 convention. There are over 5,000 hours of scheduled panels and programing, covering fantasy, science fiction, film, TV, and related topics. It's also become famous for its parade of thousands of cosplayers who walk through downtown Atlanta.
The Windows Phone/Windows 10 Mobile DragonCon app (via Reddit) will allow attendees to get quick access to the daily schedule of events, along with what special celebrity guests will be attending. It also offers a map to quickly find panels and programming (DragonCon actually takes over several downtown Atlanta hotels, so the map feature will be handy). There's also a listing of all the various dealers and exhibitors at the show.
Unfortunately, the DragonCon app was not developed with Windows 10 UWP tools, so Windows tablet and laptop owners are out of luck, but at least smartphone users will have the app ready to go for next weekend's festivities.
Windows Central Newsletter
Get the best of Windows Central in in your inbox, every day!
So cool. Posted via the Windows Central App for Android

Wow, really surprised this app is available for windows phone

For the three people who still use Windows Phone.
MS fired Nokia staff, sold the phone division and with less then %1 I'm not hearing any commitment from MS I bought a 930 "beta" phone a year ago, wish I could ask my money back

Wish I could get my time back after reading this totally off topic comment.

This comment has nothing to do with this app. This isn't random rant place.

Love it!!! Cant wait to use it next weekend!!!

Speaking of dragons, I wish we could get some good D&D apps on the windows platform. Like some spell list apps or character sheet management apps. /wishfulthinking

I've been asking for a Windows Phone app for the last two years. They actually had one last year, but it wasn't useful at all. So glad they finally have one. Unfortunately though, it seems to be missing some of the functionality of the Android and iOS app, namely settings where you can setup a profile and link multiple devices. That being said, I'll probably use AMIDuOS on my SP4 and use the Android app from Google Play this year.

I sent a support request to the app developer regarding the missing features and a few other things. Below is the response I received. I just hope they continue to develop it. It may not seem like a big deal for a majority of the people on this site, but for someone who attends this convention every year and as a Windows user, it's HUGE. They have a pocket program that they print out every year, but they're making changes to it this year and it's not going to have full details of all the panels. It doesn't give you an individual break down of each guests appearances. The app makes it so much easier to navigate the convention and to find when and where specific panels are going to be. It's far superior in every way to their paper program. Response was as follows: "Thank you for your comments. The Windows phone app is an "early release" and it's still under heavy development, but we wanted to get the basic functions of the app available in a native app for the Win phone users who request it every year :) The Settings icon is not yet functional, and some of the features (including the items you mentioned) are not available for this year's Con. For your Surface Pro (and for your Win phone, if there is something else you'd like to do that is not in the native app), we do have a web-based version. available at http://app.core-apps.com/dragoncon16. Hopefully, that will help you bridge the gap for this year." So the problem I have with the web-based version is wi-fi is so spotty in the hotels and is often times secured. The cell circuits are overloaded to the point of being non-functional, if you're even lucky enough to get a signal. Like I said, I hope they continue development on it and we get a fully functional app for our phones and other Windows devices next year.
Windows Central Newsletter
Thank you for signing up to Windows Central. You will receive a verification email shortly.
There was a problem. Please refresh the page and try again.