Official Formula 1 app races onto Windows 10 PC and Mobile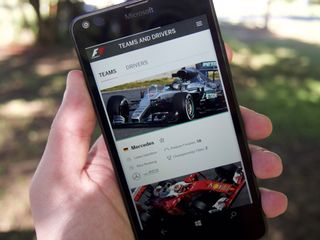 If you're a big fan of Formula 1 racing, you can now keep up with your favorite teams and drivers with the official Formula 1 app for Windows 10 PC and Mobile. In addition to driver and team news, the new app also serves up quick access to live race leaderboards, the full race schedule and much more.
If you also happen to have an F1 Access subscription, you can take advantage of the following additional features:
Official Live Timing of all F1® sessions
Sector times with intervals and gaps, live tyre and pit stop information
Interactive 3D maps with driver gears and speeds, plus Drag Reduction System (DRS) usage indicator
In-Corner Analysis comparing drivers' entry, apex and exit speeds
Immersive dashboard with text commentary (English, French and German), and English audio commentary during all F1® sessions
Team Radio Transmissions and Race Control Messages
Personalisation Options and more!
If you consider yourself a big F1 fan, this definitely looks like an app worth checking out. Be sure to download the app from the Windows Store and let us know what you think in the comments!
Thanks to James B. for the tip!
Download the official Formula 1 app from the Windows Store (opens in new tab)
Windows Central Newsletter
Get the best of Windows Central in your inbox, every day!
Dan Thorp-Lancaster is the former Editor-in-Chief of Windows Central. He began working with Windows Central, Android Central, and iMore as a news writer in 2014 and is obsessed with tech of all sorts. You can follow Dan on Twitter @DthorpL and Instagram @heyitsdtl.
Good. Was waiting for this since long.

rod, happy to see your positive comments.. We are getting there...slowly but surely

Right before the race today.
Downloading....

Excellent news. Now I can get up at very early hours vs. DVR and get much more insight into the proceedings. I was feeling left out and their web site gave me nothing but problems.

UWP model works! No way we would see such an application without UWP!

Don't you just love that word "OFFICIAL" ;)

It uses the word "Official" because it is the official sanctioning body of Formula 1 - the FIA and their data.

YAAAAAAAAAAAAAAAAAAAAAY! Watching races with the live timing on my Surface will be great.

Bad navigation. After choosing an option from the menu you cannot navigate back (at least on PC with keyboard and mouse).

Yep, you need to close the window by clicking X top right corner.

My life is getting better

I just wantched a video clip my 950XL becomes very hot.

I'm having heat issues on my 950XL also.

Wouldn't say that's an app issue. The 950's are notorious for heat, although the Redstone builds have gone a long way to reducing, not curing, the issue. My XL still gets warm but nowhere near what it did on TH builds.

Not necessarily phone's issue. I use app to watch YouTube video for hours my 950xl is still cool. But this app is different.

Ya, I wasn't blaming the app. I think it is a phone issue because it happens even if I have no apps running at all.

I really don't understand why OEMs constantly run to Qualcomm snapdragons when they are known for heat. I've never heard Exynos overheating before. Posted via the Windows Central App for Android

SWEET!!!! I thought we'd never get this. (Go Lewis Hamilton & Sergio Perez.) I emailed them before the season started asking them if they would consider building an app for the Windows platform. Here are some recent sites I've emailed asking them to consider building an app:
WRC (World Rally Championship)
Strava
Major League Soccer
Major League Baseball
IMBA (Int'l Mountain Bicycling Assoc.) There was one other site I emailed (forgot which one) that responded with "coming soon". Never hurts to ask. Cheers.

Vettel and Riccardo got hope too.

Oh my god you single handedly got us an F1 app for windows. Thankyou so much!!!!

I never said it was because of me. I email many places asking them to at least consider building an app... preferably a Universal app. The F1 app is a coincidence. It never hurts to ask. The worst they can do is delete my email while mumbling to me to ***k off.

I asked a company that made 3 stooges emoticons to do a windows version, they told me they never will because the windows platform isn't widely used.
No wonder there's less apps and some companies are taking them off the windows platform. :(

We had one to follow the race live in the past and they canceled. Nice to see F1 back.... The F1™ 2013 Timing & Track Positioning app is the only official F1™ Timing App.
This one: http://clkde.tradedoubler.com...

I see it, yet it feels like a dream.

Microsoft does sponsor a team. With Dynamics. And other teams often have stuff like Surface Whiteboard at Ferrari.

Actually Microsoft Dynamics was a sponsor of Lotus F1 Team in 2015. They went bankrupt at the end of 2015 and purchased by Renault. I don't think Microsoft is sponsoring anymore.

As far as I know, they're a personal sponsor of Romain Grosjean who took them with him to Haas. He's definitely still sponsored by Microsoft, not sure if it's on the cars though.
And a few teams use Microsoft stuff indeed. Ferrari and Haas definitely. Ferrari uses Surface for it's team and Lumias for the drivers.

And Ferrari use 950xl in driver pods that drop from ceiling. They sit to the right of the monitor assembly when viewed looking in to garage.

How about the official game???!!

Scheduled for the fall on XBox and PS4. The new version always comes out later in the season.

There was a news/photo months ago, show F1 driver using Lumia 950

You are probably referring to Romain Grosjean. He's Lumia Ambassador.

This is good news. Now I just need an official Moto GP app.

Very cool app. Well done.

FINALLY! Thank you bernei.

Awesome news! I wish Formula 1 had a larger following in the US but oh well.

This is the happiest day of 2016

This is great news. I might actually purchase their F1 Access now.

What do you get for paid access?

Most useful with the app would probably be the interactive map. Other than that, the sector times and tyre usage are key stats for fans to do live analysis. Check out the comparison chart here: http://www.formula1.com/content/fom-website/en/subscribe-to-f1-access.html

You have low standards then.

Good morning formula 1!! So happy now :D

Hell yeah!! The Phoenix is slowly rising from the ashes.

At last! Just need a sky q app for Windows 10 Mobile now so i can watch good quality steam of the channels whilst I'm out and about

I don't get when some developers are creating such brilliant Apps while some are even lacking some basic features. This one is Awesome.

Looking at the storage footprint of the app and some scrolling issues, low performance on low end phones and a bit of crashing, is this an project islandwood port? Because if I had to wager a guess I'd say it was. Thankfully no iOS style buttons and UI/UX in here tho unlike certain someone facebook owned apps. So there is that. Let's hope with consequent updates we will have performance improvements.

Seems to be, the PC version doesn't use the full screen kind of like it was ported from one that runs on the iPad.

Oh yes man! Finally! Looks like UWP is bringing the apps

Nice app. Even informs which TV channel is carrying the coverage. Would like to see the broadcast times listed. Love the detailed info on the circuits, tyres available, weather etc. It's a statistics overload. Just shows what can be done by developers of they can be bothered / persuaded / see beyond WP and focus on W10! D'oh!! Just found the time schedules for practice etc...

Well, if the apps keep coming I just might stay in the windows ecosystem, just ...

Excellent! Very happy with that on my 640.

Great!!!! Worked perfect on PC and Mobile for English GP FP2 !!!

Nice! So far a great app through FP2. This one has been one of my sore points with Windows.

This makes me very happy. All that is missing, for now, is Snapchat. But that may never happen.

Wow. Wasn't expecting this to ever show up on win10. What a great app.

Does not work on Surface 3 build 14383 Insider, opens to GB race schedule and nothing works. Then it closes. Works on 640 with same build.

Update: I started it and didn't touch it for 10 minutes. It works. Seems to download data. Then I could sign in.