Foursquare launches gorgeous new app on Windows 8/RT hardware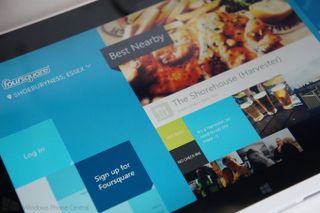 Foursquare is pretty big. It's the one service you turn to when wanting to check-in and share your current location with friends and the general public. Whether you've just managed to hit up a superb coffee shop or simply on holiday abroad, Foursquare will let you boast about how active you are in the big bad world with locations being pinned, points of interests stored and badges rewarded.
Now the company has released an official app for Windows 8. We'll take a quick look and see what's what.
Just as one would expect, you'll be able to check-in at your favourite locations on Windows 8. This is particularly handy for tablet and laptop owners who carry said possessions around. The first thing you'll notice when launching the app is that it's absolutely gorgeous. The team has done a superb job in really utilising Microsoft's Modern UI.
The above screenshot shows what the dashboard looks like. Swiping up from the bottom (or right-clicking for those on a laptop or desktop) will reveal commands to quickly access lists, friends or check-in. Noticing more content off to the right (as is the case with Modern UI apps), this information includes places near your current location, grouped by what's currently trending, best-rated places and other POIs.
However, swiping left will bring you to the interactive map that displays all the nearby locations in a handy interface. The search charm can be utilised to check out locations using specific data - what's even more cool here is how POIs with special offers are highlighted in orange to grab your attention at the best deals in town.
POI listings can be easily accessed with all the relevant information displayed. You can then check-in, add photos, leave tips and more.
It's a breeze to use overall and a recommended download to try out if you're looking for a solution on Windows 8. Keeping in touch with friends, tracking what they're up to and checking is now that much better looking. With the likes of 4th & Mayor by Jeff Wilcox, it's good to see more Foursquare goodness inside the Microsoft ecosystem. You can download Foursquare (opens in new tab) from the Windows Store.
Via: Windows Blog
Windows Central Newsletter
Get the best of Windows Central in in your inbox, every day!
Rich Edmonds was formerly a Senior Editor of PC hardware at Windows Central, covering everything related to PC components and NAS. He's been involved in technology for more than a decade and knows a thing or two about the magic inside a PC chassis. You can follow him on Twitter at @RichEdmonds.
Awesome! Too bad my Win8 tablet is wi-fi only.

Use your phone as a hotspot :)

Why wouldn't you just check in on your phone then. Honestly, that seems like a lame way to go about it.

If you are going to use the surface for more then just one thing it makes sense if not then ya use the phone. People will find anything to complain about on here.

Because this app is more focused around discovery leveraging large images etc.


I'm starting to hate the Foursquare app for WP already. It lacks so many features.

Or just then use your phone...

On ATT, unless you have the family datashare plan(s), the internet sharing is disabled.

How does being on WiFi make a difference? Most devices can get a vague location using the router anyway.

Nice! Installed along with updates for Bing finance, sports and Rayman jungle run.
Edit: It's pretty beautiful, and photo-centric with little comments popping up here and there. And ermm, the map doesn't seem interactive to non-touch.

Beautiful!!!!Beautiful!!!!Beautiful!!!!Beautiful!!!! I can't say anymore!

Sorry, this app is no longer available.
#sadtrombone

I got that at first, try again.

Wow, I agree, it's absolutely beautifully designed. iOS apps look archaic compared to stuff like this. Kudos to foursquare.

No more complaints since the last BIG update on Windows Phone! Foursquare team have done a great job, and now the last thing: Superusers. =)

Thanks, Rich. This app really is gorgeous!

WOW!! Now, that is what I'm talkin' 'bout!

They will be probably available on Windows 8.1, not now. Or...

I can't download it... Why ? It says that this app is no longer available.

I hope the fix the Windows Phone 8 version!!
Is full of buges and slow!

And I dream with a day where Windows Phone native check-in will use Foursquare instead the dead FB Places...

I wonder about that, too. That will be the easiest thing to check in, and gain some fast points! If MS adds Path into the list of integrated OS...

If you take a look at windows 8.1's photos app. They took out Facaebook and Flickr integration which worries me that social integration is going to go away. I'm keeping positive and thinking they will stop providing the integration but rather allow apps to plug into the people, photo, music, video hubs better.

Still hoping for toast notifications and better live tile options on the WP8 app...

Why wouldn't they put this much effort into the WP app that is probably used a lot more often?

Nice! No snapped view tho...?

"Sorry, this app is no longer available." What happened?

It is looking good for me.
Now I like it on my laptop. I honestly like the WP app where it shows you on the map.
Coming from new WP user from bb bold 9900

As for me, it's pretty useless without the newsfeed available. It's pretty odd to see how Foursquare is describing itself as a social network and still completely ignoring one of the key features of social networking. There is even no API to access the news feed, so no side app can use it, which leaves, for example, WP7.8 users withous a proper app, and the same thing can be seen on Win8.
Windows Central Newsletter
Thank you for signing up to Windows Central. You will receive a verification email shortly.
There was a problem. Please refresh the page and try again.