Official GoPro app now compatible with HERO3+ camera in latest update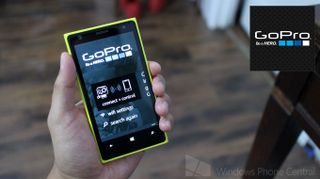 The official GoPro app for Windows Phone just received a much-requested update. Version 1.1 adds compatibility for the new GoPro HERO3+ cameras. This app lets you control your GoPro camera remotely using Windows Phone 8 devices with at least 1GB RAM. You can start/stop recording, snap a photo, or adjust settings from your phone. You can also preview live video for easy shot framing.
Here is the complete list of GoPro cameras that are compatible with this app:
HERO3+ (remote camera control supported in select modes only)
HERO3 (requires camera software update, see gopro.com/update)
HERO2 with Wi-Fi BacPac (requires camera software update, see gopro.com/update)
Unfortunately, this app is not compatible with devices like the Nokia Lumia 520 or HTC 8S because of the RAM requirements.
The first version of GoPro app was released in May, supporting the GoPro HERO3 and HERO2 cameras. This update brings compatibility to their latest HERO3+ cameras that were released last month. They have a 20% smaller and lighter design and 30% better battery life than previous models.
GoPro cameras are usually worn or mounted by users to record themselves doing just about anything, anywhere. There are several types of mounts and accessories for the cameras that help you capture fascinating new perspectives. You can wear a GoPro camera on your chest, strap it on a helmet, clamp it to a motorcycle, and much more.
Watch GoPro's promotional video below to see what you can do with their cameras.
The official GoPro app is a free download on the Windows Phone store. It has a lot of negative reviews from the GoPro HERO3+ users who downloaded the previous version and found out it was not compatible. This update will surely make them happy and hopefully bring the ratings up.
How would you use a GoPro camera? Let us know in the comments below!
Windows Central Newsletter
Get the best of Windows Central in in your inbox, every day!
It's also the first version of the app which actually works on my Lumia 920

I don't have a GoPro camera but YAAY for those that do❕❕

Still need parity with other platforms - I wanna watch my videos thru the app!

I need to get that WiFi BacPac now :)

The WP GoPro app still lacks a lot of the ease of use and functionality of the iOS and Android versions. Another heads up: Hero3+ has a shorter focal point than the Hero3 so is not as good for non-selfies such as mounting on your car as I do. You can find good deals on a Hero3 as retailers try to get rid of them in favor of the more expensive Hero3+.

Awesome video. Breathtaking!

I would like the features that the Android and iOS has. Downloading still shots from camera to phone. Watching videos ECT. ECT. And so on....

I used (old version) several times which works great but it's hassle to setup the WiFI connection part each time since you don't want to keep it connected all the time since it reduced further GoPro battery life. But for short recordings it's nice to have. I bought in the end LCD bacpac which is lot easier despite being bit smaller. Video playback in the app though would be still great if they'd add that.

still doesnt work with my Lumia 822. so dissapointing

Works with my L822 after I gave my Hero3 Silver an update.

Yesssss.. I have a GP3 for my quad copter, this rocks.

Doesn't work with my Nokia 928 and HD3+. Previously camera was unsupported, now cannot be found. So lame.

UPDATE: I finally got it working. I had delete the WiFi connection, turn on airplane mode, then connect to new WiFi connection and it finally worked.

You're a genius! I had tried turning off cellular data and bluetooth directly, but turning airplane mode on fixed it on my Lumia 822. Sweet.

The app worked perfectly when I was still using WP8 on my Lumia820. Alas, after I have upgraded my phone to WP8.1 it seems impossible to make a connection with my camera. The WIFI network is visible, but when trying to connect, I get the message: "no internet access". Such a pitty.
Windows Central Newsletter
Thank you for signing up to Windows Central. You will receive a verification email shortly.
There was a problem. Please refresh the page and try again.