Official Hurl video sharing app comes to Windows Phone 8 and it's glorious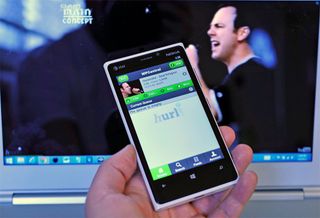 Ever want to share a video from your phone onto a PC? Want to make the experience social and open platform too so your iPhone and Android friends can jump in? Then you'll want to take a peep at the official Hurl app for Windows Phone 8, which came out yesterday.
Hurl is like a DNLA service but for PCs, but it also adds some social aspects as well. The system works by simply downloading their app to your phone and setting up a page on the Hurl website (www.hurl.net). Using your phone's GPS (and your label) you can then connect up. From there, you can search online for videos, which you then add to the queue. Those videos will then play on the PC and your phone acts like a remote for it—it's like SmartGlass but for everything else.
What's neat about it though is that you can have numerous people connect up to the service, all contributing to the video queue. Users can even vote to like, dislike or skip any videos in the queue, adding a little democracy to the mix. Like a video? Simply comment or favorite it. From their PR team:
"Hurl is like Airplay on steroids. Any platform (WP8, iOS, Android) and any network (3G, 4G or Wi-Fi). By creating and logging in to www.hurl.net with an account, screen owners can customize settings like queue limits, password protection and explicit content controls. It's the perfect fit for any party or audience."
If you need an idea for what to play and Search is to challenging, it even has built in Reddit support, making sure you're caught up on the latest viral stories.
We've been playing with the service for the last 30 minutes and we have to throw our hat in as being impressed. Videos streamed nearly instantly, and the idea of using our phone as a remote is quite appealing. Of course, we could imagine the real benefit here would if friends are over for a party and you have a web-enabled TV. Then anyone with a smartphone (well, except BlackBerry users) can get in on the fun and load up a video.
Hurl is a free app for Windows Phone 8 users and can be found here in the Store.
Windows Central Newsletter
Get the best of Windows Central in in your inbox, every day!
Daniel Rubino is the Editor-in-chief of Windows Central, head reviewer, podcast co-host, and analyst. He has been covering Microsoft since 2007 when this site was called WMExperts (and later Windows Phone Central). His interests include Windows, laptops, next-gen computing, and for some reason, watches. Before all this tech stuff, he worked on a Ph.D. in linguistics, watched people sleep (for medical purposes!), and ran the projectors at movie theaters because it was fun.
First thing I thought. Love the app & the fact we even have it though, so thanks guys!

No thanks. I'd like a little diversity.

I couldn't disagree more. The whole point to the Metro Design Language is to keep apps and the main OS consistent. I want a Metro version of this app. It's nice to see they ported the iOS version, but I don't have an iOS device. I have a Windows Phone.

You got it. We're working hard to bring a native experience just for WP8 users. I'm rocking an 8X at the moment and can't wait to take advantage of the modern design. Thank you for trying it out!

Pro tip: register an account on the phone app and login with it via the "already have an account?" link under step 2 at www.hurl.net on your PC or TV. You'll gain access to the all the advanced screen settings (e.g. password protection, queue limits, explicit content controls, etc.) and you can save your screens & settings.

Assuming you are the dev (Or one of that is) then glad to hear it and I have no problem with you guys bringing the service over as a port initially then refining the UI in future revisions if that's the plan. We WP users love this OS for many reasons, and one major one is the design aspect so we are touchy about apps that use what we consider "clunky" UI's from other competing systems. Thanks for your efforts to bring this service to us and I hope to see an even greater looking version in the (hopefully more near than far) future. =)

Great, glad to hear that a redesign is on the horizon.

Thanks ahead of time for the redesign.. Regardless of anything WP is lacking,, functionality, or apps, it greatly makes up for in esthetics, and intuitiveness.. I wouldn't switch from WP to go to Android or iOS if they paid me!!... Well, if they paid enough I would glue a iP5 to my left testicle,, but that's not the point.. Lol! Anyways, nice job.

Awesome! Downloading app as I type this.

Looks interesting. The only "bad" thing I would say about it just from reading the article is the UI is kinda meh. iPhone-esque.

I agree... I think WPCentral should NOT even think about reviewing Apps or call them glorious if the look and feel is just wrong

I'm glad they reported on it, even though I prefer metro as well. But if they hadn't reviewed it, I'd have never known about this awesome app.

" I think WPCentral should NOT even think about reviewing Apps or call them glorious if the look and feel is just wrong"

That's never going to happen and is not fair to developers. It's a nice app and a great service all for free.

If the app is good then it needs to be reported even if its not metro that can be worked on.

If the app on par feature wise with other platforms and is stable, then I could give two s@#$s if its metro or not. JMO.

well if you are not sticking with windows phone because of the look and feel i wonder why you are sticking with it? for inconsistency i might as well just stick to android - they are good with that

Thank you for the feedback - we're taking notes. Our first goal was cross-platform support and now we're looking to cater the experience for each individual platforms. Look for a native WP8 "moden" UI version of hurl at some point in the not-too-far future.

Thank you so much for trying out the app!

Again appreciate your work. Outside of the UI/Experience work, how soon do you anticipate Youtube integration to be enabled as well?

Thanks for supporting WP. Looking forward to the UI overhaul. But I'm really liking the service so far. Awesome. The webservice doesn't work in desktop IE10 for Win8 though. Always loses authorization.

Ugh, just a port app. Well at least they did it…

That's the downside to native code. This will happen more often from here on out. Especially with developers that primarily develop for iOS,it's already happening on android.

Yes, a platform agnostic, second-screen solution for public spaces needed to happen. Thank you for the feedback.

Look for a more native experience from the hurl team in the months ahead. We'll make sure the next version is WP optimized and takes full advantage of the metro experience.

Looks like an HTML5 browser embedded?

Apparently people with 822's can't use it, says my resolution isn't supported. Great.

I thought it looked interesting, but yep, my 822 won't take it. :(

That's was a mistake on our part. We'll get support for 822's and other lower res devices very soon. Until then (and i apologize for this), open your phone's web browser in mobile mode and navigate to: www.hurl.net/client. It'll let you log in and use an alternate version of the app.

Thanks so much for trying it out!

This is my friends app. He works for Microsoft in the retail stores. Please download and support a home grown start up. Km sure metro UI will come along with success.

Hoe can I support a developer that doesn't support me or so many worldwide in the same position? My screen resolution is 800X480, a size shared by many worldwide. To be discounted is disappointing, to say the least.

Cut him a break. At least he's trying. What have you developed lateley?

The developer says it was a mistake and a fix is coming soon.

We definitely support you. The inability for lower res devices to use the app is a result of us forgetting to click a box during the app's submission. We have already resubmitted the app and all WP8 devices can join in on the fun as soon as it's approved.

Apologies for the inconvenience and thank you for the opportunity to make it right!

Downloaded the app on my 920. Tried to fill the screen name & address but getting error that address is invalid. Help.

Try entering the street address of your screen in one of the following formats:

1234 Street, City, ST
1234 Street, ZIP CODE
1234 Street, City, State, ZIP

Let us know if it is still giving you trouble. Thanks for trying out hurl!

So I assume it is for US only. Right?

And you have contacted the developers to ask about this when? if you had you would have seen a _very_ quick response explaining what happened and a fix is coming soon.

What was the saying again.. Oh yeah.. You look before you leap.. or for a better one.. don't put your foot in your mouth..

Tell your friend thanks from me!

Sure thing. I love this community! WP and WP Central

Only supports high-res devices. :/

Does not support my Lumia 810 :( Well, I am happy it is on WP8 and others can enjoy it. A big thanks to hurl!

Good work. If it works with PS3, I'll use this over the PS3 Youtube app. Or Roku. If he can do a Roku app as well, I see lot of potential in it.

Ack. That UI *is* atrocious...

shoot, if i didn't care about ugly UI i could have just bought a android phone and save myself a lot of hassle.

"it's like SmartGlass but for everything else."

Weird, I didn't know that 'everything else' and "AirPlay on steroids" entailed being restricted to only watching web videos.

No Metro UI, no download.

"We've been playing with the service....."
We = Dan and the cats?
;-)

Yet another great app that those of us still on WP7 miss out on again. Great for WP8 users though.

Look it don't have too be metro... You all complain so much, lets just be happy they brought one too WP!

If it were up to me, I'd have rejected this app based purely on its failure to comply with the Modern UI design language. In fact, I wish Microsoft had.

Cool app.. The only thing wrong is the ugly old iOS/Android style, played out, outdated, old school interface.. Hopefully a future update will bring the WP app into the Metrosphere.

We hope all you guys really like the app. We worked really hard to create an app that works on all platforms and also gives a truly social experience to video watching. Next time you have a party let hurl dj the party! Cheers


This is a really great idea, and although I saw the fix for my 822, I don't see a workaround for the Surface not being supported. I navigate to the web page hurl.net, but it's asking me to download flash with a link that says "here" but isn't actually a link. Any words on this?

I asked the Hurl guys about the resolution and UI and got a very fast response;

The resolution problem will be fixed very soon, I simply forgot to check the box. As for the UI we are using a platform called phonegap at the moment that allows us to make mostly platform agnostic applications. We are looking to change this in the future but we are currently limited in resources in what we can do at the moment.
Check the store again around the end of next week and there should be a version that supports your resolution. It's good to see new apps, it's better to see responsive and receptive developers.. They deserve our support and patience..

As a side note I can't believe how negative some here are. These guys support our platform with a cool and useful app and what do we do.. we shoot em down for not using the 'proper'design language UI. I dare all you moaners and whiners to present your own apps and then we'll talk.. Until then, just stfu
No wonder some devs leave WP by the wayside.. Ungrateful bunch.. Grow up and get alife, support these guys and other developers who support us and our platform.. I mean seriously, how old are you all really! (And no, there is no smilie here..)

+10000 some of these people just don't understand the work these guys put into making these apps. I think it's great that they respond quickly and committed themselves to bringing a native experience. It is definitely great to see that and I for one support that...

@Hurl: Thanks for supporting windows phone :)

Looks like the jQuery Mobile framework.

I thoght that said Hulu and I got excited :-|

I hate it when developers create cross platform apps for WP that are not Metroized.
That's why I don't play Words With Friends: It looks like I was playing on an iPhone/Android.
Hurl is a nice app, but it ain't modern.

We'll have a native modern/metro app out in the near future. The first goal was to make the app cross-platform. Next we'll create a platform-specific experience for different devices.
Thanks for the feedback!

Wow, tough crowd. I've been looking for an app just like this! Too many negative comments about the design and hardly any regarding the concept. Keep it up guys!

Just tried to install it but I can't because the displayresolution on my lumia 820 is not high enough????

Lower resolution support is coming your way. Should have an updated version of the app out within a few days.

Our sincerest apologies for the wait. Thanks for trying out hurl!

Couldn't they have picked a better name for that? Here in the US, hurl means to throw up, aka up chuck, aka lose your cookies :D

You're right. Here in the states, hurling is what you do after one-too-many drinks. We envisioned an app that would let you send any "url" from any phone to any screen. hurl was the verb we chose for the app. Gross, yes. Sticky... we hope so ;-).

Thanks for the feedback!

Shall wait for them to change the UI to metro before giving it a try

Thanks for bringing this app to WP. Keep up the good work.

Facing the same problem with my address quoted as being invalid. I live in India, and just wanted to confirm from the devs if the app works in my country. Thanks.

A Roku app would truly make this glorious. :)
Windows Central Newsletter
Thank you for signing up to Windows Central. You will receive a verification email shortly.
There was a problem. Please refresh the page and try again.