Official IceTV TV Guide app finally arrives at the Windows Phone Store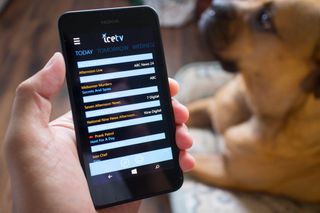 Good news, Australian Windows Phone users! The official IceTV (icetv.com.au) app has just arrived at the Windows Phone Store. The IceTV TV Guide app lets you see what's on TV for the week ahead, search for shows, set keywords and favorites, create your own personalized TV guide, and much more. You can also enable recording features with a paid subscription.
Here are the features that is included with the free app:
A full TV Guide that goes beyond 7 days for Australian free-to-air TV
Comprehensive coverage of metro and regional areas in Australia
Keyword Search: search for favorite shows, actors, directors
Favorites: highlights when your favorite TV shows are on
My Week: create your own personalized, easy-to-view TV guide
Coming Soon: discover new shows and series ahead of time
Most Popular: see what shows are popular with other users
Recommendations: a pick of shows to record, with trailers
You'll need to register an account even if you're just using the free features of the app. This is so that IceTV can tailor the TV guide to your specific location and to make sure their proprietary TV Guide data is used securely on your mobile device.
If have a paid IceTV subscription and a compatible TV recorder or recording device, you get even more features. You can schedule recordings while you are away from home. IceTV works with selected TV Recorders, Network Attached Storage, Media Center PCs and Macs with TV tuners. A one-month subscription costs $13, but you can try it free for 90 days.
The IceTV TV Guide app has already been downloaded over 200,000 times on Android and iOS. We're glad to see it now on Windows Phone, too. It's a free download from the Windows Phone Store. If you're in Australia and like watching television, check out the new app. Let us know what you think of it in the comments!
Thanks for the tip, Surendra B.!
All the Aussies are sleeping now.

Where is the OFFICIAL TV Guide channel app???

Giving a $10 giftcard , checkout my game bit.ly/MatchItGame

3000 points! Come on bro.. :(

Uhmmm but Youtube is my Favorite Channel now, maybe when I get a family...

I'm one of the very few Aussies awake. But I cam tell you there is not one person I know who has an IceTV subscription or uses IceTV at all. Good that there's an official app nonetheless. What would be nice is a Foxtel Go app.

Agreed. That isn't to say there aren't people who do use IceTV, but when I was using iOS I didn't know anyone, bar my sister, who used it. Still good that it's there, though.

Before today, I had no idea that IceTV even existed until I saw a few tweets earlier today.
That being said, there must be some people using it as it has a 5 star rating of 10 reviews in the AU store..

Can't say I know anyone with foxtel now days either to be honest lol. Paying loads for rubbish I can get earlier and sooo much cheaper from Netflix, no thanks foxtel.

I hadn't heard of it, but reading about it I'm impressed. It's similar to what I had setup with my HTPC and Media Centre BUT way more powerful. It really makes the most of free to air.
My thoughts, get the hardware for IceTV and plug it into an Xbox One for the perfect media device. Only issue! Xbox should do something like this, Windows Media Centre is totally this kinda thing, Microsoft could really take the lounge room by storm by supporting an IceTV like service.
Foxtel is way more expensive.

Quora app is also not there

Another Australian here and I have never heard of iceTv really strange

Another Aussie, what is iceTV? and why would I want to pay for free to air channels?

I use iceTV and downloaded the app. About time! Was a sorely lacking feature on windows phone

Been an IceTV user for years and have patiently waited for this app. Downloaded yesterday. Works great with my subscription but also provides a great epg to users for free.
Anyone in Aus should check it out http://www.icetv.com.au/

Doesn't work.. Tried to sign up but doesn't work. Just blank screen after signing up. And unable to sign in after logging out of app.

I had exactly the same experience. Doesn't register any login attempts

Hmmm works fine on my 930

930 here too. What a phone! After setting up an account you'd be presented with a blank screen. Exiting the app and going back in again, you had to set up an account again, only to be presented with another black screen. Wash, rinse and repeat. But I stumbled on a 'solution': at the black screen, go to settings and choose to reset app data. Bingo! it now works. Trouble is, I'm in Newcastle and, in the last 'rinse cycle' I set my region to Sydney, just to see if it was a regional problem. It wasn't! But now I'm stuck in Sydney and can't figure out how to change the region back to Newcastle. Not a major problem for me because, apart from NBNTV, the channels are the same anyway.

You probably have to log in to the website to modify your region.

Yeah id say so. Alternatively if you have a PVR you should be able to do it in there.

Solution doesn't work with Gippsland region.

I've used IceTV on an iPhone & am glad it's now on WP. The free account allows u to mark your favorite shows which will then appear on the EPG with a little green heart next to it, they will also appear under the "My Week" tab where u can see all your favorites that will be on for the next 7 days, including channels, times etc. There are also tabs for upcoming shows as well as most popular. The paid subscription is for people who wish to control their compatible PVRs via the app, i.e. send instructions to record etc. while away from home, as well as many other features. On the negative side the look of the WP app is not quite as good as the IOS version, the font size is smaller & therefore harder to read. Also, I was unable to log in with account details that have been active for quite a while (it kept coming back with "account expired" which was false); I thus had to setup a new account & re-do all my favorites.
Windows Central Newsletter
Get the best of Windows Central in in your inbox, every day!
Thank you for signing up to Windows Central. You will receive a verification email shortly.
There was a problem. Please refresh the page and try again.