Official Manchester United app gets released, but not everyone can download it yet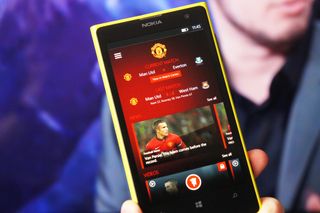 The official Manchester United app for Windows Phone has been released, but with limited availability. The app itself has launched in 18 countries, however the UK, US and many other countries have been skipped with further support expected in future updates. If you're an avid Man Utd football club fan, this is an app for you (or will be in the near future).
The app (as the name suggests) enables users to remain up-to-date with everything happening with the club, including exclusive content, articles and an inside view of life at Old Trafford (the football club's ground). It's possible to follow live matches while on the go with updated scores and even inside access prior to kick-off and post-match reactions in a single location, with video interviews and features to boot.
If you're not familiar with the history of Manchester United, the app provides an insight into its rich heritage, displaying those magical moments from each decade of the club's existence. There's also transfer gossip, fixtures information, wallpapers and more. It's a neat looking app and packed full of functionality. The only issue with the app (in its current form) is the lack of region support.
Here's a list of countries currently supported in this version: Azerbaijan, Bangladesh, Burkina Faso, Republic Of Congo, Congo (DRC), Gabon, India, Kenya, Sri Lanka, Madagascar, Malawi, Malaysia, Niger, Seychelles, Sierra Leone, Chad, Thailand and Tanzania. We understand that more countries will be supported in future versions, so be sure to watch this space for the next release.
Windows Central Newsletter
Get the best of Windows Central in your inbox, every day!
Rich Edmonds was formerly a Senior Editor of PC hardware at Windows Central, covering everything related to PC components and NAS. He's been involved in technology for more than a decade and knows a thing or two about the magic inside a PC chassis. You can follow him on Twitter at @RichEdmonds.
CTID! weird how its not in the UK...

App is sponsored by Airtel Mobile network which is available in the released countries.. May be they are searching for sponsors in other places..

So you cant download it in the country the club comes from or in the country that calls the sport soccer haha Is this a late April Fools joke??

Totally agree with you. I use 1st4Fans Manchester United , OneFootball & just lastnight installed Onefootball Brazil.

Wait, what? The UK can't access an app about their own local sports team?

I think it must be developed by Airtel India. Its the official telecom partner of Man United. I believe Airtel has presence in above listed 18 countries. That must be the logic. That's the only logic I could think about skipping UK...

I understand no support in US, but UK? It's a British club, with majority of players from Britain. How does not supporting UK even make sense?

Probably been delayed by Howard Webb.

MUFC till i die :)
I cant download even if i am from india as i have set my region to US :( i guess i will need to wait till it get release in the us store as i am tired of changing the region and restarting my cell. Edit:changed the region and downloading now.

here, here my brother MANU fan forever.

Must download guys app is awesome
Especially in app integration with facebook,twitter,instagram,google+ allow us to see their updates without opening other apps.

No one in the UK supports Man U. They're all in the Far East, China etc. Hell, no one in Manchester supports them. :¬)

Let me guess, Arsenal fan?

Arsenal fan here as well!

I'm Manchester born and bred, I live in central Manchester, and I'm a United season ticket holder. If you're a "comedy writer", I'd suggest you try to avoid tired, old and just plain wrong clichés.

The cliche about you lot being miserable tw*ts though seems to be spot on ;)


Thanks for the concern, I'm perfectly happy, just worried about Chris's career prospects in comedy writing - and yours for that matter, if that's the best comeback you can think of.

The prawn sandwiches brigade from Surrey have no sense of humour I'm afraid.

I'M FOREVER BLOWING BUBBLES

Myth busted I live in the UK infact 3 miles from OT and guess what Im a Manchester United supporter from birth have a nice day people.

Lol what a joke no UK support from the off, I can imagine some die hard local fans not being too impressed.

I have an arsenal of candy in my pocket :D

What in the world is this developer thinking. Isn't ManU from the UK? Well to his credit he is supporting countries from the get go that Microsoft always ignores until the end but dude home country must be included.

No UK? HAHAHAHAHA. WTF? What's next? Official NY Yankees app released. No US support!! :D Bahahaha.

Burkina Faso gets the app, while the UK waits... Makes perfect sense. Perfect!

just wait, 8 years will be enough

App got released in countries where it has support. Nobody support it in UK lolsssss

I think people don't read the articles here. They WILL support UK, they just wanna more time to add more local features.

No, we read the article. Still makes little sense.

Then release it when more local features are ready or keep updating the app. First WhatsApp disappears and now this. What on earth is going on in our WP community. Lol

That's why they doesn't "release" FOR UK.

Release as is and update later.

Haha what? That's just nuts you can't download in UK. Hopefully this changes soon for UK and US.

Yup not many ppl in UK support that club thus it is far more important to launch it on the other part of earth eg; Burkina Faso.

Hopefully this app isn't as sh*t as their last season..

Well unless the app was developed by David Moyes under a pseudonym, it shouldn't be :P. Having said that he really didn't have the time but then again its not like the whole squad changed to division one players when he took over lol.


Looks like we have a new worst app on Windows phone. YNWA.

Question: Which ship has never docked at Liverpool? Ans: The Premiership IRWA (I'd rather walk alone) lol!

Question: If we put the history books away, who finished 7th THIS year?

Who finished 7th last year?

The fact that they miss European tie make them seems to desperate to release an apps that not have local content : in UK!

Will wait patiently for the app to be released in South Africa. I am proud to have completed the mobile MUFC survey

Nobody gives a toss about United in South Africa except the minorities

We want a Chelsea fc app come on London I'm a Chelsea fan in the USA up the blues boo united stinks s#(k balls

Looks like a soft launch / unofficial beta release. Release in small countries, test for bugs, then release in big markets once the bugs have been squashed.

I'm from India and I downloaded it

It says not avail for your device Lumia, 1520 south africa

Wow it is available in my country(Bangladesh) and not in the UK....WEIRD Sadly I am not a United fan :/

How can it not work in SA? We have one of the biggest united followings here

The Kaizer Chiefs unofficial one is working.

What! Biggest in SA??
That statement was based on the past last two season or this season??
Get your fact right first dude.. U make me wanna cry

All the Gooners and Scousers here babbling about are just sad because they don't have an official app yet lol!!

Official LFC app has been available since 2012 and the Arsenal app should be ready by the end of the year. I don't why you put lol's at the end of your comments...Not very funny at all.

Looks great - can't wait for the worldwide release. In the meantime, for United fans I can also recommend 1st4United

I'm a gooner, I declare London RED!

An apps for playing local football only?
I bet its not European league compliance

Bayern Munich all the way that is for sure!!!
Still great for those ManUtd fans :-)

IO Shaymen. That's is all.

Most ManUre fans don't live anywhere near Manchester. This app will be really popular in Norwich, Basingstoke, Guildford, Dublin, Oslo, Cape Town, etc etc. The app won't be reporting on any European matches in the 2014/15 season.

That's the point to download this apps bcoz it will save space in the phone coz it don't have European maps on it.

Ding dong the witch is dead!

I wonder if the app includes a photo gallery of the fans eating their prawn sandwiches.

I bet there's a bit moyes in it for everyone satisfaction.