The official McDelivery app for Windows Phone arrives in India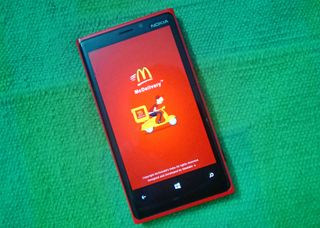 Burgers fans, rejoice! The official app for home delivery for McDonald's – McDelivery – has finally arrived on the Windows Phone Store in India. The McDonald's Corporation is the world's largest chain of hamburger fast food restaurants, serving around 68 million customers daily in 119 countries across 35,000 outlets.
The app allows you to order your favorite McDonald's burgers or meal right from your Windows Phone device. Unfortunately, the app works for only a few cities in South and West India.
The excitement of the app is short-lived though. It's a shoddily designed app, and I've seen better-designed mobile websites. The app screen does not fit the display of my Lumia 830, and needs unnecessary scrolling. The app design and user experience is the worst showcase of hybrid apps.
The app works fine for its purpose though. The design and user interface disappoints, but the functionality suffices. Using the app, you can browse the menu, customize, and choose your drinks and desserts from the exhaustive list. The app lets you pay online and even track your order, from the restaurant to your doorstep.
If you're really craving for a burger, it serves the purpose, but otherwise you'll find it hard to appreciate the effort, or the lack of it. Give it a whirl, and after you've finished your burger and polished off the fries, let us know how you like it.
Windows Central Newsletter
Get the best of Windows Central in in your inbox, every day!
Great, now someone from India, send me 2 big macs, fries and a shake. I expect it somewhere next week :P

Heck yes me too. Posted via Windows Phone Central App

Send me a Surface Pro 3 first.

Don't have Big Mac's in India. They have the Maharaja Mac made with lamb and other strange items with no meat.

Lol... Never heard of a lamb that is not meat

Who said lamb is no meat? "Maharaja mac made wit lamb" "and other strange items with no meat" 2 different lines right there. "no meat" could mean a Salad bun with jelly and peanut butter.

Still waiting for official McD app for US.

Irony. Now the US is waiting for something India already has?

will give it a try. Based on your article, UI appears as bad as Pizza Hut official app :-D

Copied from IOS, the same as official banks apps in Saudi Arabia

Waiting for the official app for Saudi Arabia (middle east)

This apps been in the marketplace for a while now.
Well they only started to decide to do apps on every platform recently & not every region has one yet(or a mobile site)

Yeah...it has been in store for sometime now...I've been using it for the past week now...even tipped about the app...but no shout out for me...:(

Here you go buddy... A big shout out to Tapan here..... Hope you have a nice day

Thanks man...my day is already nicer ;)

hi abhishek, i guess you had made an application on wp i don't recollect it

Yes, INcode is the name of that app.

INcode http://www.baxiabhishek.info/apps/incode

It's just been showing how many Indians are in this world, alot! and Microsoft sees a big market in these. Who wouldn't

Huh? This is McDonald's, not Microsoft

I guess Im moving to India. All kinds of WP-shit happening there.

Isn't India like there top country to sell to or some shit. Those people know what's up.

You are most welcome dude (:

Available in Colombia in the coming years...

Me too! With curry spiced please ;)

Mcdonalds= Large stock of Charmin + Comfortable toilet seat

Best comment on WPC so far haha.

I thought they didn't eat beaf India? Posted via Windows Phone Central App

80% don't, but the rest 20% do. BTW McDonalds doesn't serve beef products in India, just chicken and veg.

Different Menu for India, loads of veggie products and chicken products in non-veg section.

That's sad. What's the purpose of having a McDonald's if there's no real meat.

I've always wondered why they can't do this in the UK... There's hundreds of takeaway shops that deliver burgers with good temperature and without much delay. Surely a corporate giant like McDonald's should have the resources to do it too?

Why don't they our KFC deliver in the US? Do they think we'd get that much faster because they're right

HOW HAVE I NOT KNOWN THEY DELIVER? Do you know how fat I would feel if I ever did that?

That's great! Now I don't have to go through other apps to reach a MCD!

So happy to see this before KFC...

Where's the beef? McDonald's delivers in India? At least you know how clean your own bathroom is LOL

Mc Donalds India does not server beef and pork.. Bummer really..

They dont want to offend 99% of the population by including beef + pork products lol. Its a different Menu for India, loads of veggie products and chicken products in non-veg section.

I've always wanted to try a mcpaneer! Indian McDonald's looks awesome, saw it on "fast foods gone global"

Don't understand why apps are too poor in performance on WP!!! Music, Video, twitter, facebook, instagram which are basic needs are not as they should. Notifications centre frequently goes bad. Feels like windows is an ancient system and could not cop up with new technology. Someone should take over MS and improve. Everything in windows is frustrating and nothing works smooth continuously.

Official apps good I guess but who in their right mind says burger fans rejoice and McDonald's in the same sentence lol.

We so need this in the U.S. ‼

Do they deliver to Australia?

Kolkata isn't included!!!! :O disgusting!
Windows Central Newsletter
Thank you for signing up to Windows Central. You will receive a verification email shortly.
There was a problem. Please refresh the page and try again.