Official McDonald's UK app launches on Windows Phone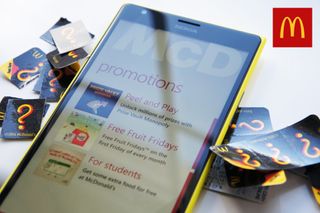 The super-popular fast food outlet McDonald's has released multiple Windows Phone apps for a number of regions. The company has now launched the official app for the UK market, enabling consumers to search for nearest restaurants, get directions to selected McDonald's and even save favorite restaurants for future use. It's a neat little app that we're sure many fans will enjoy using.
As there are a large number of McDonald's restaurants available throughout the UK, it's possible to filter through listings by establishments that sport a drive thru, are open 24/7, baby changing facilities, host birthday parties, offer free Wi-Fi and more. Currently active promotions can also be viewed form within the app, perfect for those bargain hunters.
Some other highlighted features:
View the full McDonald's UK menu
See nutrition in formation on all products, learn more about ingredients and check allergies guide
Create your own meal combinations
Discover the combined nutritional information behind your favorite meals
Also, since the Monopoly promotion is currently underway, you'll be able to check to see if you've won any prizes while on the move. You can grab McDonald's for the UK from the Windows Phone Store for free.
Windows Central Newsletter
Get the best of Windows Central in your inbox, every day!
Rich Edmonds was formerly a Senior Editor of PC hardware at Windows Central, covering everything related to PC components and NAS. He's been involved in technology for more than a decade and knows a thing or two about the magic inside a PC chassis. You can follow him on Twitter at @RichEdmonds.
I see what you did there lol

Really? Because he was subtle.

Sounds like a pretty cool app, even though when it comes to McDonald's "food" I'm not lovin' it.

I couldn't care less about McDonalds & its shit food, but to me an official McDonalds app is possibly the biggest sign yet that WP has made it to the big time. Sky Go would be the big one though.

Indeed. I'm always encouraged when a 'big name' app arrives on Windows Phone

Totally need Sky Go. Come on Sky!!

Hehe nutrition information...

Awesome!! Now if KFC would release an app to it would be So Good!

http://www.kentuckyfriedcruelty.com/

Food is food I'll eat what I please.

The Punisher is concerned about animal cruelty?

First of all, I don't actually eat poultry as I dont like the taste. But in regards to your link - that is not related to the UK (the purpose of this article). In the UK the fast food restaurants source their food from UK plants and farms, and there is no way that UK food authorities or animal welfare organisations would allow that kind of treatment here. As stated on their "investigations" page, there was an "exposed" article for the UK. Since then KFC were investigated (the article goes back to 2003, over 10 years ago). While I am not saying that all fast food chains are sweet and innocent, the articles within that site (related to the UK) are no longer relevant.
While you may think "yeah but as an international organisation...", KFC UK and KFC International (including the US) are completely different organisations trading in their own right.
Times have changed in the last 10 years, especially when it comes to animal welfare; while there are some food restaurants that are less than scrupulous, in this case, unless there is recent evidence of KFC actively mistreating animals (with NO current pending investigations), your comment is void. For more information, read up on the Red Tractor scheme, which pushes for animal welfare rights in food production.

KFC chicken is a Tyson foods product. Tyson also supplies most restaurants.

That only applies to the USA. In the UK, the (main) supplier for KFC is Westbridge Food Group Ltd, and has been for around 7 or 8 years. Other suppliers also include those such as "3663 Food Supplies".

Hmm this coming from The "Punisher" is funny.

Ordering menu should be perfect

Sky Go, HSBC and Gumtree.... please. Please. For the love of Zod.

HSBC have finally committed to making a WP app for the UK: https://twitter.com/HSBC_UK_Help/statuses/453433529473724416

Awesome news!!! Thanks. :)

For the love of zod xD I see what you did there

Sorry...I'm full of nerd references. :D

Come on McDonalds Canada (and Starbucks Canada, banks, Cineplex)

Now its time for Starbucks?

Starbucks has already officially said they're developing their own official app.

This is good for the monopoly promotion, and also if you visit a new place as asking the locals where the nearest McDonalds is oft just results in their personal favourite I've found.

Or you could use Tellme: Find McDonald's.

This app narrows down search criteria which both locals and indeed map apps may not know.

Not if you get the $1 side salad, $1 yogurt and free water. Actually pretty way to eat cheap and stay/get lean.

I whant a "myway" app for dorotea sweden;-)

Great news, now for Australia..... ;)

As usual where is the Canada app??

I love venkys chicken so fucking fresh hot and tasty

many of useful app doesn't have download option in India....banner with"this app is not available in your country" .....but why this uk app showing download button in India.....

Please, gimme a Swedish app as well.

Okay then: http://www.windowsphone.com/en-us/store/app/mcdonald-sverige/a8cadf42-2a...

Doesn't recognise either of my closest Maccy Dees which is ironic as I'm currently stood in the nearest one :(

Not as good as polish one: http://www.windowsphone.com/en-us/store/app/mcdonald-polska/bcaec600-f45...

Wish I had a McDonalds store in my town, but they closed it 2 years ago......i want a milkshake from McDonald's.

Order through app? hehehe

Fast food seems faster!!!

Who the hell eats McDonalds ?

Just about everyone. Their sign out front plainly says Billions served...

Gotta love official apps :)

People eat that shit? Do yourself a favor, don't you'll live longer.

Screw you, Ima drink my Milkshake wherever I want xD

screw that, I will take natural milkshake plz

Agree, go to DQ at leat its their specialty, and sizes are bigger.

hold on, so McDs is unhealthy, but going to DQ and getting an even larger milkshake* is better? *contains no dairy product

Screw that! I would live to have smoky chicken meal with large coke and large fries! :D

Glad the UK finally has a exclusive that we in the US don't have. I hope they're happy now.

I love the bacon clubhouse burgers

Where's all the people whining and moaning that it's UK only and there's no US app?! sarcasm for those who missed it

Won't eat that GMO pink slime crap.

While I find McDonald's to be disgusting, they no longer use pink slime.

No longer, but still use ingredients for their chicken nuggets that is used to make silly putty

Yeah, I don't really even care what they use in their food since I'm not going to eat it either way. I have no clue why people eat at McDonald's when there are virtually always better options available. Some people just have low standards I guess.

Other fast food chains also suck as much as they do! But I like there way of doing business. They are on everyfucking street these days.

Well, Chick-Fil-A is a lot better, although their ingredients are still not that great, but the quality of their food is much higher. Most fast food chains do suck, but you don't have to eat at a fast food chain. The Panera Bread here has a drive-thru now, which is convenient. Unless you're just in a rush and don't want to sit down, their are plenty of good places to eat in most towns. But I generally try to eat at local restaurants. Not only is the food better, but more of your money goes towards those in your community.

I agree there's better options. Places like Chipotle uses natural feed beef and farm raised chicken but it comes with a price that can't compete with cheap fix like McD and Subway. I'm with you. I tend to eat local or myself. I don't want bread that's made from products used to make yoga mats. As long as company uses GMO products, fast food will continue.

Yeah, I like Chipotle. We just got one here about a month ago. They even have some organic stuff. I just wish more restaurants would try to be like them.

I wounder what the live tile does? Switch between cheese burgers and Nuggets....

This app would be a waste here in the States. You can't drive five minutes in any direction without coming across a McDonald's.