Official Misfit app for Windows Phone updated to fix early sync issues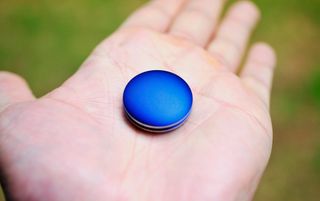 The official Misfit app for Windows Phone has just been updated. The Mistfit app launched last week on Windows Phone and works with your Misfit Shine activity tracker. Today's update provides some quick bug fixes for those unable to sync.
Head into the Windows Phone Store and you'll now find version 1.1.3.7 of Misfit for Windows Phone. Here's what's changed in today's update:
Fixes some syncing and linking issues on some devices.
Fixes an issue where Facebook login could fail.
Fixes a bug that would cause the navbar to cover up the lower portion of the app on some devices.
Various other bug fixes and performance improvements
Grab the update and update any reviews left in the Store if you had trouble syncing at launch. Those issues should be fixed with the new update.
Thanks for the tip everyone!
Can we hear from some people who own the Misfit. Is it any good?

I have one on order. I hope I could switch up from time to time with my fitbit.

I gave my wife my fitbit flex a few months back. I have had my Misfit Shine for about 3 months now. After researching the latest fitness trackers, I decided on the Misfit due to the ability to log cycling. I do a lot of stationary cycling and the Misfit allows for this when you clip it on to your shoe. I originally started using it with an Android (Note 3 and LG G3). The app was always clunky with the Android, but it worked. I also have a Nokia 1520 (Cyan with latest DP updates). I was really excited when the app came out for my Nokia as I am starting to use my WP more often now (still waiting for a REAL Pebble app to fully make the jump!). The app works about as good as the Android version. It tends to crash and takes a while to update after a sync. The app is better looking on the WP than the Android (IMHO). The only niggling thing is that you can't change what the "third tap" does in the WP client (activity tagging). Basically you can tell your Misfit Shine that you are about to do a certain activity by tapping it three times. In my case I tap it three times to let it know I am going to put some miles in on the stationary bike. I like that I don't have to charge the device every 5 days or so like I was doing with the fitbit. I am still holding out hope that the FlyFit (http://is.gd/3WZL8g) will have a WP app as I like the idea of wearing the fitness band on my ankle for cycling and swimming tracking.

LOL at first I thought the headline meant the punk rock band

still not Avaiable to my Lumia 920 with Cyan and WP8.1

Wonder if its because our 920's might be missing a certain hardware? I dunno.

not sure what or why, since fitbit works on lumia 920, and with cyan it do have bluetooth4.0 what else misfit need to sync?

Nope, hardware is fine, it is the Cyan update you need if you're on 8.1 DP

I got my 8.1 through att. Didn't that have cyan? It still tells me I can't download it.

it is not Cyan either since mine is on Cyan.

With the new $50 one and the WP support, I may have to get one.

Are they tasty? They look tasty!

No no....that's the famous blue pill

Why can't I download the app for my Lumia 928??? Makes no sense.

I love the Shine, I've been wearing it for two months solid. The sleep and cardio tracking is life changing. I love the light interface and the lack of intrusive charging allows you to effortlessly integrate it into your wardrobe. I just wish I could download the app to my 920 so I can finally ditch my iPod!

Can't download either on my 920

I have one. It's pretty good but I miss having a real display, like the Garmin vivofit has. The misfit is very accurate, but it has a couple issues. One is with a beta feature with the automatic sleep detection function, and the other is that the device confuses the number of taps you give it. Overall the device is great and I think it's one of the best trackers on the market, but I prefer something with dedicated buttons. Also the device is very small and not manly.

Boy I'm just waiting for the follow up headline detailing Jerry Only suing them for using that name.

Sync is more reliable with new version but there are still issues. Time function, triple tap, and auto sleep tracking still don't work for the 1020. And, the app is pretty basic compared to fitbit. Still, at the end of the day it does track steps like it's supposed to.

I feel uncomfortable to buy a new wearable device like misfit, fitbit and others with so many out there. I hope Microsoft releases a simple smartwatch with tracking possibility like those watches too. That's something I would spend my money on

Can I use a Samsung ATIV S to use the Misfit Shine?

I have one and am using it with my 930. The device itself is gorgeous and the fact you can wear it just about anywhere and that it will track multiple activities (cycling, swimming etc) put it ahead of Fitbit for me. As to the app etc. Is getting there and I am very impressed with Misfit's response to questions and feedback. I emailed over a couple of bugs and within 24 hours I had been put in touch with the WP app developer who in turn has put me on the beta program so he had as much feedback from users as possible. I have high hopes that the WP app will go from its already functional current version to a first class app pretty quickly.

@cochranma. Clock etc did not work on mine. Turns out it had a really old firmware version on it. Now updated and clock+ triple tap work fine. Not tried auto sleep logging yet as not been to bed. Get in touch with misfit and they should put you in touch with someone who can help with a firmware upgrade. Tell them you are using WP do it goes do the right person.

Thanks, Danny. Unfortunately, I opened a call last Friday and haven't received a reply yet. So, not so good...

I've tested this in the public release and it works. Go to the settings page. Double click on the word settings and it will take you to a diagnostic screen. Click refresh and it will show you the firmware you are running. You can then click the ' flash to 0.65' if you are not already running that. Turn Bluetooth off restart your phone, Bluetooth back on into Misfit and re-sync your settings and the clock should be enabled together with triple tap.

Is there a particular reason for the app requiring the cyan firmware? I have a Lumia 810, which I'm very happy with, but it appears t-mobile wont make cyan available.
Thank you,
Gregor
WP8.1 update + amber firmware
Windows Central Newsletter
Thank you for signing up to Windows Central. You will receive a verification email shortly.
There was a problem. Please refresh the page and try again.