Official MSN app comes to Windows Phone 8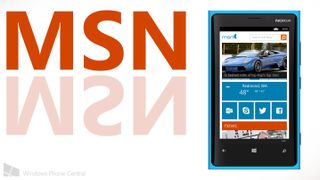 Most of you probably don't read MSN, but you probably know somebody that does. Is it just me or do most mothers and grandmothers love having MSN as their homepage? That observation could be completely anecdotal, but I'd wager a few of you have a relative or two that goes to MSN.com daily. And guess what? They probably like the site. Pick up this MSN app for Windows Phone 8 if any of the above is resonating with you. Let's check it out.
MSN (https://www.msn.com/) is a great site if you want to get a quick pulse on what's happening in popular culture. The site is a mix of celebrity news, sports, politics, and entertaining stories. It's lite on thought provoking articles, but everyone has their favorite. The app was recently built from the ground up for Windows Phone 8. Oddly, no doublewide tile with this app. Which is a shame since the rest of the app is so well designed that I would like to see what they would do with live tiles that big. But like most things in life – beauty is only skin deep. Before I get to that, let's just list the features:
MSN's Top Channels: News, Sports, Entertainment, Money, Autos, Living, msnNOW and Healthy living -optimized for touch
Need plans for the night? Find the latest movie showtimes or check out "Tonight's Picks" on TV all within the Entertainment channel
Quick access to stock quotes on the Money Channel or find a new car on the Autos channel
Swipe to view top stories in each channel
Quick glance of current weather conditions (uses your phone's GPS to set location)
One tap to view your Outlook inbox (once you have logged in)
Want to share that great cat video? Just tap and share via TXT message, email or on your social networks
Sounds like a killer app right? Like I said, beauty is only skin deep. This app "rebuilt from the ground up" is nothing more than a web wrapper for the mobile version of t.MSN.com. Weak. Sauce.
I'm not exactly sure what Microsoft was thinking when they published this in the Store. You're better served by pinning the webpage on your Start screen. It's like that wonderful app Uber that came to Windows Phone a few months ago. That same app that was pulled because abysmal ratings in the Store with their web wrapper app. The app still manages to have a live tile that updates with images from stories currently trending on the site. Still, I can't help but feel slightly underwhelmed with this app. They took the path of least resistance in putting it on Windows Phone 8. They should have done it like they did with Windows 8 and left it in the browser.
So if you're interested in trying out this MSN app for Windows Phone 8 go to the Store here, use the QR code below, or swipe to the right in our app.
Thanks for the tip Atif A!
What do you love about it vs. going to msn.com on the browser? :p

Because it works almost like my desktop.

The use of almost saved you from my sharp replies.

There's just something cumbersome about the browser, MSN app isn't actually new...its more of an update. The single fact remains that the redux they did for the website is very much like the os across devices, the app is much easier to use than it was in iemobile. The original app btw was more of a bare bones site redirect, the new look and function is better managed and maintained. Am i trying too hard and being redundant? Perhaps, but who isn't these days... =P

Oh, well, not available in my part of this very small world. Have fun with it :)

This is real old news. The MSN app has been avaiable for several months already.

It just had a big update in June 3

It had a major overhaul. It is now an actual app, and not just a link to the website.

I agree, they should have just
Left it in the browser just like Windows 8.. Smh!

Ooh yeahh i love msn.com, in love with that site

...aaand it's not available in Indonesia.

Lol .. The webpage is much better
The app is buggy , slutters a lot

I thought msn was replaced by Bing and it died

I thought that was their long term goal too. Figured MSN would be phased out by next year.

I thought they changed the name to "theLoop" ... Or perhaps that was sympatico...

Id rather they ported the news app from Win8.... In fact they should really port at of apps each way.

Now make a so.cl app please

I actually have my home page on my PC on MSN. Handy site to check out the news per category. And I think it's a beautiful site also, very tile-ey. But that's not a shocker is it... So will definitely try the app!


A wrapper was tha best they can do??? I swear a non-medicated schizophrenic is running Microsoft atm:(

maybe your store still lists the previous version

It's not a wrapper, your not on the web, its an app.

I just tried it n it says I'm in indulkana wen I'm in Sydney Australia lol indulkana is like 1600km away!

Oh this app is very well made! Persoanlly it tailors my needs all of the info I need just flicks away. Wasn't a huge MSN user but I definitely am interested now.

The MSN Now section of MSN is a fun read that updates frequently throughout the day. http://m.now.msn.com/

I've already deleted it when it first came out. I prefer t.msn.com via browser. This app isn't needed.

You mean you don't need it?

This is an app it should had been made available from day one Windows Phone 7 was launched.

I think it was. I've had it forever on my HD7.

Seems like the new homepage here in Germany, nothing special. No need to install it.

I like the app. And having a news live tile is cool. There's not too many good ones out there for wp8

Have you tried Weave? Because I have the Ad Free version and despite how great it's functionality is, I can't stand the inconsistency of the resolution of the live tile. It's about 50/50. Sometimes it looks great; Sometimes it looks terrible and low resolution. Overall a great app, but what's the point of the live tile when it looks so bad?

Αlways the same... Everything for wp8.... There is no reason to resa wp news anymore :-) until i buy a new phone eh?

I've had it forever on my HD7. It should be available for 7.x devices unless MS pulled it.

I have this app for a while nothing has changed.

All the tiles (news, email, weather etc.) are bigger now and it runs like butter. MAJOR update for me. I will add I use this app daily for a couple years now.

My MSN is and has been my homepage for many years. I have three pages customized for news, sports and technology plus I have a favorites list of about 8 sites I visit on a daily basis. Will give this app a try. Hope it allows me to download my favorites to the 928.

I have this AP, and it is great. I really how you can swipe through the stories. It is one of the best designed ApS around. Now that doesn't mean I'm saying the content is that good

Based on the way this article is written, it sounds like there's room for a "What's your homepage?" poll.

I've had this app for months. Read it daily.

Is this the official app dan was talking about yesterday?

I read MSN app an WP8, an am downloading. I dont even know what it does as now :), a loyal MSN viewer.

Looks good, but I am not sure why this app is not supporting the large tile. It would have been good if it had that option.
My feel is the over all the App is simple, smooth and works. Nothing fancy.

awesome. MSN is and has been my homepage for years. I like the content, and with the Windows 8 rollout I really love the layout.
app looks great.

I read MSN all the time, really liked it when they went metro. And I'm neither a mother or a grandmother. Nice generalization there.

i like this app but was disapointed with the fact that no large live tile.

I've used this app every day since I first got my HD7. This was a MAJOR update. The tiles in the app (news, email, weather, etc.) are bigger now. The Facebook and Twitter links work properly now. It might be a wrapper but it runs smooth as butter now. I prefer it over USAToday (I use both) because lately USAToday gives you a headline but when you click it nothings there.

Hey im 23 and have MSN as my homepage.

Why have a link for outlook if I'm on my phone, also the link for Skype is redundant as well...
I can have Brazilian content, or change to other ....
It is not bad, I like to read some articles on it...

This app was already there. It has just got updated. I dont understand why this is termed as something new.

awesome app, has been for months in the USA

ignore the hate people

I find this app has quality to the pics and articles but sometimes they load a bit slow. And it updates quite often draining battery quicker and there is no setting to change update frequency
Windows Central Newsletter
Get the best of Windows Central in in your inbox, every day!
Thank you for signing up to Windows Central. You will receive a verification email shortly.
There was a problem. Please refresh the page and try again.