Say hello to the new MSN for Windows 8 and IE 10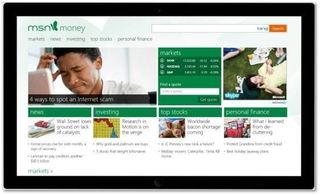 MSN is set to receive a visual overhaul this October to coincide with the release of Windows 8 and Internet Explorer 10. Microsoft plans to roll-out the upgrade on October 26th, which will see the portal that receives over 480 million visitors per month sporting a new design and integration possibilities with other Microsoft products. The team have also looked at how the service can be made more user friendly when viewed on tablets running Windows 8.
MSN will be the portal that will fire up once Internet Explorer is launched in Windows 8, so what will consumers be greeted with?
A more minimalistic and easy to navigate user interface, which is reported to be 'blazing fast' - so be prepared to have your mind literally blown away. Taking aspects and design elements from Windows Phone and Windows 8, the new MSN website design will enable visitors to browse through the vast array of categories and articles through the use of intuitive rendering and the support for touch devices.
Thanks to Internet Explorer being developed to take full advantage of the Windows 8 architecture, loading speed is reported to be significantly quicker and swiping, scrolling and general browsing will be noticeably smoother. The Windows 8 Snap feature to snap a given page to the side of screen is said to also be supported while you engage in another program or webpage.
Check out the video below for a quick walkthrough.
If that wasn't enough, MSN News will be introduced which is designed to deliver the news in 300-500 words providing consumers with quick access to hte latest headlines with less fluff. So be on the look out for the refresh, which is set to be unveiled on October 26th.
Source: MSN
Windows Central Newsletter
Get the best of Windows Central in in your inbox, every day!
Rich Edmonds was formerly a Senior Editor of PC hardware at Windows Central, covering everything related to PC components and NAS. He's been involved in technology for more than a decade and knows a thing or two about the magic inside a PC chassis. You can follow him on Twitter at @RichEdmonds.
If my mind will literally be blown away, there's no way im visiting that site.

ditto! I'm thinking that after my mind is LITERALLY blown away I'll have no need for a redesigned website, or even a Windows Phone 8 device!
;)

We techies and tech enthusiast may not visit MSN. But for millions others who never thinks about changing their default homescreen or ones who don't know that homescreen can even be changed, it will be a welcome change.

MSN.ca has been my default landing page for years. I like the latest news headlines, Bing search and links to all my MSFT stuff tight there.

They need to rebrand/rename MSN....it has connotations of AOL. They have really good content (esp Autos) but they need to lose the name as people ask me why I "still use" MSN when I tell them about an article from there.

Will the new MSN offer the customization available in Google News? I rarely bother with MSN, since Google News is so customizable that I'm able to see what I want on the home page so much easier. Also, how will the new MSN look in Firefox, Opera and Chrome? I use those browsers in that frequency. IE is an afterthought, and I might use IE once a month.

As it stands, MSN is somewhat customizable with what will be featured once it is launched; whether it's news, sports, entertainment, latino and I'm sure they'll expand that.
This new iteration is much cleaner and nicer looking than Google News IMO. The new windows interface is very nice and simplistic and not cluttered like Google News, again IMHO.

What I meant is categories. I added my own categories (Linux, Microsoft, Apple, computer security, open source software, mobile technology) to my Google News page. If that's not possible in MSN News, then I won't use MSN News.

I think it's a great site redesign and was hoping they were doing this with all the other "Modernizing" they have been doing with all their other properties. Hopefully the content will be just as good.

Video from my phone isn't working nor I see a "video" selection when I scroll to the options of the app :'( I'll have to check from my PC in a few

Could they please get rid of the left wing NBC? I'll never use NBC for news until they do.

This is about the site redesign and while I respect your right to express your mindless drivel, this is not about right or left and MSN is no longer an owner of NBC. They may carry the content, but is there another news source you'd rather have? The AP possibly?

MSN was never an owner of NBC. They had a joint venture together. Most of the news comes from AP or Reuters anyways. That's why you see nearly identical stories on various sites.

The partnership with NBC ended a little over a month ago. MSN wasn't a part of that partnership. MSNBC was the result of that partnership.

No one cares about your stupid right wing ideology and it has no place whatsoever on this article

No working video on my phone =/

I use MSN for my home page, it's an easy choice, even when you think google is taking over the world.....

Is this just for IE 10/ Windows 8 ? I hope IE 10 comes for Windows 7, as I will be using 7 even when Windows 8 comes out (I am dual booting with W8 RTM now and I still will be sticking with Windows 7)

I use Bing. I find MSN more as an alternative for Yahoo and Bing to Google...

Thank you! Friends of mine say How can you be a MSFT guy when they've clearly aligned themselves with the standard bearers of extreme liberal godless hippy theology? Its a legitimate question.

One thing that needs to get fixed is the calendar and my devices page. Both are ugly and devices is hard to get to.

That looks a lot better and much more user friendly than the USA Today relaunched page. That thing is terrible and a pain to navigate around.


*** PLS BE QUICKER TO START, and OPEN TABS Microsoft
<there I feel better now> I have switched back to IE from Chrome. I love BING, pretty.
I love the compatibility IE has with sites I use. But I just wish opening and tab opening was quicker. Once pages are loading its as quick as Chrome, but its IE itself that is not snappy enough. I am happy with its security, now thats its a tad better than Chrome.
All browsers are marginally vulnerable if you go to the seedier parts of the Internet.
Fingers crossed Microsoft get IE right this time. I live in hope.

Yeah, surfing is great, but opening a new tab there's always delays while it loads plugins. That said, you can minimize the lag by removing/disabling any crap addons.

hello MSN you are drop dead gorgeous:D

Cyan laptop? Nokia ultrabook? :P

I liked it when playing with both

A redesign is long overdue so it's about time however still have doubts that it will be useable.

The website msn has pretty much been useless to me in the past due to the clutter and slowness. I will give it another shot when the new version arrives!
Windows Central Newsletter
Thank you for signing up to Windows Central. You will receive a verification email shortly.
There was a problem. Please refresh the page and try again.