Official apps for several NFL teams hit Windows Phone just in time for playoffs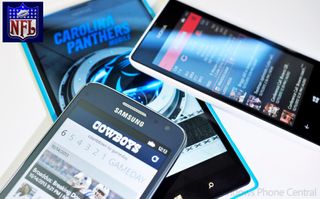 Even though the NFL season is wrapping up, we're happy to see more official apps for NFL teams join the Windows Phone Store. Mosey on over to the Store and you'll see new official apps for the St. Louis Rams, Chicago Bears, Carolina Panthers and Baltimore Ravens. That's in addition to a handful of teams that are already there. Let's check out what these apps are about and what we can look forward to from other teams.
Yinzcam (yinzcam.com) is a company that makes official apps for a variety of teams across the NFL, NHL and other sport leagues. Today they released official apps for the Rams, Bears, Panthers and Ravens, but they already have apps in place for the Seahawks, Cowboys, Packers, Chiefs, and Buccaneers. The apps are all the same, but with content tailored for the respective team. Here are the features you'll find in these apps:
News: Real-time breaking news from the Seahawks, previews of upcoming matchups, post-game blogs
Video: Video-on-demand clips of the Seahawks' press conferences, coach and player interviews
Photos: Gallery of game-time action
Stats: Real-time statistics and scores from the official NFL stats engine, head-to-head stats of the matchup, player stats, drive-by-drive stats, box score, out-of-town scores around the league
Standings: Division and conference standings
Fantasy: Keep track of your favorite fantasy players
Depth chart: Shown by offense, defense and special teams
Social media: Aggregated twitter of the Seahawks' official tweets, one-click tweet of all media items, one-click Facebook posting of all media items
Schedule: Schedule of upcoming games, and scores/stats of previous games from the season, ticket purchase for games
Evolving home-screen: Pre-game, in-game, post-game, off-season countdown, draft-day
Of course to test out these apps I downloaded the official Seahawks app. It's not bad at all, sure I'd like to see things like double wide Live tiles (there is 7.x support though), but it's a solid showing and gets apps to the Store for NFL teams and others. You get access to news and video from the team, which you can share through Facebook, Twitter, e-mail or SMS. You'll also find nice bonuses like a section dedicated to the Spirit of 12 and Sea Gals, and CenturyLink Field. If you find yourself lucky enough to actually be in the stadium watching the game you'll find access to live video through the app.
What about my team? You're probably wondering why Yinzcam only has a handful of apps out for NFL teams and others. When it comes to the NFL, Yinzcam works with 26 out of the 32 NFL teams. They'll be adding more teams shortly and we'll keep you posted on when more teams join the roster for Windows Phone.
In the meantime, get ready for a link party below with access to all the teams currently available (NFL and a few NHL) on Windows Phone. You'll find the QR codes below as well. All apps are free and available for both Windows Phone 7.x and Windows Phone 8 users.
Rams – Windows Phone Store
Buccaneers – Windows Phone Store
Cowboys – Windows Phone Store
Packers – Windows Phone Store
Kansas City – Windows Phone Store
Bears – Windows Phone Store
Panthers – Windows Phone Store
Ravens – Windows Phone Store
Red Wings – Windows Phone Store
Oilers – Windows Phone Store
Windows Central Newsletter
Get the best of Windows Central in in your inbox, every day!
Need Broncos and Redskins

Nobody needs anything having to do with the DC Reds

Definitely need my Redskins!

Me and my dad need redskins app! Haha

Right. Broncos and Skins are a must.

Waiting to hear back from the devs on which teams they have apps coming out for.

Yeah get that Redskins app. Just in time for the playof.....oh wait

Nice. Plenty of apps lately. Go Capitals. :)

Wondering why Redwings and Oilers are listed.

too bad i dont watch football but if i did i would be all over these apps :P

Nah you're not missing much. Haha

I'm with you. But we do need official F1 & MotoGP apps :D

Lol they're my team. But I dont want an app for this season.

Been a Steelers fan since 1970, and yes, its been a bad season, all I can say WP95, is hold your head up high, for a true fan never says die lol

Seriously, this company started and is still based in Pittsburgh. Where's the love?

Would've thought they would be a shoe in to be made quickly

Pats +2520 Need my Tommy fix

Seriously, where dat Saints app?

That's what I'm saying! WHO DAT

Looks like the Panthers app came out first.

"They'll be adding more teams shortly and we'll keep you posted on when more teams join the roster for Windows Phone."

Missing a distinct lack of E-A-G-L-E-S EAGLES.

Fly Eagles Fly, on the road to victory!

Fight Eagles Fight, score a touchdown 1-2-3!

Had to think about this comment for a second. Bravo, good sir.

I hope the Red Wings make the Superbowl... :S. Lol.

Need a Lions one...well maybe next year we will.

Alshon is a straight-up BEAST!

Awesome! Cowboys app sweet, I just wish they didn't suck so bad.

The Cowboys? They should have first focused on the teams that will make the playoffs.

All that matters is they have the Ravens.

Also, my brother is a very pleased Windows Phone 7.x customer!

Wtf no hawks....... Come on really?????? Owner help build Microsoft lol

What's worse... The article shows screen shots of nothing but Seahawks... I'm confused and sad... Update: found it http://www.windowsphone.com/s?appid=25373148-9fa2-4ac5-917d-d7b41061100a

What?!? WP7.x support? Thank you, NFL

Browns? Anyone... :::crickets:::

I'll vote for it, but I'm not a Browns fan. I'd like all the teams to get their own app.

Go Browns! Saw them live when they beat the Ravens earlier this year. Well worth the 4 hour drive!

Why is the article showing Seahawks stuff, but there's no app?!?!??! Update: found it http://www.windowsphone.com/s?appid=25373148-9fa2-4ac5-917d-d7b41061100a

Of course the Hawks are highlighted in several places on this article. I like Sam even more now. Go Hawks!

There are quite a few "Futbol" apps already though:-) But this is a welcome addition.

49ers!!! Where are all my buddies at? Am I the only 9er fan here? O_O

Thumbs up even though they're only my third favorite:) Never got seriously engaged with any other team than Manchester United

Broncos fan here, but also like the Niners...

Panther Nation! Keep pounding!!!

Raiders, Raiders, Raiders, Raiders,

People sure do love the Hawks and Windows Phone based on the reviews. Considering that it is Seattle, I suppose that makes sense. For me, it is the Broncos all the way.

Hope the giants get one soon.

I am a Bears fan, but I want a Broncos app

Where's NHL gamecenter???!!??

Who makes the decisions to make these official apps? The teams themselves or the NFL? If the former, then everyone on Windows Phone should suddenly switch allegiances to one of those teams (I say root for the Packers, the only professional sports team in the U.S. that is publicly owned). If the latter, why wouldn't the NFL issue apps for all teams?

Downloaded the Ravens app and I like it!

Where is my Steelers app?

Two Thumbs Up to Sam for using the Seahawks Images

Aww where's my Texan's app??

Waiting for the Saints. :D
Windows Central Newsletter
Thank you for signing up to Windows Central. You will receive a verification email shortly.
There was a problem. Please refresh the page and try again.