Official apps for several NFL teams hit Windows Phone just in time for playoffs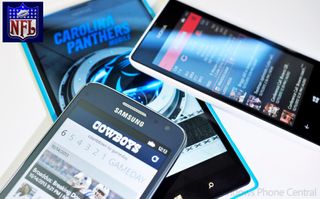 Even though the NFL season is wrapping up, we're happy to see more official apps for NFL teams join the Windows Phone Store. Mosey on over to the Store and you'll see new official apps for the St. Louis Rams, Chicago Bears, Carolina Panthers and Baltimore Ravens. That's in addition to a handful of teams that are already there. Let's check out what these apps are about and what we can look forward to from other teams.
Yinzcam (yinzcam.com) is a company that makes official apps for a variety of teams across the NFL, NHL and other sport leagues. Today they released official apps for the Rams, Bears, Panthers and Ravens, but they already have apps in place for the Seahawks, Cowboys, Packers, Chiefs, and Buccaneers. The apps are all the same, but with content tailored for the respective team. Here are the features you'll find in these apps:
News: Real-time breaking news from the Seahawks, previews of upcoming matchups, post-game blogs
Video: Video-on-demand clips of the Seahawks' press conferences, coach and player interviews
Photos: Gallery of game-time action
Stats: Real-time statistics and scores from the official NFL stats engine, head-to-head stats of the matchup, player stats, drive-by-drive stats, box score, out-of-town scores around the league
Standings: Division and conference standings
Fantasy: Keep track of your favorite fantasy players
Depth chart: Shown by offense, defense and special teams
Social media: Aggregated twitter of the Seahawks' official tweets, one-click tweet of all media items, one-click Facebook posting of all media items
Schedule: Schedule of upcoming games, and scores/stats of previous games from the season, ticket purchase for games
Evolving home-screen: Pre-game, in-game, post-game, off-season countdown, draft-day
Of course to test out these apps I downloaded the official Seahawks app. It's not bad at all, sure I'd like to see things like double wide Live tiles (there is 7.x support though), but it's a solid showing and gets apps to the Store for NFL teams and others. You get access to news and video from the team, which you can share through Facebook, Twitter, e-mail or SMS. You'll also find nice bonuses like a section dedicated to the Spirit of 12 and Sea Gals, and CenturyLink Field. If you find yourself lucky enough to actually be in the stadium watching the game you'll find access to live video through the app.
What about my team? You're probably wondering why Yinzcam only has a handful of apps out for NFL teams and others. When it comes to the NFL, Yinzcam works with 26 out of the 32 NFL teams. They'll be adding more teams shortly and we'll keep you posted on when more teams join the roster for Windows Phone.
In the meantime, get ready for a link party below with access to all the teams currently available (NFL and a few NHL) on Windows Phone. You'll find the QR codes below as well. All apps are free and available for both Windows Phone 7.x and Windows Phone 8 users.
Rams – Windows Phone Store
Buccaneers – Windows Phone Store
Cowboys – Windows Phone Store
Packers – Windows Phone Store
Kansas City – Windows Phone Store
Bears – Windows Phone Store
Panthers – Windows Phone Store
Ravens – Windows Phone Store
Red Wings – Windows Phone Store
Oilers – Windows Phone Store
Get the Windows Central Newsletter
All the latest news, reviews, and guides for Windows and Xbox diehards.