NOAA Hi-Def Radar for Windows and Windows Phone updated with new Live Tile settings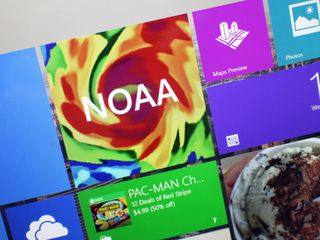 Weather tracking for some people is serious business and NOAA Hi-Def Radar, using the National Oceanic and Atmospheric Administration data, is one of those apps.
Today, version 1.1.0.12 of the Windows 8.1 and Windows Phone 8.1 apps are going out to the Store and with it a bevy of changes, fixes, and improvements.
NOAA Hi-Def Radar (Universal app changelog)
Live Tile integration for Windows and Windows Phone (medium and wide on phone, medium, wide and large on Windows). Users have the ability to track their current location or their home location from live tile. This can be changed in settings
Manually update Live Tile from settings
New layer showing weather alert polygons on the map. When tapped, users will see the national weather service alert information. This layer can be turned on/off similar to the aerial view.
Improved weather radar rendering
Updated design layout of forecast and locations for Windows version.
Updated design of locations for Windows Phone.
Locations screen now indicates the home location for the user
Various other bug fixes
Get Maps Address button on New Location screen should now work without issue
NOAA Hi-Def Radar is a US-based weather service, as such it won't be useful to those residing outside of the States. However, for those in the US, the universal app looks to be one of the best for radar information, detailed forecasts and hurricane tracking. Hopefully, today's update addresses many of the early bugs that some users have experienced.
NOAA Hi-Def Radar runs for $1.99 although that price unlocks both versions for Windows and Windows Phone. Unfortunately, there is no free trial due to the request of NOAA.
Daniel Rubino is the Executive Editor of Windows Central, head reviewer, podcast co-host, and analyst. He has been covering Microsoft here since 2007, back when this site was called WMExperts (and later Windows Phone Central). His interests include Windows, Microsoft Surface, laptops, next-gen computing, and arguing with people on the internet.
Wow successive posts from wc

Does it give you a five day forecast and other standard weather information, or is this just for radar? (I saw a "today" forecast on the images)

There is a forecast section. Single page, looks like this http://imgur.com/pi7HqHb

Thanks. Any idea if is will show precipitation % if rain is in the forecast? From the screenshot I see other information but no precipitation.

There's no percentage of chance of precipitation.

So, if I read that right, it looks like 3 degrees is T-Shirt weather. ?

lol, the icon does not change based on weather conditions

So what I really like about NOAA's website is the hourly graph. It doesn't look like this is part of the app. Can anyone confirm this before I buy it?

Thank you for the info. I'll wait for a bit and hope it gets added.

Hey, thanks for the feedback. We will see what we can do to get that added in for you :) Can you link me to the graph you are talking about?

And this is what I love about the WP community as well as this site. The graph I am referring to can be found here http://forecast.weather.gov/MapClick.php?lat=41.9886&lon=-70.9713&unit=0... It is just the largest use I get out fo the NOAA website. Thanks you very much for the reply.

Thank you Axman, I hadn't noticed that graph page before.
It's now added to my favorites.

Not supported for Nokia Lumia 520, or should region change trick?

Does it offers lock screen support and five day forecast want to know before I buy it ...

no on lockscreen, it does have a forecast (see comment above with imgur link)

Boo, no trial.
No thank you.
Not going to throw away $ if I don't know if it will work for me in my country (Canada).
For all I know this is USA only.

Unless things have changed in the last 3 years, Canadian Radar is not high-definition yet. When I worked for a weather services company, the Canadian radar data was of lower quality because the radar dishes deployed throught Canada don't have the higher capabilities of the ones deployed in the US. We had similar differences in quality for other areas of the world. Radar dishes are big money... so it can take years for major upgrades to roll out, if ever.

"For all I know this is USA only."

I mean, I kind of point out that

is

US only, it also says that in the app description. I would not buy if not in the US TBH.

Them pesky words in them there articles get ya every time...

Is this actually an official app from NOAA? I don't see anything in the app description or on any NOAA website supporting that.

Could you share a source on that? It seems that they use official NOAA data, but anyone can do that without becoming a NOAA-endorsed or sanctioned app. EDIT: I would expect it to be referenced here as well if it was official http://www.usa.gov/mobileapps.shtml#N

--> http://weathersphere.com/products/noaa-hi-def-radar NOAA itself does not make weather apps, but Weathersphere makes weather apps that utilize their services.

If NOAA does not make it, nor do they officially contract with weathershpere to make it then it is not an official app. By your logic I could call weatherspark the offical NOAA app as well because they use the hourly graph services provided by NOAA.

It is not. It uses NOAA radar which is open to public use. Nowhere on Weathersphere site or on NOAA's site iteself does it specicifically say this is an official app. NO WHERE! This "official" thing keeps getting propogated on WC to the point where WC actually believes it.

I beg to differ: http://weathersphere.com/products/noaa-hi-def-radar Your move, xFalk.

Seems like a serious chess match..

That is the Weathersphere website but where do they claim that their app is "the official app" of NOAA? If I'm missing it, please be more specifiic where that is stated. I'm not saying it's a bad app, but it's not an "official" NOAA app. The only place you find that claim is on Windows Central.

The article was silently edited to reflect that it is not the official app

Finally the radar animation isn't a flashing jerky disco slideshow. I bout the app a long time ago and stopped using it because of that. Seems to be fixed now, so I'll actually use it.

I own this app, I used some of my Bing rewards to buy it. I live in the mountains so weather forecasting is very tough here and I use several apps to help. The radar is good and adjustable with the number of frames and interval. But, since the latest update of The Weather Channel app, their radar is way better and has all the features everyone is asking about here. There radar even does the future forecast like on the website.

Weather channel updated their app and it's good? They kept making it more horrible with every release. It was garbage by the time I uninstalled it. Will give it another chance.

The Weather Channel app no longer has a live tile radar. Too bad, theirs was the only one outside of the US and they had the best radar live tile to boot.

The NOAA Hi Def radar app's live tile is a radar. It keeps up with your current location if you choose and also shows current weather and temp

Its not a live tile radar for those outside the US.

Trying to also download on my desktop and it recognizes I own the app but getting a perpetual "Verify your Microsoft account info" message when trying to download..not sure a store problem or the app.

So many free weather apps, what makes it so special that anyone should pay for it?

No adds? I paid to remove them from Weather Radar Live, it was worth it for me.

Bing rewards don't cost anything but clicks. I haven't actually paid my own money for an app in over a year.

This seems to load very slow, when you go from radar to forecast this also is slow. Doesn't seem to be sized right for my 822 hard to see near the edges, other radar apps much better. 1.99 mistake with no trial offer.
Windows Central Newsletter
Get the best of Windows Central in in your inbox, every day!
Thank you for signing up to Windows Central. You will receive a verification email shortly.
There was a problem. Please refresh the page and try again.