Official Royal Bank of Scotland Windows Phone app now available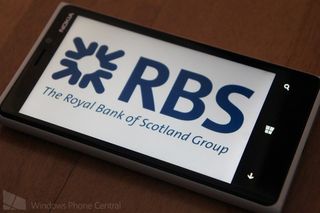 It was nearly one month ago when we told you that the Royal Bank of Scotland (RBS) was working on an official app for Windows Phone users.
Well, that day is upon us those who bank with RBS in the UK can now grab that app for their Windows Phone 7.x and 8 devices.
The app appears to be pretty solid too, meaning this isn't just a front-end web app but rather delivers some serious functionality:
View your transaction history for most of your accounts, search for historical transactions on your current accounts and savings accounts
Get Cash from RBS, NatWest or Tesco cash machines without a debit card
Send money to RBS Mobile Banking customers that use this app – all you need is their mobile number
Pay bills or people – by setting up and making your first payment in Online Banking
Transfer funds between your accounts
Check your balance and recent transactions
Find your nearest cash machine or local branch
Top up your pay as you go mobile phone and up to four others (service not available on the 3 network).
Not too bad and it's a good sign that we're seeing more and more official bank apps finally land on Windows Phone after what seems like an eternity of being sidelined.
Pick up the RBS app here in the Windows Phone Store. Thanks, Sabita M., for the tip!
Daniel Rubino is the Executive Editor of Windows Central, head reviewer, podcast co-host, and analyst. He has been covering Microsoft here since 2007, back when this site was called WMExperts (and later Windows Phone Central). His interests include Windows, Microsoft Surface, laptops, next-gen computing, and arguing with people on the internet.
This is cool.
I hope Indian banks also release their apps for windows phone.
Two big private Indian banks (HDFC, ICICI) have their apps on windows 8. Hope they port them to Windows phone.

Actually hdfc told me that they are working on a wp app

Yes. They have told they are making an app for windows phone and android way back.
Android app is available for some time now. So is windows 8 app.
Not only HDFC. Currently there is no app for any indian banks.

That is what I want, and a Barclaycard app

+1 Barclaycardc, or even better a Wallet NFC plugin for Tap to Pay via Phone direct to my Barclaycard account. Wicked.

FYI - this is the same as the NatWest app. NatWest is a subsidary of RBS.

But it allows access to RBS accounts which the NatWest app doesn't.

We need American express app

Tried logging into my account with the RBS app, it says its "only accessible to customers in Scotland". WTF! 'Tis a local bank for local people!

Already downloaded it, works perfectly. Oh and I'm based in England (Barrow-in-Furness)

Lol kill me :/ bank apps da fuq -_-

Seriously how many roofies did you have today? Your English vocabulary is horrible. Da fuq man.

Hopefully, this mean a Citizen's Bank version will follow soon.

Would like to see all the UK banks getting an app out there for WP8!

Im in England and it works fine. Contact them and see what is happening...

Much further down on the description it states Scotland only. Not a happy camper. Do you live anywhere near the border?

Same problem for me. Where is your home branch? I reckon it's by that and not location.
I don't see why they'd do that, unless it's because the Scottish branches aren't being sold to Santander?

I don't think any are being sold to Santander now. None will be divested now as it fell through I think. Anyhow, I reckon you are correct. Can't Pretend I am happy about it. As it happens, a friend that works for RBS has just called me to get help as her son has pattern locked his Android phone.

Bank of Scotland next, perchance?
Pretty please?
Pretty please with a haggis on top?

Arvest bank app would be sweet

Hopefully their US affiliate Charter One will be soon!

I also know that a co-op banking app won't be with us anytime soon...

Ulster bank is part of the same group so hopefully soon

It only shows my mortgage account as the rest are part of that Santander crap, not impressed this works fine on my nexus 7

Its official website clear states the app only works if your current account is in Scotland.
This is an absolute disgrace.
http://www.rbs.co.uk/personal/online-banking/g2/windows-phone.ashx#tabs=...

On the phone to the Mobile Banking Support now.
The seem as bemused at the message saying "available for customers in Scotland only"
Currently on hold waiting to speak to the 5th person at RBS.

Basically the issue is because account in the UK were going to be transferred over to Santander.
This failed to happen which for some reason the app is affecting those customers who's account were going to be transferred accross.
Also it may be an issue if you have current account in the UK and Savings accounts in Scotland.
If you have a online saver your sort code will begin 83. Therefore causing an app to experience issues.
However they can confim that the Iphone and Android apps have no issues distinguishing this.
Currently still on hold to speak with online bankimg to see if than come up with a work around.

WIsh Me Luck...!

Good Luck Dude
Did you get anywhere with it ?

Sorry guys hit a rock on and hard place.
They said there is nothing they can do.
Only option now is to transfer all my accounts to Scotland.
Head office said that could take months..

I just dont understand this, I have the app on my nexus 7 and it shows my 4 accounts fine, when i log onto online banking through a browser my credit card,saving account and current account are supposed to be with santander? and my mortgage account with rbs. The mortgage account is all i see when using the app. But like i say on the nexus all accounts are visible, someone needs to sort this, the only app i missed since ditching Iphone :(


NEW UPDATE ON APP NOW ALLOWS UK USERS TO USE APP ALSO... NO LONGER SCOTLAND ONLY.. ABOUT TIME RBS....

Any news on Lloyds releasing a banking app?

NEW UPDATE ON APP NOW ALLOWS UK USERS TO USE APP ALSO... NO LONGER SCOTLAND ONLY.. ABOUT TIME RBS....
Windows Central Newsletter
Get the best of Windows Central in in your inbox, every day!
Thank you for signing up to Windows Central. You will receive a verification email shortly.
There was a problem. Please refresh the page and try again.