The official Slack app for Windows Phone is still happening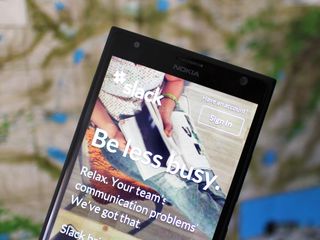 There's long been an open secret that Slack, the real-time group messaging service, was developing an official app for Windows Phone. We've got a Windows desktop app, but so far nothing official for phones. All has been quiet of late, and following a few teaser images released by the developers on Twitter recently, things are now most definitely progressing.
A beta is coming and some Slack users are being invited to take part in testing.
Here's part of the email that's going out:
Other than that there's no indication on what time frame Slack might be working on, but for anyone who uses it (including the Windows Central team) it's great news.
Thanks to everyone who tipped us!
Richard Devine is an Editor at Windows Central. A former Project Manager and long-term tech addict, he joined Mobile Nations in 2011 and has been found on Android Central and iMore as well as Windows Central. Currently you'll find him covering all manner of PC hardware and gaming, and you can follow him on Twitter and Instagram.
Hope it's a straight Universal Windows 10 app. So it will be less worries.

Probably not at first. They're building it for Windows Phone. Slack already has a desktop app so presumably they're finishing the project they started.

Desktopapp, which is horrible by the way!

The desktop app is just a web wrapper. Same thing with the OSX version.

Hey, Richard. A while ago I asked them about an universal app and they commented their vision about it. I would love to share with you from Windows Central. In advance: It is not so great in the short term... Although I strongly believe in the future: https://pokeshiny.slack.com/help/requests/536824

They already said it won't be universal....
Although if they wait just a little bit they can poet the IOs one.

Slack is used by a lot of businesses, which means that it might be a little while before they make a Universal app. Many businesses are still on Windows 7.

What businesses use? I have never heard of until recently. My company has our own service but we seem to be moving to Skype for Business

The app is new, released in fall 2013. It's basically a much better version of Hipchat.

If you read below, Mobile Nations and IBM both use it.

That is really odd. IBM Has their own that they sell to companies. Odd...

We use it. We used to use Skype then moved to AIM which amazingly was the best and now use slack.

Technically doesn't have to be a windows 10 universal app since windows 8.1 and windows phone 8.1 support their own universal app (albeit not windows 10 ones, but windows 10 is backwards compatible for the most part as we saw from the preview with then current universal apps for WP and win 8.1).

We don't need this Type of Useless app Guys we Love our daily life using apps Like Imo,Whatsapp,facebook etc with better UI On windows mobile so plzz understand our feeling nd Provide usefull apps in our Store...

Let it go mate. I don't also use this, but somebody is also using this.

Useless app? Mobile Nations uses Slack every single day to communicate across our teams. As do many other companies. We've been going to shows like CES, MWC and Computex with an iPhone or an Android device in our pockets as well primarily because there was no reliable, full featured Slack experience on Windows Phone. This app will be one of the most useful around for people like us, who need it.

exactly!! we are using slack in our office since last 6 months, it is very useful for the communication between teams in our office.

It is for example used in parts of IBM, which is not a small corner of the world. I love Slack for both work projects and those personal projects that you want to collaborate on with a few friends. A lot of projects use this behind the scenes and/or have started offering it as part of their standard 'contact us' type arrangements - see Socket.io for an example. Glad I got the beta invite :)

So Richard, when Slack app becomes fully functional on Windows Phone, you will not carry an android or iPhone.
Just a joke.

We are a Medium constuction Company an it is very useful. It's easier with communication from office to construction side. Plans , documents....and more

this is not useless app....if u dont need it then dont complain......

Useless to you does not mean useless to all slack is a platform incredibly popular among office work force and it is really useful and simple to use in working conditions. Would you mind explaining what do you consider a useful app is clash of clans perhaps

@Deepak halder, the app is not as useless as your useless comment.

Slack is used for productivity reasons; Facebook usually is not.
People often have valid opinions; you simply do not.

This team works on Slack they can not change theor task "lets build facebook a better app" :D things don't go this way. And so no dev can "understand your feelings" and do tasks for what they are not attended to :) this will be an official app and their devs work on this not for other companies. If you want something better in WhatsApp, Facebook contact their devs.

Dude, please get some common sense. Just because you dont use doesn't mean it is useless.

Just shut up and be happy with the coming of app to our phone platform even when you don't use it!

You're the reason developers don't make Apps for Windows phone, all you have to do is NOT DOWNLOAD IT!

It's an alternative for Microsoft exchange for small businesses

Umm, no not even a close comparison to Exchange. Office 365 and Skype for Business is what small businesses should be using. Slack is an IM/chat service and people at my workplace use it to fuck around and use GIFFY (animated GIFs) all day. Whether Slack is a business productivity tool is debatable.

slack is free, those services you mentioned are not. and its more than an IM/ CHat service. the company advertises it as a business sulotion.

Its useless for people who think its JUST another chat or social app. Its for productivity let me say to you sir.

I use Slack and was glad to get the WP beta invite today. I suspect the devs read threads like this... so it's a thank you from me.

Our company uses Slack and it's been instrumental in opening up communication across team boundaries, etc. This isn't your consumer chat app. This is a team communication tool that has far great functionality and impact.

Why should someone use this over MS Lync/Skype for Business?

Because it's not clunky like Skype. The chat interface is amazing, you can monitor lots of chat channels at once, create channels quickly and easily, edit messages after sending, and it has animated GIF support through Giphy, which is genius. Once you use it for work collaboration you'll never go back.

The integration with 3rd party platforms is nice. For example I have a channel that automatically gets updated whenever someone pushes code to the Git repo. Another channel is notified when someone adds/updates/deletes a card in our Kanban system (Trello). We have communication channels for frontend, backend, middleware and api teams. As a productivity tool it is really useful. Though yes, we do have a 'random' channel for the usual humour stuff as well - everyone needs to blow off steam from time to time.

We use Slack as well, although one thing that bugs me is the size of the window. It's far to clunky. Skype was smaller and neater. Another pewee (for me) is that I cannot have two chats open in adjacent windows to be able to chat with two persons without having to click between them everytime. I could that in Skype. Also, the notification doesn't work for us in the Windows version. Previously it used to show up yellow when someone chatted, but not anymore and I don't seem to be able to find any setting for it...

Wow ur an idiot. Look at all the companies using slack. They are the next big thing. It was started by the guy who started flckr. Not small peanuts

We use it every second of the day at work. It's our communication hub, not just for sending funny cat GIFs. All our CI build output goes there, our GITHub output goes in there, any frontend and back end error messages go there, we communicate with our international team members there. Slack is a far superior machine when compared to all the other simple messaging apps out there and I use Line, WhatsApp, WeChat, Messenger etc. They are toys.

Why the "we"? Speak for yourself. Posted via the Windows Central App for Android

Any way on getting into the beta too? Was there a sign-up page, do you need to sign-in on your phone or what?

There is a signup page where you have to fill in your Live ID, so the app becomes available for you in the store, but I'm not sure if I'm supposed to share it...

There's no clear indication on whether this is a private or public beta. As such we're not going to share any links at this time.

I just emailed the slack support email and asked... worked for me.

I don't mean to be rude but we are kind of being bombarded with all those massaging apps.
However after a little research: https://slack.com/ I found it different than others.
So the main goal here is to make it something more, have some specific features that no one has. A super good looking UI, all the existing features on current platforms, especially the File sharing! And please custom chat backgrounds all the way! For the sake of relaxation when looking at the screen.
Now I wish I had a Team lol :D

Ahahah xD I see now why that word seemed funny.

Is it like telegram messenger?

No. It feels more like IRC, but for company internal use only.

I tweeted them this week and they said there were no timeframe for a beta version. Those guys behind that Twitter account know nothing.

The twitter guys recently said something like "never say never" for a universal Windows 10 app, if I recall correctly.

I also got invited for the beta testing, here's the changelog of the latest version: Release notes for Version 2015.813.0.0 (August 13th, 2015) What's NEW New design that is more similar to the other Slack mobile apps with a Windows 10 style Support for various authentication methods such as two-factor authentication and guest single-sign on Live tile displaying the latest 5 messages New message markers in channels, unread message bar Custom emoji support & viewing message reactions Faster navigation between channels Profile pages Known Issues Live tile notification text is not cleared when that message is read. The unread messages blue bar in a channel doesn't always automatically dismiss when the newest message initially appears on the screen. Text input areas sometimes receive focus when navigating causing the keyboard to open. After clicking a toast notification, there might be a delay in displaying the message while the app re-establishes a connection. Certain events like channel join / leave may trigger an unread channel indication when they should not. Reactions are currently read only. The application may not handle loss of connectivity gracefully in all situations. Each message from a user is currently displayed with a picture / name header instead of joining with previous recent messages. UPCOMING Performance improvements File uploads Adding reactions Search Mentions & starred items view

Cool, thanks for the info!

Sweet, this should make life easier for the Windows Central team :). Not abbreviating that to WC... Lol.

I'm so confused as to why this isn't being made a universal app? Unless their excuse is that they've already had a desktop app and don't want to scrap all of that work. Even so, it will be less work moving forward to have one universal app. Makes no sense to me! Either way, glad it's coming to windows phone!

Let's just let them finish the app first ;-)

Do you sometimes wakeup and make a decision based on how much cash is in your pocket? Yep

They already have a desktop app

This is awesome slack keep kicking ass!

Someone is slacking around. Its get that its under development, can't wait to use it.

Good. I use slack everyday and am glad they are nearing an app!

Does it have OneDrive integration like Google or Box? Is there Office 365 support yet?

Been tipping this before but WC's response is somehow like "lets not get our hopes high with this."
SlackHQ tweeted to me directly that they're working on this. And now.. That hope is on the horizon.

Too bad government offices probably wouldn't let this be used.

I looked into slack once upon a time, but no app on WP drove me to another solution. Too little, too late for me.

As others have said, this really needs to be a universal app. Having access to the share 'charm' alone (esp. being able to share things TO slack) would make it worthwhile over the current web wrapper desktop app.

Slack slack slack ... Good slacking news

We use Yammer at our school as part of our Office 365 deployment, Slack looks good but Yammer has it going on (and is available on WP already)...

I was literally about to order an Asus ZenFone 2 prior to reading this article. Our Tech Support company uses slack and it is a must have on the go. I have reached out to them via support but haven't heard anything quite yet. I would love to become part of the Beta program. I would be using it on a dialy basis for the most part and they could get some very valuable feedback!

I feel like Slack is probably closer to Yammer in functionality than it is to Skype For Business.
Windows Central Newsletter
Thank you for signing up to Windows Central. You will receive a verification email shortly.
There was a problem. Please refresh the page and try again.