The official TED app is now available for Windows 10 PC and Mobile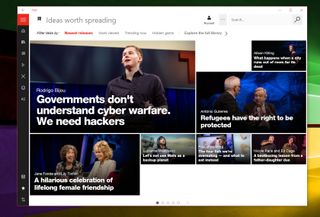 TED, the non-profit that hosts original video speeches and seminars from a wide variety of leaders and innovators, has launched its universal app for Windows 10 PC and Mobile. The organization previously launched apps for Windows 8 and Windows Phone in 2014.
Like those previous apps, the new TED app for Windows 10 allows users to browse through their library of videos, or "TED talks" that have been recorded during the organization's series of conferences. People like Microsoft co-founder Bill Gates, Google founders Larry Page and Sergey Brin, and others have gotten on stage to offer their own "TED talks", among the many other noted speakers from the entertainment, scientific and business worlds, along with current and former government leaders.
Thanks to Victor for the tip!
Windows Central Newsletter
Get the best of Windows Central in in your inbox, every day!
Cant wait with those news for new high profile apps rather than windows 8/phone apps that are migrated over

Don't get too excited on this one. It's a web wrapper. It's a nice one but it's still a web wrapper. I'm glad they updated it but I'm doubt they spent a ton of time on it. On first open there is a blatant UI bug on the menu in landscape that's hard to miss.

I haven't downloaded it. But from the screenshot they are using splitview. Can you have splitview in a web wrapper? (Sure, I bet the content is web delivered) but what gives away its a web wrapper?

You're right. Just downloaded it. The menu takes you to different parts of the site, and emeds the content into a frame. Very ho hum.

U dont see "download app" option these days ...

You don't even see new apps getting released this fast (universal and top names) these days especially in the case of windows phone so chill out
It's not like they said no.

I see it - it's right there at the end of the article just next to the matrix code - that I cant read with win10mobile though

If you're talking about the WC app, Microsoft changed something that broke links to W10 apps.

Yah, it is broken but it should be working on the new WC app for W10 due this week :) hopefully :)

Which isn't true because I've done it before with windows 10. Takes you to the edge browser store then auto opens in the store

I'm talking about the WC app automatically picking up the Store links, or however it's done.

Exactly. It's a parsing issue within in the app to generate that 'download link' button. JF. Vigor is speaking about something of which he is not familiar.

I wonder if Microsoft coordinates having these bevy of apps released around the same time or this is just coi cidence

not really.. hey are just ported over to the UWP. didnt give us anything new yet - really

There was no TED app earlier, at least for phones.

There was already TED APP for 8 and 8.1 , I have it since ages in both PC and mobile...

My wife and I have had the "official" for a long time now. The article said it was on WP8 before and that's what we have had. It's just a web wrapper and not like the IOS and Android version. It's pretty nicely done but compare it to the website and to an Android ot IOS version and you will see.

actually, there was. read the article. :)

Needs a bug fix update for phone but overall, works alright. Better than the previous verson

Yeah, decent first attempt, but definitely room for spit and polish.

It seems to me that's it's a web app. Nothing exciting about UI. Just loads the mobile ted site. Do not like it that much.

I noticed that too but it's a pretty decent implementation. Even on iOS and Android there are times where the mobile site is better than the app.

This app should be called Windows 10 central.

Woohoo been waiting for this!

Gonna gitme sum smarts...n stuff

Aha, cool stuff. Keep them coming!

Another universal app. Loads of them in the last few weeks

Windows 10 is driving more devs in now. The more the merrier Posted via the Windows Central App for Android

Is 6tag available for windows 10 and mobile?

This app has literally been out for months. Today there is no update. How is this news??

Web wrappers should be banned

sans subtitles ... subtitles seem to be reserved for iOS and desktop FLASH users. As usual the Windows app is lacking features.

This is actually quite responsive, just needs offline mode

Love TED but the app's search doesn't work, whatever you type it searches for "undefined" and gives the same 12 videos that happen to be related to undefined haha

Can't download anything from the store since the last update

That is good news that big name like TED is coming to Windows Universal Platform. But my doubt about the quality if App itself. Windows phone 8 & 8.1 App was just copy of website. Please make video review #Dan of this app for PC and Mobile. TED is hub of most inspiring Speakers of the world. This is worth looking.
Windows Central Newsletter
Thank you for signing up to Windows Central. You will receive a verification email shortly.
There was a problem. Please refresh the page and try again.