Official Twitter app for Windows Phone gets dark theme, new languages, and lockscreen
Version 3.0 of the Official Twitter app for Windows Phone brings a handful of new features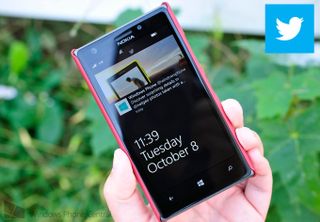 The official Twitter app for Windows Phone was last updated back in June and that was after its major overhaul in February of this year. Today version 3.0.0.0 has landed on the store and if that should ring a bell, it means a major version change and not just a few fixes or enhancements.
Loading up the app and heading into settings we find a surfeit of new and welcomed changes, including the much coveted "dark" theme. While the default light theme was always sharp looking, dark (along with that Twitter category bar at the top) looks especially elegant.
But besides that new theme, there are a few other changes, let's take a look.
Twitter for Windows Phone version 3.0
Select your favorite Twitter accounts and receive notifications when they Tweet
Pin keyword searches to your home screen for quick access to Tweets on a topic
Easily surface great content with improvements to Search and Discover
Set your language preference in settings and get tweets translated in your timeline. Now with support for 13 additional languages!
New Twitter lockscreen experience highlights interesting tweets on your home screen
The Windows Phone blog chimes in with a few other additions not listed in the changelog:
The lockscreen experience is particularly interesting as it take a snapshot of a Tweet and any photo that is accompanied by it and adds it to a prefabbed layout. With the design, you can clearly see your time and detailed information, but you also get a glimpse of what we imagine is a popular Tweet i.e. it's been retweeted a lot by others.
While we don't use the search or keyword searches all that often on Twitter, we know many of you do. Having improved Search and Discover features should go a long way in making that more useful—in addition to being able to pin to your Start screen.
Overall, Twitter version 3.0 is a nice update for an official app. It of course still is far behind many of the excellent third-party apps that are more geared towards the ambitious, but for the average user it sure makes a great impression.
Pick up the official Twitter client, version 3.0, for Windows Phone 8 here in the Store. Thanks, everyone, for the tips
Daniel Rubino is the Editor-in-chief of Windows Central, head reviewer, podcast co-host, and analyst. He has been here covering Microsoft since 2007 when this site was called WMExperts (and later Windows Phone Central). His interests include Windows, Microsoft Surface, laptops, next-gen computing, and for some reason, watches. Before all this tech stuff, he worked on a Ph.D. in linguistics and ran the projectors at movie theaters, which has done absolutely nothing for his career.
Yes, was waiting for this!

The updates are great but it needs to show mentions on same page. For ex: when I click @wpcentral I can click tweets and see what they tweet but can't see what other people tweet about them without having to back out and search for it. It should all be under the same profile like most 3rd parties have it. Other than that great work and keep it coming!!

You can't do that on any official Twitter client. Heck you cant even do that on the website. The profile will only show you the tweets done from who's profile you have opened.

You can on Mehdoh, Gleek, Metweet and the rest of them. It's a very convenient feature to have. I don't understand why you can't. Thanks for confirming though.

It's not an official Twitter feature far as I can tell. Used to be in Version 2.0 but they removed it.

Bizarely all the mentions tabs do on most apps is do a search for @username and display the results. There's no magic or even special API to do that. Quite straight forward really.

I agree. Dark looks more luscious

Love the new dark theme looks much better than the original one

Hurray for the dark theme! Now all that's missing is the possibility of using our accent colour in the tile.

Actually I dont want that xD or at least if they do it I want that whe can choose if we want it or not xD I like to see my home screen as much colorful as possible xD it gets kind of boring for me having all the tiles with the same colour :P

I found it best to go all possible colours or all tile colors. It seldom works to mix.

I meant it as a choice. Hence "the possibility" ;)
Some like various colours others don't. So the best would be to give us the choice.
I, for example, have my entire first page of tiles all in variations of the same colour. And then the blue twitter tile breaks everything. It's literally the only tile in my first page that isn't in the colour scheme of the others.

Choice is key.
I for one can't stand to have nearly every tile theme colored. It blurs everything together and seems bland. I like to group categories by color, ie, all of my social apps are blue, media apps are green, etc.
...
However, I don't think your iPhone has tiles.

I use Skinery Themes, so I don't get the bluring problem. But yeah, choice is always better.
...
No. But it has a fingerprint scanner! How useful is that? And it's gold. You wish you had a gold phone.

Lets hope whatsapp also includes background color options in their next update. BTW has anyone noticed that updates which were coming at a fast pace some time back has kind of dried up?

Betas are still updated once or twice a week, so they're still active.

So, has there been anything new with WhatsApp going on, do you know? And couls an average person join the beta somewhere?

Have you got a Whatsapp beta?

will the future whatsapp updates still come to WP7 too?

Not only background colors... I wish they would add the background image option. :P

i only hope that we can attach a video file (from the library) to Whatsapp ... or am i missing the functionality?
Also if multiple photos can be unloaded at once that would be a step forward


Unfortunately, their half-baked Win 8 app hasn't been updated yet. It really needs work. This new version for WP8 is awesome so I know they can do it!

You guys need to do a consolidated app updates for the week. That would be super keen yo.

You mean a roundup or just wait until 'X' day to announce everything? Because the latter option is not really an option. It defeats the purpose of our site and we'll have hundreds of tips going unanswered.

A roundup/recap of the new/interesting/improved/updated apps off the week. Kind of what like Gizmodo does with their "Our Favorite iOS, Android and Windows Phone Apps of the Week" or how AndroidPolice does the "Best New Android Apps From The Last 2 Weeks".
Just to give a hint in what kind of direction I'm thinking here.

A weekly round up of notable app updates/releases would be a pretty legit thing to do on like Saturdays.

+1

While I try to keep up with most of the updates WPC posts daily, sometimes I miss a few here and there and a weekend round-up would be most helpful.

I think the most people here like the day to day update articles. Because they/we like to know asap if an update for an app is available.

What's the point of this then, you'd get the notification on the store and update it all anyway

Any word on whatsapp v3.0? That has been quiet for a while.

I'm loving the twitter app. Its almost caught up with the IOS version. Literally the only thing that I need now is when you go into a trend, you click on the tweet button and it starts a tweet with that trend.

Come on.... Again only for WP8?

Notifications from your fav twitter accounts working for anyone? Doesn't seem to here.

Right! Not working for me 2.!!

Same, doesn't work at all. Have even seen the background task on/off

Me neither not working too

Notifications of fav twitter accounts not working. This to me would be one of the best improvements, if I can get it working :(

I've tried many times but this just doesn't work for me.

I love Twitter. And it's a joy to see how they support Windows Phone and Windows 8. Way to go!!

Lock screen option doesn't work for me on the 8x :( "Configure" button in app is greyed out and if I select twitter as lock screen option in settings, it doesn't work there either. I guess a phone restart or app re-install might be needed

I'm having the same problem on my 720. All I get on my locksreen is a random wallpaper. And the configure lockscreen option in the app is greyed out.

Very well played, Twitter. Respect.

only for wp8? dont come for wp7.8?

WP 7.8 is almost dead in terms of support.

Article says this may not be as robust as others but I tried 2 others(one of them rowi) and I really prefered the design of the official app so this is what I use daily. Very welcomed updates btw!

Agreed. I have bought a lot of Twitter apps & I like the official one the best, especially after this update.

Really enjoying this update but it seems im only getting global trends-as before in the last version. Can you not select your local country for trends in the app like the desktop? If you can can someone say where to set that!

I have the exact opposite. I only get country trends while I'd rather have the global trends but can't set that anywhere.

"Trending" section got an update.

Finally! And does it sync messaging?

Also, seems that app performance and stability was greatly improved

I think EVERY app should have a DARK option to choose from. Seeing apps use so much white and backlight makes me cringe.

Nah developers shouldn't be forced to do that, but I do think it should be a best practice. But it's not for all apps, it's better to have creative freedom for them to make it look the way they want. Not all the phones use OLED screens (for example my 920) so it's always backlit even with a dark theme.

Yeah, including the built-in email client. Anyone think that'll ever happen? I know it's a moonshot but make it happen, Microsoft. Battery lives are depending on it.

Ummm... if I am reading your reply correctly, you must be on WP7.X. In WP8, they produced the option to have a dark background.
WPCentral even did a post about it:
http://www.wpcentral.com/dark-themed-outlook-windows-phone-8-spotted-wild
I use it. To me, it just makes sense to keep your screen as dark as possible if trying to stretch battery life.

I use that setting and it's completely ignored when reading or writing email. I guess if you only ever just look at your list of emails it's great...

Is there an easy way to scroll to the top of the list of the tweets you're following in this app? I find myself scrolling to the top manually with my thumb every time I want to read the latest tweets (i.e. pulling the screen down until you get to 'pull to refresh'). There must be an easier way!

Wow, thank you! I knew I was doing it wrong!

Did everybody see the screenshots were the app is next to what looks like a offical vine app?

No, I don't see anything like that.

I hope the wp's IE have a reader mode that has dark theme.. Oh Father Microsoft, make it happen, please..

+1 Sometimes, at night or in the morning, white can be a bit blinding even with lowest brightness.

Finally I was waiting for a dark theme I brought 5 other twitter apps with dark themes but I still dropped them all after the official twitter overhaul and that's the only thing I missed so I'm pretty happy now also I like that they are translating inside the feed and I don't have to click on a tweet anymore would be nice to get that integrated in wp8 also

The darkness, it comforts me.

I don't understand why Twitter doesn't have a live tile. Tweets on a wide would work perfectly. IMO

Donno why configure lock screen is not active for me.. It's grayed out..

I simply hate the new update. Why would they add a shadow under the navigation header? It's disgusting!
http://i.imgur.com/Jiwxpds.png

Hate the damn shadow as well, it ruins the app. Looks like they didn´t get the no-shadows-in-metro memo...

Wait until the next update, they're going to add gradients. Bunch of morons.

Notifications from favourite twitter a/c not working for me! Working 4 anyone??

Not for me neither...
Lumia 920

My push notifications don't work. On the app it says "having a connection error". Its the only app that has this problem.

official Vine app in the screenshots of the new twitter app!

Look in the store on Twitter screenshots and between the screenshots u Will see a start screen with vine

I don't see a start screen in the screenshots of twitter in the store.

https://skydrive.live.com/redir?resid=88EA9D5DF5D2A222!258&authkey=!AG9V...

The official Windows Blog also confirms that the new update brings synchronization for Direct Messages between your different devices and the general Twitter Service. This is a major addition they forget to include in their change-log. (And it only recently made it to the Official Twitter APP for other platforms too.)
http://blogs.windows.com/windows_phone/b/windowsphone/archive/2013/10/08/official-twitter-app-for-windows-phone-8-adds-dark-theme-lock-screen-support-and-more.aspx

Good to see a company maturely developing apps on all platforms for its customers. I'm looking at you Google.

Grrrr... 'Load more tweets' still works backwards. It loads more tweets and then leaves you at the newest tweet instead of the oldest so you have to scroll back to look at the tweets you just loaded. Makes no sense.

You just need to press the "Home" icon after you load the new tweets, to dipslay them.

Home just takes you to the newest tweet? It doesn't take you to the oldest.
I'm not talking about a refresh. I'm talking about tapping "Load more Tweets" in the timeline. On a refresh it loads about a 100 new tweets. If your timeline has more than 100 new tweets to download, it displays "Load more tweets" in the timeline. Tap that and it will load 100 more tweets. However it does not move you to the oldest tweet of the second load, it stays at the oldest tweet of the first load. You have to scroll backwards to look at the second hundred you loaded. Hitting the Home icon just takes you to the top of the timeline, the newest tweet.

I really don't like the drop shadow, which appears when you're below the very top.

You can send them feedback here: https://support.twitter.com/forms/apps

I think a lot of people will be upgrading from WP7.8 to iPhone. I'll personally upgrade to 3G!!!

That attitude belongs on iPhone anyway. Enjoy.

Doesn't make any logical sense, but ok. Thanks mate!

Time to get over it. The change was necessary for the platform. Unfortunate? Yes. Scandalous? No.

Not me though. I've already upgraded to a WP8. May had some interest in buying an iPhone before but the Candy Crush like UI in IOS7 turns me off.

How do I select my favorite accounts?

View the profile of an account you are following and from the 3-dot menu you can enable notifications. However they don't seem to be working at the moment.

Yep, a Dutch Version. Love It.

still needs another update! the instagram viewing without opening the links. how would they make that? summon the ig devs for the work

Great update. I prefer the old dakr theme more but this one works. Now if WPCentral can update their app and fix that live tile bug where it goes blank sometimes when I exit the app.

Mmm...Love the dark theme on an OLED.

The only thing I don't like about the dark theme is that the direct message and follow buttons don't match. Other than that, this is a great update.

Best improvement imo is that the menu bar isnt that huge anymore! It took almost 1/3 of the screen because it had a little bird above the row of icons, now that bird is gone which makes it much smaller. O and I love the dark them, 925 with AMOLED display = cant distinguish between the black background and the black frame of the phone.

I miss the bird. Was a Nice feature.

Please eliminate the shadow that appears below the top bar when you scroll down. That's not metro.

Tell them how you feel about that disgusting shadow: https://support.twitter.com/forms/apps

Push notification not working on lumia 920 gdr2

I respect Twitter. They're one of the few companies that actively supports Windows Phone, not only by providing an official app, but by updating it pretty frequently. Not to mention they're bringing Vine to WP as well. I know it's taking a while but they aren't being childish about it like Google and Instagram are.

Is the problem with the live tile still present? I don't know, haven't got any mentions today... There's this bug when live tile keeps showing only "1" if you have mentions and stuff, regardless how many. I mean, if there's none, it shows nothing, of course, but one mention or ten, the tile would show "1" all the time... :/

Not sure if this is new, but if you do a search it displays inline images and web links. I don't remember seeing that before.

"lockscreen experience... you also get a glimpse of what we imagine is a popular Tweet i.e. it's been retweeted a lot by others."
(Tries it, sees the first lockscreen is a pic of Miley Cyrus with the caption "Miley Cyrus Bares ALL For Terry Richardson" from an account he doesn't follow, then disables this "experience", again disappointed with humanity...). 8)


Love it!!! Especially the dark theme. Dark is in...better battery life, and WP8 just rocks!