Official Twitter Client for Windows Phone 8 updated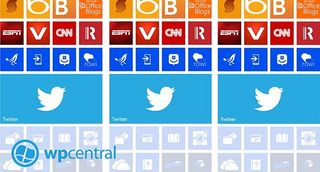 Seems like the minor tweaks and adjustments for apps for Windows Phone 8 keep on coming, this time it's the official Twitter client.
The update is now showing as version 1.3 for Windows Phone 8 while the Windows Phone 7 version is holding steady at 1.2. A quick scan of the changes doesn't reveal an awful lot of changes so we're putting this one down to some general tweaking in the absence of any change notes.
Aside from the obvious difference in version number there appears to be some changes to the general settings page. The options as to what name to display and date format are both now gone from the latest version as is the option to use 'Hashtags in trends'.
The update does now allow the app to give you a double wide tile on your shiny new Windows 8 start screen. So if you're into those super large tiles your dreams may have been answered.
It's not every day we see updates that remove features, not matter how minor so this one has us perplexed. The app itself runs along normally enough, much in the same way as the Windows Phone 7 version. We would have liked to have seen some more features and perhaps a UI change for Windows Phone 8 but that might be coming. If you're not familar with the offical windows phone client here is what it does:
Windows Phone is very well served for excellent Twitter clients so if these features leave you wanting more we urge you to check out the marketplace for other options.
Should you notice anything else that's changed with the app, please let us know. While you're here, we'd like to know your thoughts on the official twitter client for Windows Phone.
Grab it from the store here
Grab it with the QR code bellow
Any word on those filters being implemented in wp8?

Great option for those who don't want to pay for a client or don't use twitter enough.



Love how you padded out this story with a copy-and-paste of the app's description from the Marketplace. ;)

The WP7.5 version is 1.5 not 1.2

Yeah just checked 1.5 for me, must have a version from the future.

Although I use Rowi most of the times, I still have this app installed. I love having those "official" ones installed and ready, I don't know why. :)

Same here. Im waiting on a better update for the wp7 app

I only use offical ones because Im so weird like that as don't trust 3rd part programers. Its a shame because 3rd party apps are better

It runs full screen (without black bar on top of the screen) on 720p screens and generally is faster.

Wasn't there supposed to be brand new Twitter and Facebook apps? And not just updates to the old apps

Seriously. The Facebook app is a disaster. A redesigned app would be nice... But the fastest for Twitter and FB seem to be the natural integration with WP7 and WP8, so I tend to stick with this.

It resumes from the start screen now, and runs full screen in windows phone 8.

So we now have 2 Windows Phone Stores?

I'm pretty happy with the official Twitter client. Only 'problem' I encountered is that it keeps jumping to the newest tweet: I like to read my tweets in the order they came in, so I have to scroll back all the time to were I had stopped reading. That is pretty annoying. On the other hand, rowi has some ugly interface elements (the buttons for view/reply/retweet etc. when you select a tweet for example) that annoy me and make me want to use the official app. Rowi or official? Undecided yet...

I really like this app the most and probably has the best "Dark theme" out there (the other black backgrounds are just way too boring) but one big key feature missing is the "Retweet with Comment" feature. There is a "Retweet with quote" feature but it doesn't add the "RT" and the cursor doesn't move to the front of the tweet, which can be a hassle to manually do. Not sure why they don't include that in the official app.
Windows Central Newsletter
Get the best of Windows Central in in your inbox, every day!
Thank you for signing up to Windows Central. You will receive a verification email shortly.
There was a problem. Please refresh the page and try again.