Verizon HTC 8X and Nokia Lumia 822 available in stores tomorrow, Nov 15th [Poll]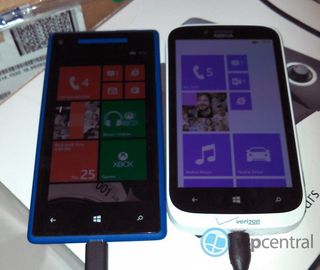 Verizon has just posted (opens in new tab) what was tacitly known already: Tomorrow, new Windows Phone 8 devices will finally go on sale in stores and online.
We reported last night how pre-order shipments had already left their facilities, heading to people's homes for delivery tomorrow. Now, Verizon Wireless has posted that the HTC 8X and Nokia Lumia 822 will both be available in stores tomorrow for immediate purchase. Of course like all releases, they are caveats: the grey Lumia 822 and red 8X will only be available online...
The HTC 8X (opens in new tab) on Verizon (in California Blue and harder to find Red) comes with 16GB of memory and wireless charging--a first for that design and unique to Verizon. It will go for $199 on a 2 year contract.
The Nokia Lumia 822 (opens in new tab) with 16GB of storage with microSD expansion (64GB cards supported), wireless charging and a removable 1800 mAh battery for $150 with a $50 mail-in-rebate.
The big question for our Verizon folks will be which one are you getting tomorrow? Take our poll and let us know.
Source: Verizon (opens in new tab)
Windows Central Newsletter
Get the best of Windows Central in in your inbox, every day!
Daniel Rubino is the Editor-in-chief of Windows Central, head reviewer, podcast co-host, and analyst. He has been covering Microsoft since 2007 when this site was called WMExperts (and later Windows Phone Central). His interests include Windows, laptops, next-gen computing, and for some reason, watches. Before all this tech stuff, he worked on a Ph.D. in linguistics, watched people sleep (for medical purposes!), and ran the projectors at movie theaters because it was fun.
Woohoo, the more the merrier. Welcome Verizon friends to WP8!!!

I'm on AT&T and ordered the yellow 920. But I feel bad for Verizon and tmobile customers. They get a variant of the 820.

Not sure how this was a helpful comment...

Seriously. Just about every story about a different operator has someone post something about their AT&T order.

I guess it helped his ego.

Daniel, don't feed the trolls

Aww, thank you for your sympathy. We'll enjoy our expansive 4G LTE network on our brand new Windows Phone 8 handsets.

AT&T has a a cap as well...

Well, I can say I'll enjoy my white Lumia 822 with unlimited data. That is until VZW just kills it altogether. Can't wait for tomorrow!

WTH is wrong with u..this are beautiful devices...think before open ur mouth!!!

you are getting alot of hate but honestly I wont be getting either phone. I will just feel like im settling and will be locked in for two years. Im waiting for something better. I had my heart set on the 920 from the time they ennounced it and it really dissapointed me when ATT got exclusivity.

I'm right there with ya. I was really hoping for the 920 ever since it was first shown and I am quite disspointed that verizon is not getting the 920 right away if at all. I really wanted to get rid of my iPhone 4s and iOS altoghter but it looks like I'll be getting the iPhone 5.
Maybe when verizon does get the 920 or even a better windows phone, I can sell my iPhone 5 for a decent amount and buy the windows phone off contract.

Finally decided on the 822.

Somewhat related, Seems like the 8X phones are being delayed - I think it's the same as AT&T initally, HTC is either dropping the ball, or something went wrong with shipping from the factory.

Yeah...I preordered the Blue 8x and just got the e-mail that it's not shipping on the 13th and don't know when it will ship. Somehow I feel like I tried to pre-order iphone 5 and was just told to stand in line at the store if I want to get the phone sooner. I went to the ATT store on the way home from work and played with the 8x. It's REALLY nice.

After realizing that the 920 was exclusive att for now, I looked over both Verizon phones thoroughly and decided on the 822 as well. I like the feel better in my hand and it has real buttons that you can feel. Also, the 8X screen seems very dim and hard to read with auto bright on. I'm also a fan of being able to replace the battery on my own and the memory card is a bonus.
Sorry HTC.

Well, the Wife was going to get one of these but we are slowly migrating to at&t. This happened when we just found out that the Verizon double data promo is evidently grandfathered in and can be kept through upgrade, meanwhile our unlimited data cannot. 10+ years of Verizon and this is how we get treated? People that have been with them for a year or two can pay 30+ bucks a month less than someone with them 10+ years? Eff Verizon in their whore mouths.

Yeah, they announced somewhere around a year ago that they were doing away with unlimited. Then, around the middle of this year, they announced that the only way to keep your unlimited data would be to buy a phone off contract. Shortly after this, upgrades would eliminate unlimited data.

So, that's what I'm doing to keep unlimited data.

As for AT&T, though, I've had nothing but terrible service (both as a customer and with their phone service) with them, though, while Verizon has often gone out of their way to fix something. I also am not a fan of how they look at unlimited data, especially publicly. However, I'm sure Verizon feels the same way.

EDIT: Psssst... transfer the discount to your wife's line and upgrade on her line. You'll keep the unlimited.

What do you mean by transferring the discount to his wife's line? I dont' necessarily need the unlimited data but I don't want the price increase of the shared data plan. I would not only lose unlimited but would see an increase of $50 a month in my bill. That's straight hogwash.

I talked to customer service today and there is a trick to it if you want the discounted price. I think i'm going to pay full price for the 8X but I haven't decided, but I'll tell you what I was told. You can add a new line to your account, move the new phone over to the existing number and drop the new line to the minimum service of $10/month. So over a 2 year period it will cost you another $240 and $200 for the phone, so $440 but it's spread out. If you do it that way you keep your unlimited data on the original line and get the discounted buy in.
I don't know how much data you use but I don't use all that much. I've come close to my 4G hotspot once, actually 99%, but I was traveling a ton and I didn't have home internet for almost 2 weeks. Other than that I rarely use more than 1-2GB on my phone and my wife uses less. So I was seriously considering the family share plan. The big upside to paying full price for me on this one is that if MS releases a Surface phone next year, especially if it's a quad core with all the bells and whistles, I'll likely use the upgrade at that point and let me wife replace her iPhone with the 8X, if she wants. What she uses her smartphone for isn't the same as I do, so the big features from Windows Phone (SharePoint, Office, Email and amazing keyboard) aren't as important to her.

"eff Verizon in their whore mouths" I laughed out loud

I'm keeping my Verizon unlimited by paying for the phone...no contract. That's always on option and the cost of the phone is much smaller than the monthly payments Verizon will be taking from you for 2 years.

My sister's been DYING to see this news.

I really like the expandable storage on the 822 as well as Nokia apps, but the 8X's HD screen, design, and wireless charging are very appealing as well. It's too bad they couldn't just make a single phone with all of those features.

I'm getting the 822. Higher res screen may be nice but I'm wondering how much of an actual difference it'll make for me

Played with the 822 on Monday at a Verizon/Microsoft demo in downtown Seattle, and I've also played with the 820 next to a 920 in a MS store. If you compare it side-by-side with a higher resolution phone, yes you can kind of tell, looking closely, that the resolution is lower on the 820/2. But without that close side-by-side comparison, I didn't think it was noticeable. I thought the 822 looked great and I'm no longer concerned about the 480x800 res. Because of the Nokia apps (esp. Nokia music!) and the expandable storage, I'm going for the 822! Oh and the 822 looks a bit better and feels better in person that it seems to in the photos.

I used my brother's iPhone 5 and the screen looked much better than my Trophy (resolution wise), and the 8X's screen has an even higher PPI, so the difference to me is quite noticeable. Whatever the case, I'm going to go check them both out tomorrow. I look forward to it.

I already have the Zune Pass/Xbox Music subscription, so that's not a big deal for me. I rarely need GPS and Nokia Drive is available on all the Windows Phones anyway. City Lens is coming as well. And I like the thinner phone, makes it easier to type with one hand. It's super light and feels really good. With Unlimited data, LTE and skydrive the lack of upgradable storage isn't nearly as big of a deal.

How are you getting unlimited data? I have that now, but Verizon told me I will lose that when I upgrade.

You have to buy the phone at full price.

I'm pretty sure Nokia Drive is available only on Nokia devices...

It's available to all manufacturers for Windows Phone 8 and at one point it was said it would be preinstalled on all of them. That may not be exactly the case. I know it will be available in the Store before long, but it might be exclusive to Nokia for a few months. Like i said, not a huge issue for me but still could come in handy when it does come out. Not enough to get me to switch to ATT or go with the lower res screen.

Where did you read this? I'm just wondering as it'd be nice to have it on other devices.

Such bad information you're putting out. It's calle dNokia Drive for a reason. It's only available on Nokia Devices.


false. spoke with a windows phone rep from *microsoft, not verizon, and the Nokia Drive will be available to all windows phones within a few weeks, albeit with a couple less features. in fact, the Maps app on all wp8s is run on nokia maps already.

Does anyone know if I can change my color of choice for the 8x? I preordered the blue but I'm kinda digging the red since that one is exclusive to only verizon.

Does anyone know if they will be carrying the wireless charging plate/dock/pillow in stores. I'm an att customer and want one badly but they're backordered

Can someone verify you can talk and browse the web at the same time(not wi-fi), and text on the Verizon 8x? You can't on the Verizon iPhone 5, but I heard it worked on the old WP7 Trophy. Want confirmation on the 8X though. Thanks. -Ray

The Teophy does not do voice and data simultaneously unless you're on WiFi. If I read it correctly though, VZW's site has the 822 listed as being able to do both at the same time. Not sure if I'm making that up though and don't remember about the 8X.

Lower half of the page, in the specs section, see the 2nd item under "Communication":
http://www.verizon.com/b2c/store/controller?item=phoneFirst&action=viewPhoneDetail&selectedPhoneId=6111

Thanks bulsaras. Verizon's 8X page says "Simultaneous Voice and Data". That's great news.

Why is the red online only? The shipping date is the 27th online, which is much later than I want.

I got a friend that's ill with Verizon. Preordered the 8X and it hasn't shipped. I've concluded one should only preorder if they really don't care when they get it. Too many people getting burned. Oh well hope its tomorrow for his sake. :)

Voted for the 822. For me I think it will be the better fit. It just has way more going for it overall than the 8X IMO. WIth a removable battery, expandable memory, Nokia Drive and other Nokia goodies, not to mention an AMOLED screen, $99 (plus tax) price, I think the lower res of the 8X is not going to be that big a deal. Even if Verizon had the 920 I think I might go for the 822 anyway. The 920 is a MASSIVE phone and on VZW it would probably cost $300 bucks. My white 822 should show up tomorrow. - J

I'm getting 3 L822's for my three lines that are up for renewal. I'm glad that this whole waiting game is almost over. I'm plain worn out.

Nice to have Verzion getting on board, that should move that market share number a little!

I'm gong to try to wait a while until the 8x is discounted either at VZ or Amazon

Video Video Playback– Video Decode – H.263: 3gp, .3g2, H.264: .3gp, .3g2, .mp4, .m4v, Mpeg4: 3gp, .3g2, .mp4, .m4v, VC1/WMV: .wmv Video Encode – H.264: .mp4, VC1: .wmv Rear–Facing camcorder – HD capture up to 1080p Front–Facing camcorder – HD capture up to 10800p

LOL no wonder it's $199 instead of 99$ guysssssssssss... 10800p!!!!!

Will have to see in store to compare. I've been happy with my trophy the past 1yr-6mos. I'm still on contract & don't feel like paying retail $599 since Xmas is coming. But I can pay my $180 ETF & buy the 920 w/ ATT at $99 on contract. $300 vs. $600 is not a bad idea if you look at it that way.

I know the black is exclusive to Verizon, but does anyone know if that will be available in store tomorrow? Not entirely sure because the way this article is written makes it sound like the blue will be in stores, red online, and with no mention of the black phone.

Here's the e-mail that I received earlier today.
"Important information about your HTC Accord order. Congratulations and thank you for your HTC Accord order. We know you are anxiously awaiting the arrival of your new device. We regret to inform you that your HTC Accord was not shipped as scheduled on November 13, 2012. You will receive a shipping confirmation email that will include your final shipping date. We are working hard to get your HTC Accord to you and apologize for any inconvenience. As a token of appreciation for your understanding please enjoy 30% off the case of your choice. Offer is valid through December 14, 2012. Shop for your case at vzw.com, or in our stores, and use your offer today. We apologize for any inconvenience this may have caused. We recognize that you have a choice in wireless service and thank you for choosing Verizon Wireless as your mobile communications provider." The only consolation that I can take from this is the hope that the Windows 8 phones are selling well. I'll just have to play with my Trophy a little while longer.

I went and played with ATT 820 and 920 and being a Verizon customer I am dissapointed they made the 822 look so ugly. Nokia 820 looks amazing. Why Verizon!?!?
Hopefully my Verizon store gets 8x tomorrow so I can try it out.

I played with an HTC 8x at AT&T and was SUPER excited about playing with it. Thoughts: well, let's start with the good: feels awesome in the hand, screen is fantastic, snappy, responsive, good keyboard, etc. The bad: the cameras just arent up to snuff compared to my iphone 4s, i really WANTED to like it better and switch to the 8x, but the truth is this, the main 8mp camera either washed out colors or things were oversaturated(example: i took a photo of my boat shoes and the brown was muted and there was a weird yellow tint around them on the 8x camera while the 4s was more accurate.) As for the front cam, it was certainly more detailed and better than the VGA camera on the iphone but it tended to be too "warm" and my skin tone was a few too many shades orange, whereas on the iphone, i was my normal pasty self. Shots of people/outdoors faired better, but again things tended to be muted and oversaturated all at once. I know there are adjustable settings, but i didnt fair better when fiddling and ultimatley realized the 8x camera just isnt as good as the iphone(sad). As for the Lumia 820, the front cam SUCKS(the 822 has a better cam than the 820, so no harm no foul for verizon users), and the back cam...well actually pretty solid, color accuracy was good, saturation was proper, biggest issues with the camera on the 820 are no BSI(backlit sensor for good low light shots), but otherwise, i'd suggest the 820. Also, on one of the forums, someone dropped their 8x and the "soft touch" material actually peeled off in places, so this is not as durable as the famous HTC One X! Bah! I'm actually extremley disappointed and am faced with waiting to see an 822 in person, waiting for the ATIV Oddessey or getting...an iphone 5(sorry guys, i know...i know..isheep).

Where is the poll option for won't be getting one cause no one Fing has them

I stopped into an AT&T store today to check out the 8X's blue color and screen in person and actually ended up preferring the 820 over it. I found the display of the Nokia to be really vibrant and the build quality was superb. I don't understand why people say that the 820 and its variants are cheaply built. If I didn't know that the 820 had interchangeable shells, I never would have guessed it. There was almost no gap where the shell and the phone met. After seeing these phones in person, I'm not regretting my decision to pre-order the 822. I can't wait to get my hands on it tomorrow.

I'm on AT&T and ordered the cyan L920, but if I was on Verizon, I'd opt for the 822 for the SD card expansion slot and removable battery. 16GB is too little storage, sorry HTC, because the 8X is a very nice looking phone.

Yea right I'll believe it when I see it

if i buy either phone i will feel like i am settling. I dont want to settle for another 2 years like i have with my trophy. I really hope something flagship comes down the line. If im going to be stuck with a phone for two years I want it to be nice. The droid dna shows that htc has the capability to make crazy awesome flagship phones. I want that with windows phone on verizon. Not the exact phone obv cuz the specs dont fit Win Phone 8 but that level of awesome.

I would take the 822 on customer service/app exclusive alone. Screen resolution I would have to give up for service and I think that wins. I have had HTC Evo/ Arrive and their commitment to those phones after i purchased them was not up to par.

Can't you just get one of those phones and enjoy today and when their flagship comes out you can sell your phone on eBay and then buy the flagship outright at that time?

I went to a local Verizon store today and I got what I feel to be good news.
I can get the subsidized price without switching to Share Everything. I will have to forfeit my unlimited plan but I only use 250 to 400 MB a month anyway.
Also, the 822 is a nice looking device. The pictures online don't do it justice. I am looking forward to getting one next week.

My Nokia 822 arrived this morning via FEDEX! Simple change over to LTE ad I'm up and running! SWEET!!!!

I ordered the Nokia Charging plate for my Nokia Lumia 822 from Verizon. Can't seem to get it to charge. The Verizon site does list wireless charging capability, so does anyone know what the problem could be? Ive verified I'm plugged into a good outlet, so th ePlate shoud be getting juice, but no indicator light on the plate comes on when I put the 822 on it.. :>(

@chasvs: Did you ever get this figured out? I'm wondering if the 822 actually has built in Qi charging like originally thought. I'm starting to think it doesn't based on what I'm seeing.

Such bad information you're putting out. It's called Nokia Drive for a reason. It's only available on Nokia Devices.


Called three verizon stores in Cleveland OH and none had the HTC 8x. Apparently the delay is affecting store supplies as well.

There were no 8x devices in Sioux Falls, SD either. Can't believe they would miss their chance to launch side by side with a Nokia device that has a lower resolution screen.
Windows Central Newsletter
Thank you for signing up to Windows Central. You will receive a verification email shortly.
There was a problem. Please refresh the page and try again.