Official: Windows 8.1 to be released on October 17th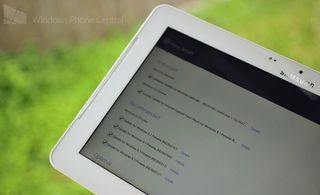 Today Microsoft officially announced that Windows 8.1 will be arriving on October 17th at 4:00am Redmond time. The highly anticipated update for the company's latest operating system will begin rolling out worldwide as a completely free update for Windows 8 customers.
Microsoft also announced that users will be able to start experiencing Windows 8.1 at retailers on new devices starting October 18th. So get ready to rush down to BestBuy and check out all the latest PCs outfitted with the latest and greatest software from Redmond.
(Could Nokia's supposed new Windows 8.1 tablet be available at that time? We reported that the company is holding an event in New York City at the end of September, which lines up nicely for an October launch.)
The latest version of Windows 8, Windows 8.1, includes a collection of new features including tighter Bing integration, new applications, a new way to connect with SkyDrive, and general stability fixes.
Many of us have been running the Windows 8.1 Consumer Preview since it had been released and in my personal opinion – it brings a collection of new features that cannot be overlooked.
Users who have enjoyed the modern style UI will welcome the new ability to pin applications in different ratios and use Windows 8 applications across multiple monitors at once. Users who don't have a touch screen and prefer to use the older desktop interface can rejoice with new features like "boot to desktop", which completely bypasses the Start screen on boot.
The folks over at Neowin have reported that Microsoft choose August 23rd as the final test day for Windows 8.1 and that a sign off for a Release to Manufacturer (RTM) edition would occur before that date.
While not fully confirmed, it has also been reported that MSDN subscribers will be able to access a copy of Windows 8.1 RTM shortly.
Mark your calendars for October 17th, grab a cup of coffee, and prepare to install the latest update for Microsoft's Windows 8 operating system.
Who else is excited?!
Source: Windows Blog, Neowin
Windows Central Newsletter
Get the best of Windows Central in in your inbox, every day!
I love the Consumer Preview, makes Windows 8 so much better. The only hope I have is that they add a way to manually check the status of SkyDrive folder uploads without having to open the SkyDrive app itself.

Yes, and some way of manually refreshing SkyDrive. I've noticed on my Surface it doesn't happen right away.

Ditto. It's not just your Surface. Was discovering same on my Win8 PC. I could understand it better if it weren't for MS's push to incorporate cloud services so tightly into the Win[Phone]8 experience, but I was suprised to find that the photos I took with my Lumia and uploaded to Skydrive couldn't be immediately used on my PC when trying to post some stuff to Criagslist yesterday. Ended up going back to the old USB transfer cable routine again. Dropbox seems to push updates immediately though, so it's been good for quick file transfers.

Nooooooooooooooooooooooo! I'll have limited internet connection or might even be without internet connection during that time and the fact that we would have to reinstall all the apps would be painful. I have the preview installed on VHD though. Can some confirm that this is correct?

I was expecting more outrage... I am disappointed by the lack of it :P

Lol me too, where are all the flamers at?!?!

This does include rt I presume.

I personally have not seen any articles or news about rt with this 8.1.........hope it has one although I don't have any complains about my surface rt I think its great....but there is always room for improvement

IT administrators now have deeper policy management for Windows RT devices, and can manage Windows 8.1 PCs as mobile devices without having deploy a full management client. http://technet.microsoft.com/en-us/windows/dn140266.aspx no worries mate

We have two Surface RTs in our household. We installed the 8.1 preview on one of them: it's fantastic. I love it. It really freshens up the operating system. I also hope that this 8.1 rollout occurs simultaneously for Windows 8 and Windows RT. It would be a pity if RT users had to wait any longer. I also don't think Microsoft is doing themselves any favors by constantly not mentioning Windows RT when they announce Windows 8 stuff. Like when they announced Halo: Spartan Assault, they announced it as being for Windows Phone and "Windows 8", which, to me, implied it wasn't coming to Windows RT too (of course, it did, and I knew that because Daniel reported it here on WPcentral, but in official Microsoft press releases, at least initially, it made no reference to Windows RT. It's like they're trying to ignore the OS too.

Ever since the beginning I've read it as windows 8/RT whenever they say windows 8. I agree they should be more clear about it, but the entire premise of rt is that it is the arm based version of windows 8 and I will continue to believe that Microsoft is making things for both platforms simultaneously or as close to it as can be done. My hope is 8.1 for windows phone brings them closer together so we will start seeing updates for all 3 at once. 8.2 on all devices at the same time would be a neat trick.

That is mostly true, but there are apps in the Windows 8 store that are not compatible with Windowws RT, so it's not a given that anything they do with Windows 8 is not necessarily a sure thing for RT, and I don't think they're helping themselves out with the longstanding complaint that people are confused about what Windows RT is, because even Microsoft ignores it sometimes.

Nice! 2 months more and the wait will be over and i can install it in all my computers... anyway, there will be a leak before Oct 17th so no problem.
and also this shows some people and their sources werent real :P

Previously a lot of people were practically hysterical over the release date... thinking there is a huge difference between a Sept or Oct release, and that advocating rioting on the streets. Well, not quite rioting, but they seemed pretty upset over such a trivial thing.

I'm just sad that I'm going to have to reinstall all my apps when I change from the preview. Wish they could work around that.

Your installed Store apps sync to your Microsoft account, so they will automatically 'install' themselves (they'll just download again the first time you open them).

Yes, I'm aware of that... but that doesn't help me when I have to reinstall Adobe CS6 or Office again. Not that it's a huge hassle, but it will still consume a chunk of time.

Oh, right -- I still haven't got used to calling desktop software 'apps'.

you knew that would happen when you installed the PREVIEW.
if you didnt want to reinstall your desktop apps, why didnt you just wait and test 8.1 in a virtual machine or something? people like you are so funny.... Microsoft told you how it would work, you even had to install an update to get the store update. and now you want Microsoft to do something only because you decided to ignore their warnings and now you are complaining about having to reinstall desktop apps?

oh please.

Jeez, don't get sand in your crack! I didn't say it was the end of the world or anything! I just said I was sad that I had to do it and that I wish they could have worked around it! I wouldn't care if I had to do a clean install when it comes right down to it... but that doesn't mean that I'm particularly looking forward to it!


I just saved the date on to my Nokia Lumia 920's calendar syncroniced with my Surface RT and Windows 8 Notebook :)

Can't wait

Greetzz.

"Windows 8 is almost here" LMAO remember that headline???

I have Windows 8 for a long ass time now.

Anyway, anyone knows if TeamViewer works on Surface RT with 8.1 Preview ? It's an app I can't live without, I need it to work.

http://technet.microsoft.com/en-us/windows/dn140266.aspx

Thanks. Though, most of the features are for advanced users!

Here are some consumer-oriented changes as well - http://www.wpcentral.com/video-microsoft-s-jensen-harris-shows-windows-8.... I believe most of the core changes are based on the feedback they received from with Windows 8 rollout.

Thanks man. Absolutely beautiful!

Fantastic...Thanks for sharing.

What about rt I have a surface rt will that just be left for the dead

It comes on the same day. And to be fair and pragmatic, I have no problem with MS' RT support, they are treating it exactly the same way as they're doing with the Win 8 Pro I also have. Same for FW upgrades. So don't know why you're saying that. The same can't be said for developers, its Store is a bit basic

No, Windows RT 8.1 is going to be available around the same date via Windows Update. You can already grab Win RT 8.1 Preview if you want to test new features

windows 8.1 and windows RT 8.1 were available the same day... why would they change that? -_-
windows RT its just windows running on ARM, its not like its a completely different OS like Windows Phone, with a different team.

Haha indeed, weird people think it is a total different OS. So far I know it is exactly the same as windows 8 and only differences in running on ARM and having the limitation of not installing desktop programs (and the 3 tile rows of course).

Better have CalDAV and CardDAV support.

That should be specific to the apps that need that feature. Just to clarify, this article is about Windows 8.1 and not Windows Phone.

I'm so excited, and I just can't hide it, I'm about to loose control and I think I like it.

Hoping they fix BT issues, as I bought that silly expensive Jambox, only yo find out my Surface can't recognize it. Read a bit on MS' foruns and... I'm not alone.

A sh*t ton of time for mere cosmetics... I'd rather wait a couple more months for Windows 9.

Only cosmetics? Go read some more before you spout more unintelligent garbage.

Yes, mere cosmetics idiot. Unless you think redesigned Apps and new personalization options are any improvement. In which case you're a bigger idiot that you even imagine.
Oh, and lets not forget that Start-but-not-really-start-button.

Seriously ?! Don't you know our friend ? In a nutshell: "they're late, with a date they didn't set! Oh Em Gee, MS sucks so much! The world is awfull, everyone's dumb, and I'm always on time!"

Waging battles, online wars
It's all just a bit of a chore

Listen to what i now say
For bad behaviour you'll pay
So start being civil
Courteous too
Or it will be off
With your head

really? you again? do you feel lonely or something you want attention so much?
sometimes i wonder why people like you come and troll like if you couldnt just ignore Windows 8 that you dont even use, and move on. you want attention so much?

you have already shown how you dont even know what you are talking about. you use immature insults to people only because you dont have a valid argument and only cry like a baby over something you dont even use.
a start menu is so hard to use because its now in fullscreen? please. Windows 9 wont remove any start screen features, instead it will add more and more (just like 8.1 does).

but anyway, I hope you find a better life, if you need attention so much. like i said, you have said you dont even use windows 8 and you are in win7. so i dont know what you are complaining about so much. you should get more sunlight i guess, Im sure there is a better world out of your basement ;)

Haha you really think they only update the looks and nothing else under the hood. Omg shame on you...

Nice job of inserting a baseless rumor about a vaporware Nokia tablet in an otherwise factual summary regarding the release date of an OS. Congratulations on upholding your unbroken record of inserting some form of unsubstantiated, rumor mongering, BS into even the most simple news.

?
Looked relevant to me it was kind of a reminder no?
You could've just skimmed through and the world will continue to spin. Chill :S

Super duper excited! Oct 18 seems like forever in coming

Happy (1day early) birthday gift to me!

Well, they timed it for my birthday... Hope that's a good sign.
As for RT, the only thing I really wish made it into the new build is language selection at set-up....

Maybe because the builds only work with one language? They said language packs didn't work either till the full version. And windows 8'rt had language selection if other languages were preinstalled though.

I bought mine in Japan due to lack of availability in Europe where I live and all it had was Japanese. No selection options, so set-up was a major pain in the rectum. Once that's done the builds work with whatever language you choose. It was kind of a letdown tbh. They should've included an option to at least default back to English or something.

What's your favourite new feature ?

Mine has to be Auto-triggered VPN, so I can finally tell my network admin he can block TeamViewer.

Mine is dual instances of the same app. I'm looking at PDF reader.

Anyone know if they'll be fixing the remote desktop app to have a touch keyboard icon?

It would be awesome if the 8.1 'quiet time' feature comes to Phone 8 :)

I'm quite excited. I was using the preview for a while but downgraded so the finished product would be more awesome when its ready. There is so much I miss on a daily basis. Only 2 months.

If it has the ability to pin ALL (not just some) apps to the windows 8 desktop taskbar, then yes, I look forward to it.

Well played Mr. Microsoft, October, not too late, not too early, just madafaka right!

I'll be excited about anything that makes Windows more like...well, Windows again. And seeing as there aren't any in windows in "Windows" 8 I can't see me installing Windows 8 any time soon.The mere fact they had to make it look more like Windows 7 speaks volumes really.
Windows Central Newsletter
Thank you for signing up to Windows Central. You will receive a verification email shortly.
There was a problem. Please refresh the page and try again.