One day later: Two ways to put Mango on your non-dev phone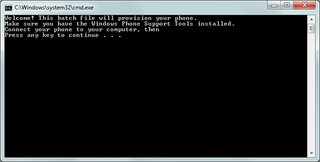 Yesterday we saw the developer release of "Mango" for Windows Phone 7. The method requires a $99 AppHub subscription and for you to make a backup of your phone before the flash. It also voids your warranty.
Today, of course, people have already figured out ways around having a developer unlocked phone to flash Mango to it. We want to stress a couple of things first though:
This voids your warranty
You can't upgrade to the final Mango from this build, so you MUST back up
If you loose your backup, your phone is permanently in preview-Mango mode--no going back, no going forward
If this flash doesn't work and you brick your phone, it's your fault. Remember, even the offiical method has some issues (see here).
The first method comes by way of WPSauce. In essence, it requires three steps:
Reverting back to 7004 or 7008 (aka pre-NoDo) by using your backup in Zune
Using ChevronWP7 to unlock your phone
Downloading and installing the official Mango update tools
We won't link to the files here, but safe to say you can do a little sleuthing around to find them yourself. This method at least will create a backup of your device (which you should also backup) and allow you to go forward once the real Mango update comes out this fall. Of all the ways, this is the safest (though still risky).
The second method comes via Windows Phone Hacker. It does not require you to revert back nor have a developer unlocked device. It basically will "...provision your device to receive beta updates. It requires the Windows Phone Support Tools to be installed, and your device needs to be updated to NoDo or beyond". Note: it does not create a backup, but you can do it yourself.
Once again, we caution you to hold off on doing this, at least for a few days. Wait till others have tried it, wait till Microsoft responds, wait till we know more about what is happening here. The second method is certainly the most risky and no one wants to hear your story about how your phone broke because you did this, so patience is a virtue here.
Source: WPSauce, Windows Phone Hacker
Windows Central Newsletter
Get the best of Windows Central in in your inbox, every day!
Daniel Rubino is the Editor-in-chief of Windows Central, head reviewer, podcast co-host, and analyst. He has been covering Microsoft since 2007 when this site was called WMExperts (and later Windows Phone Central). His interests include Windows, laptops, next-gen computing, and for some reason, watches. Before all this tech stuff, he worked on a Ph.D. in linguistics, watched people sleep (for medical purposes!), and ran the projectors at movie theaters because it was fun.
na, to risky for me. i will just wait for the official. that will prob be a forever wait lol :/

Smart. I actually think this update will be on time for users, not much of a wait.

When is the expected release date?

I am with you on that ill wait just as well and yeah i believe this update well be out on time, most likely due to iOS5 coming around the same time and all the hype its getting as well

Your nickname and real name is pretty awesome, Enyahs_Shayne, heh :) Seeing is how it is mine, just spelled differently!

I'm an official developer and I have official access waiting at home. It's the whole 'revert to your backup when Mango launches' and 'no homebrew' parts of this test that ruin it for me.

I'm thinking about doing it with the hopes that it messes up my phone so I have an excuse to get a Mango certified phone when they come out...my wife would have to let then, right?! LOL

way too risky, plus its not a fully implemented mango beta, it will still be missing features

Agreed. I wouldn't like risking that much for a little piece of the mango. Eating the whole mango at once will be better, too. ;)

If you are anything like me then there is really no way how I could not try that.

I'm so unbelievably conflicted over this! I really want to put Mango in my device, but really don't want a bricked phone. I put NoDo on early, but it was on an HD7 so it just tricked Zune into sending me the update a month early, no real hacking required, and my phone was still on the update path.

Seriously, wait. People need to exercise restraint and patience. I can tell you from the NDA and Waiver form MS made us devs fill out, they made it pretty clear that there is a significant of a chance that you could brick your phone, and if you lost the backup of your device, MS will only support devs in a "best effort." So, if you are NOT a dev, DO NOT ATTEMPT THIS IN ANY WAY.

I too am an official developer. There are certainly missing features (of which I won't go into detail about) that are missing from this Beta release. Microsoft will NOT support those that are not developers, nor will carriers or OEMs. So, everyone thinking about doing this will need to rethink if they truly want to go down this path.Daniel, I would have much rather you bloggers to write up something that mentions things like this, but not to provide the methods. This just sensationalizes the topic. Instead, please update this blog to say that there are high risk chances of one bricking their device. Of which, you will find it extremely difficult to get replaced, especially if you bout it with the no-commit price or do not have a protection plan for the phone.

Did we not list all the warnings in the article about bricking? We bullet them and then re-iterate at the end. Not sure how much more we can say. Not sensationalizing it, just reporting on what is out there.

I for one and extremely glad that you post this sort of information about Windows Phone, if you didn't I wouldn't be a regular reader of this site. I likely wont be doing this hack, but what attracted me to this site first and foremost was that you report on both legitimate Windows Phone news, as well as the homebrew stuff. It makes this site an all-in-one for me and makes it worth reading.

No way Jose... I will not risk this

Well I already updated my Optimus 7, worked. It's glorious! 4 months is just to much time for me.

Why would anyone besides a Developer want to update to a beta build of Mango when not all of the features are in this build and wont be until close to final release

Because we'd like to use stuff like saving camera settings, jump list for the programs list, updated bing and all of the other great stuff mentioned in Malatesta's review. It's pretty stable, so why not flash if you know what you're doing?

This is very risky, when I installed the mango beta officially through my developer account I checked so many waivers and risk acknowledgments that there is no way I would do this unofficially, microsoft seems very serious about following directions carefully and this being dangerous. On another note it would be great if someone could figure out a way for homebrew to once again work on Mango, as I truly miss that more than anything and I might revert back to Nodo just for that.

I'm a regular user who is enthusiastic about Tech and Windows Phone especially. I followed the instructions over at Windows Phone Hacker and had no issues at all. I backed up my Nodo Samsung Focus and then proceeded with all the steeps listed. The end result this Mango beta is installed on my phone and I'm having some fun using it. I'm just giving my story opposed to the grim side of things that everyone warns you about. Everyone has to make the decision whether it is worth it for them I'm just saying I had good luck over here.

It's not whether or not you had success. It's completely about support and unofficial releases. IF ANYTHING WERE TO HAPPEN TO YOUR PHONE, you are SOL. Microsoft will NOT support you in any way, unless you are a registered DEVELOPER. And even then, it's a best effort support model. You have been warned. In NO WAY would I ever recommend the average, or "tech enthusiast" attempt this. Also, there are plenty of missing features in the Beta 2 release.

Why would anyone besides a Developer want to update to a beta build of Mango when not all of the features are in this build and wont be until close to final release and on top of that you have a chance of not being able to update to the final release sometimes waiting is better

Because some people are impatient? It's hard to watch the preview videos from WPCentral, Engadget, etc, and not want to try Mango out for yourself.

Not worth the hassle for me, the average user. I did the early update trick for nodo, but I'm not risking it on this version. My guess is that this is a big headache for the average user.

Samsung Focus - Just did the update, worked great for me, great job guys! Things to know; at boot your phone will displays "Not For Resale" for about 5 seconds.

So for those of us with an Arrive, which shipped with NoDo, only option two is available...Can someone please explain to me why it is more risky? Pretend for a moment that I don't know anything about metallurgy, engineering, or physics, and just tell me what the **** is going on.

You have 3 end possiblities with the 2nd method:1) You update your phone to the Mango build, it works, and eventually microsoft releases a fix to allow you to update to the newest version.2) You update your phone to the Mango build, it works, but you're stuck with it *forever*, as you cannot revert to the original builds.3) You update your phone to the Mango build, it bricks your phone, you now need to buy a new phone.With the 1st method, you have the choice of reverting back to the previous builds (then moving to the official mango release) using the backup assuming your phone does not get bricked somehow. Its beta software and has a chance to **** up.

I do have a backup from when I got updated with the post-NoDo security update, correct? Why could I never go back to that one?

Being a former Crackberry user who updated the OS in my Blackberry Bold 9000 once every 3 months from leaked ROMs....... it's going to be really hard for me to resist option #2. I will wait a few days to see if there is any bad news. I have a Dell Venue Pro... so if I have a problem, Dell is VERY generous with replacing our devices since they know they're plagued with problems anyway. My luck I'll get a new DVP back with version .206 :)

It's going to be a sad day for a lot of users attempting this. Really its not worth the risk, if it was the complete Release Candidate I would say chance it. But in all seriousness there is probably like 100 active update of the 500.

Just installed via the "2nd way" from Windows Phone Hacker. Their updated tool has an automated backup tool that will let you revert to nodo before the official mango comes out. Everything went smooth and I am now rocking mango on my AT&T samsung focus. And so far, I am loving it! Definitely worth updating now and taking advantage of all the features, most notably smart dj, integrated live messenger, and bing scout.

No problems with install... HTC Mozart. Install took a long time but but was worth it! Am definatly going to buy Nokia when it comes out! Can't beat the cammera (from the picture that was posted the other day), and features on mango are great.some features i see working are:Bing - music search (shazam), local search, tag readergrouped mailboxmultitaskinggroup contactsOffice linked to skydrive

So I have Mango on my DVP. Everything is great but I have to say it's not as amazing as you might at first think. Yes everything that works... does work admirably well. But as others are saying, it's still missing some of the promised features. Two important notes from my experience:1) Before Mango, I had an excellent working notification system. Facebook notified me, as did Alphajax, Beezz, weather channel, kik, and IM+... now however NO notifcations work. The ME hub doesn't show a live tile either.2) Facebook chat is cool but often times it says "Cant connect to chat right now, but we're trying"... And I mean OFTEN.But other than that, all the features that work are awesome

I'd do it if it wasn't such a risk :S

Will official developers be able to update to the final code?

Hey guys,just updated my German Omnia 7 using method 2. Worked perfectly. As the tool now automatically creates a backup, there is not more risk than applying an official release (of course MS would be responsible in case of an official update, which is not the case here).I was just too curious not to try it. :PIn order to use Zune sync you now have to use the Zune Mango Beta version. I can't give you the link but Google is your friend. ;)If there's anything that annoys me applying the Backup won't be a problem.Greets from GermanyChris

I used the 0.02 update, just run a batch file and hit OK to everything. Every feature might not work 100% but, for the features that do, it's awsome, just awsome.I can't roll back, it's not that I dont have a backup (I do) but, it's just too nice to go back to the old version...I'll be living with this as long as I can (unless a newer build is released.)This was well worth the upgrade, no crashes or antying, solid as a rock and performs awsome...This was on a Verizon HTC Trophy

Been using Mango Beta from 4 days on my Dell Venue Pro (no, it not helped with the wi-fi issue), and it's awesome in every aspect BUT games, they're now very VERY laggy now on Mango, cant' play my beloved PacMan since the update, but i'll wait with the beta on my WP7 'till the official release.
Windows Central Newsletter
Thank you for signing up to Windows Central. You will receive a verification email shortly.
There was a problem. Please refresh the page and try again.