Microsoft responds to some Mango update issues [Developers]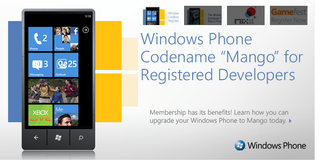 Although the Mango developer preview program is just a few hours old, there have been a few hiccups here and there. In a couple of tweets from Cliff Simpkins, Product Manager for WP7, he let users know about a few issues that they are aware of and when to expect some fixes:
Install instructions v1.2: Instructions have been updated now and devs are encouraged to read them to prevent any problems
Samsung Focus v1.4 - In short, they can't update using these tools, much like how they can't get NoDo. Simpkinns responds with "we'll put a fix out in mid-July to help you guys get updated"
Error 80180048 - "we'll also put up a fix out in mid-July." More Information can be found in the AppHub forums here.
We've also been hearing that some Focus users, including WinRumor's Tom Warren aren't doing too well: "Not a great experience with Mango on my Focus. I'm stuck with a phone that boots but no UI, just battery and time".
Clearly Microsoft was taking a risk here by doing this for devs, so we can expect a few bumps here and there. Lets just hope it's nothing too severe for those developers afflicted.
Windows Central Newsletter
Get the best of Windows Central in in your inbox, every day!
Daniel Rubino is the Editor-in-chief of Windows Central, head reviewer, podcast co-host, and analyst. He has been covering Microsoft since 2007 when this site was called WMExperts (and later Windows Phone Central). His interests include Windows, laptops, next-gen computing, and for some reason, watches. Before all this tech stuff, he worked on a Ph.D. in linguistics, watched people sleep (for medical purposes!), and ran the projectors at movie theaters because it was fun.
well im just glad they tried, i have a focus so i will definitely wait for the official update now

hopefully this means also that in mid July they will have the nodo and security update or 1.4 (if they are fixing 1.4 for nodo to get to mango for devs ) they should be clearing everything up through 7392 for everybody.

I updated my Focus and it works flawlessly. Juicy mango goodness.

Mid July... for Focus 1.4. Good lord! If it even gets fixed.I wish they would have just told Samsung to recall the damn things and replace them.

Yeah I updated 2 Samsung Focus's today and they work great.

i always thought it was funny how everyone made the Samsung Focus seem like the best wp7 device just because of the freakin screen. Serious its plastic, and its built by Samsung who is known for having issues with there firmwares on android devices and even the old windows mobile devices.hopefully Samsung can get a stable update for everyone

Did Samsung make some other undocumented changes to the phone for this to happen? I think my next device will be a WP7 from anyone other than Samsung. I like the Focus, but this **** just isn't worth it.

"We've also been hearing that some Focus users, including WinRumor's Tom Warren aren't doing too well: "Not a great experience with Mango on my Focus. I'm stuck with a phone that boots but no UI, just battery and time".THIS IS EASY TO FIX! PLEASE READ HERE! I HAVE ALSO HAD THIS ISSUE AND THE ISSUE WAS MAINLY CAUSED BY YOU UNPLUGGING THE PHONE WHEN ZUNE STILL WAS SAYING "FINISHING UPDATES".Ok if your focus is stuck in this screen you can copy your RESTORE image back to the folder location before you did any of the updating and then launch ZUNE and goto updates (when it finds none) you can do a RESTORE to the firmware you originally had on the device! Now read this line very very carefully .. "IT TOOK MY FOCUS 2.5 HOURS TO UPDATE" I also had numerous times where it looked un-responsive .. LET IT SIT DO NOT TOUCH IT **** do it and go to bed so you are not all giddy and trying to see if the phones doing something .. trust me .. IT IS. I had the exact same issue and had to restore back and I did the update again without a hitch it worked after 2.5 hours.

k00ksta, that sounds like something you should go post over on WinRumors so Tom Warren is SURE to see it. Posting it here was good too, for folks it happens to here. :)

Will do I actually goofed the update the first time around and seriously thought I also bricked my phone with only the Battery Hud and the Lock screen access. No live tiles no nothing. I was able to do a restore to the original firmware and then actually be Patient on the update even tho I swear the device was hung a couple times just let it do its thing. My Focus seriously took 2.5 Hours to update to the Mango build with Hangs on the Samsung Screen (and im hearing LG's are having it too) just let it sit guys. Dont touch the thing until Zune throws an error or says its completed and you will live long and prosper haha

BTW MANGO KICKS BUTT! Bing Vision is pretty good imo .. Also as a side note I did see some funky stuff with my lock screen hanging (as it was trying to retrieve the date/time display) but it seemed to be directly related to my WIFI connection it kept trying to connect over and over to the open wifi here at work. So I shut off the WIFI and re-connected and all problems with that went away so it is possible this is what samsungs issues are as well with the hanging maybe bad wifi driver or something.

All I can say so far is that Mango is seriously awesome. So far I have been a little underwhelmed with WP7 since it's missing so much that I was used to from WebOS, but now I frackin' love this phone.

I have samsung focus, the whole process is taking around 40 mins without any issues but you need to be patient, do step by step and do exactly what they say on the instruction.Currently using Mango and really enjoy it! Integrated facebook chat is awesome. They change many stuffs some I like some I don't but overall is THUMB UP. Beta2 only We still have a long way to go but love it! Microsoft the best

I don't quite understand Mango, it just shows your OEM's Logo.There is no way to unlock or make calls, even see anything other than your OEM's Logo. I don't get Microsoft's strategy here.Can't seem to find a way to restore to that backup the process made (which isn't supprising). Don't get me wrong the LG logo is nice, but like being able to email etc.
Windows Central Newsletter
Thank you for signing up to Windows Central. You will receive a verification email shortly.
There was a problem. Please refresh the page and try again.