Onefootball for Windows Phone updated with visual refresh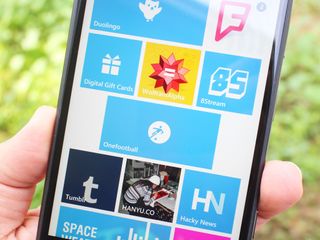 Onefootball for Windows Phone has a new update. Football fans on Windows Phone most likely have checked out Onefootball for their football news and live scores. The new update pushes Onefootball to version 5 on Windows Phone and introduces a visual and functional refresh.
Here's the changelog for version 5.0.0.0 of Onefootball on Windows Phone:
The new navigation lets you access the content that matters to you much faster - all the most recent news, matches and tables
The new match overview allows you to keep track of all matches from your competitions and teams. Switching between matchdays is now easier than ever before
Now you can add as many leagues and teams to your favorites as you want and personalize your Onefootball experience
The new and modern design is even more focused on the content. The improved user experience is enhanced by numerous details.
It's great to see such a popular app supported on Windows Phone. You'll find Onefootball on Android and iOS. Grab the new update and let us know what you think!
Thanks for the tip everyone!
I say this one. To be honest I hpartial to apps that are multiplatofrm (and good at that) such as this one.

Use this if you are soccer fan.

I've just uninstalled the MSN app after trying this, this app is much more in-depth and more attractive than MSN sports

If you only need it for football/soccer/whateveryoumaycallit : definitely this, not msn

You are late Sam. That was yesterday. Today they released a new update :) 5.0.1.0

Also yesterday, Cyber Dust released their message app for WP.

WOW!! You are writing football, and not soccer!!! Amazed indeed... :D

I thought the same thing. I saw football and expected it to be about American hand egg instead.

So good to read this man.... :D

I use this apps everyday and I love the new update with major redesign. Really beautiful!

This app is fantastic. I discovered it quite a while ago, and never had to look back. The older UI was quite good as well, but this refresh is really something!

One of the best for football. I recall they even had a good World Cup version when the tournament was held recently in Brazil. ... The other app I like is 1st4fans, its better if you want to follow your team

Is Sam a Chelsea fan? Haha yes, up the Chels!

I thought this was REAL football. (ducking behind sofa)

Thanks for reporting on this Sam. Always thought it was a good app, now it's even better. With the number of Football (soccer) apps growing you could possibly do a whole compairison since it didn't happen before the world cup this year.

Ha Ha. Whenever an article is posted with "Football" in the title, I look to see who the author is. I saw Sam and assumed this was 'Murican Football. Go Pack Go! :)

This is my first time to be a first commenter

And you are P0wned now! hahaha...

Oh, so it's not for REAL football.

REAL football is played with a BALL and your FOOT, not with an egg under your arm... ;)

The name say it everything, it is called "real football" because it is the real football.

Football, for us people in Europe :) The design is more WP now, although I really hate those Hamburger menu. I have long fingers but using a 930 one handed gets more and more difficult with those menus...

Football everywhere (exclude US)

What a great visual overhaul. And to take cues from Modern Design UI. Microsoft own subsidiaries /services and other other service providers should take note of how Modern design UI can be used to make visually appealing apps that are consistent with design philosophies of WP instead of being lazy and pushing ahead with Android/iOS designs.

Hmm "Defense" and "Offense" when you look at the squad selections.......

Welcomed improvement as I use this app almost everyday to keep up with Man Utd.

Love the clean look of this app.

Chelsea! Like this app very much

Some inspiration from MSN sports

I use this app every single day. With the latest update, I really miss the ability to swipe left/right to read the previous/next news article. :( Now I have to close each article, scroll to the next one and click. Why oh why?

Completely agree. All they've done is improve the visual look of the app and taken away the UI interface that was there before. Hate now having to open, close, open , close each new article you want to read. If we on WP wanted an ANDROID interface we'd have bought an android device. Why is it that it's always the android way or the highway. When we got flipboard it scrolled and not flipped, so why now take away what you think we need? Np updating any app on WP, but do so with how the OS itself works.

This app is just brilliant, everytime I'm at my cousin's they all ask me what the score or want to use my phone to check all because of this app.
Was able to convince the youngest to get a 720 :P.

So happy to see author put football in title.
Windows Central Newsletter
Thank you for signing up to Windows Central. You will receive a verification email shortly.
There was a problem. Please refresh the page and try again.