OneNote picks up proofing tools, full-screen drawing mode in update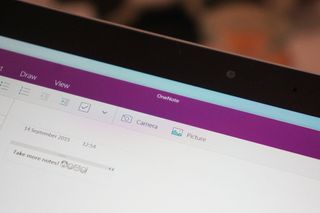 OneNote received an update that adds a full-screen drawing mode, allowing you to make use of the full real estate on your device. Also included are proofing tools for spotting spelling and grammar-related issues.
The changelog also notes "bug fixes and polish," which should make things that much smoother for those of you using the note-taking client on a regular basis. Grab the update from the link below, and let us know how you're liking the changes in the comments.
Download OneNote from the Windows Store (opens in new tab)
Same, it's a much welcome change.

Yeah... wait what?! why would you?

He must use paper... You are killing trees!

except OneNote is one of the like 3 Universal Windows apps you CANT uninstall?

You actually can uninstall any app. WC posted the method in a tutorial to reinstall Mail & Calendar a while ago.

Why have so many articles stopped having the Download App option in the "more" section on the Windows Central app? It seems to be the same authors that do and don't. Is it pure laziness or do they just not know how to do it?

It isn't laziness. If it's not a phone app it won't show up in our app to download. It never has to my knowledge.

The article doesn't specify that it is just for PC. In fact, it's filed under "Windows Phone Apps" as well - lending to the confusion. I wasn't trying to knock anyone, I've just seen it more & more now and on apps that I'm certain are for mobile.

Post about Total Commander app doesn't have the link either. I'm not imagining things.

Ppl like you are just rude instead of just asking a simple question you have to be a b..... About it, smh

Yeah, you know me so well... People like you that judge and make assumptions instead of giving the benefit of doubt... SMH

Windows 8? Windows phone ? Windows 10? PC ? Mobile?

You Sirius? You can clearly see windows 10 there.

Yea same feeling. One Windows = One Huge Confusion. Can we not call Windows 10 for phones Windows Mobile as we used to.

They won't..... Because, you know WMPU..... :P

Anyway I can draw with my touchpad using one note for Mac? Posted via the Windows Central App for Android on my Oneplus One

No.. You can only use Patrick.

OneNote is sweet, what if it could replace wordpad and paint as one app one day

OneNote has stepped up! I like.

Very nice feature. One Note is really feature complete.

It depends on whether you're referring to the mobile or desktop version. The mobile version is severely gimped.

Still sucks cuz taskbar is still on screen. Easy to tap some of task bar buttons by mistake while drawing

You know you can hide that right? Search the site for a tutorial. Posted via the Windows Central App for Android

This article needs to identify which OS version of OneNote this is, On the mobile version it drives me crazy that I cannot highlight a word and capitalize it by hitting Shift. And I also want to be able to re-order my Notes by dragging or organize it by date or alphabetical. And it would it kill them to add a couple buttons at the bottom menu to instantly add formatting like bold, italics, color, etc.?

It is very confusing, especially since the article is filed under both - when it turns out to only be a PC update

Does this mean grammar checking will be coming to the other Office apps too?? :D

What happened to the Radial menu? There is a video on Channel9 that was just released on how to use it for the modern version of OneNote, but I don't see it on Windows 10.

Do you have a link to the video? Is it definitely the Windows 10 version and not the old Windows 8 / 8.1 app?

https://channel9.msdn.com/Blogs/Microsoft-IT-Showcase/Work-Smart-OneNote-Modern-App My App is the Windows 10 version, not sure if there are more than one.

Nothing too spectacular but okay I guess. Drawing mode feels like a maximize plus settings with a dedicated title bar for drawing. But still waiting for smoother editing and moving around of added photos. Moving photos around in onenote windows app is a jerky experience compared to its desktop equivalent or even in office apps. It's been like this for months. Was reallly not waiting/expecting a draw function. I was expecting ink-to-text recogntion inline, a request for several months now to support advanced stylus functions. I think it is an essential missing feature. Drawing was already possible in the previous update even though limited to maximize instead of as now "maximize plus". An oddity to me is a designflaw where adding photos from file or camera appears twice on the app titlebar. Once in the main tab and then again in the add tab. One of the doubles should be deleted for consistency in the minimalistic app design. So, yes, "bugfixes and polish"....not really there yet.

Re: Wevenhuis,
What is "maximize plus" that you say drawing feels like? You say drawing was possible but limited to "maximize"? Do you have the right word? Are you referring to "line weight" the thickness of the line that you draw?

I'd like onenote to have oneclipboard integrated into it.

Dude. Introduce labelling and reminders in one note. One note is used like scribbling pad. Users may not expect correct grammar with strict spelling when they read it! Its just a reminder app not a English examination form

I have no idea what you're trying to say there

Does this mean that you can nwo draw without activating typing all the time? Does this mean palm rejection also works now?

OneNote for Android is super! Very useful for both mobile and tablet.

Without the radial menu, or more robust pen options, I'm forced to use the desktop version......

Hey ho Microsoft, it's the radial menu we want back !! ASAP please because without it, one note is just one boring app more. Linear top menu is so anti-ergonomic!

is it finally on par with the win8.1 version for surface pen use?
Windows Central Newsletter
Thank you for signing up to Windows Central. You will receive a verification email shortly.
There was a problem. Please refresh the page and try again.