Have the pens at the ready; OneNote receives massive update for Windows 8.1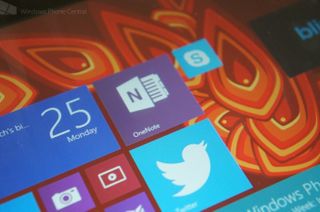 Microsoft has today released an update to the OneNote app on Windows 8. The update adds new features and improvements, including note capture with the Share Charm, scanning of items with the camera and the display of recent notes with Page Previews. It's a fairly sizeable upgrade, so hop on past the break to learn what's new in the latest release.
This Share Charm integration adds OneNote to the list of apps that can be utilised when attempting to share something on-screen, saving the information in a new note that can be viewed on all devices with OneNote connected. This isn't restricted to mere Windows 8 apps, however. You can even share stuff from the browser, on the desktop and elsewhere. OneNote will display a preview of the screenshot before saving.
Capture the world with OneNote
The next feature to join screenshot sharing is Camera Scan. This handy new functionality enables you to capture documents, magazines and whiteboards. OneNote will then automatically crop, rotate, straighten and work some magic with the image to make it look like a scanned document. Simply select Camera Scan from the radial menu from within OneNote and you're good to go.
But how does one find text within a scanned document or screenshot? This is where OCR (Optical Character Recognition) comes in. OCR even allows you copy the text out of a document and use it in future use, check out the below video to see it all in action:
Since OneNote is available on all platforms, you're able to remain on top of exactly what you've got stored in the OneNote cloud. Recent Notes displays all your notes in the order of last edit, regardless as to which device it was created or last edited on. Page Previews takes this listing slightly further with a quick look at text, images and ink content.
This helps you browse through your collection without losing time to viewing all your notes, particularly useful when in a rush.
Spice up your notes with improved Ink support
For you ink fans, Microsoft has improved Ink support to help you create some unique notes. It's now possible to take notes in colour and choose desired thickness. What's more is you can also use the ol' finger to work some magic in a more natural environment.
Lastly, full screen mode will help you enjoy your notes, which is automatically selected on smaller devices. Should you be on a larger device, simply swipe up and select full screen.
If that wasn't enough, the team has also addressed bugs and improved performance. You can download OneNote (opens in new tab) from the Windows Store, should you not already have the app installed.
Source: OneNote Blog (opens in new tab)
Windows Central Newsletter
Get the best of Windows Central in your inbox, every day!
Rich Edmonds was formerly a Senior Editor of PC hardware at Windows Central, covering everything related to PC components and NAS. He's been involved in technology for more than a decade and knows a thing or two about the magic inside a PC chassis. You can follow him on Twitter at @RichEdmonds.
--Why would one need a pen when using OneNote in the 1st place :-)

...IDK maybe to take notes...

I use my pen with my surface pro and OneNote :P

Because when I take notes I prefer handwriting than typing, because if I want to draw arrows, diagrams etc. I need a pen.

You've obviously never taken Organic Chemistry.

Kitaisky... Not easy to design ponds and streams without a pen.

Does it finally convert Ink to text?

It can even search hand written notes....

It does in the office onenote program and windows journal. Unfortunatly you're right that there is not ink to text recognition function or even button in the onenote app for windows 8.1. Oops, they must have forgot it. Sloppy by microsoft, if they want to advertise onenote as the best stylus app (which it otherwise is).

Um... No. Just open the keyboard and select ink input (lower right). Every app on windows 8 supports ink input. Don't blame Microsoft for you failure to learn or Bing.

Um...No. You are referring to the inkpad that is part of a system wide external input program. I was already aware of this option and no need of Bing. Yes you can use it for the onenote app. What I'm referring to is the built in ink-to-text recognition within the office onenote program. This is not part of the onenote app. The advantage of this option is that you can ink first in onenote and later translate from ink to test within the app, thus not needing the use of the inkpad. The inkpad has been part of the windows software since 2004. What I think is a pit to see is that the inkpad technology of directly translating ink to text on the onenote canvas page is still not here after almost 10 years! The experience will be more natural, more true to life and a better end user experience, not the current boxed-in-other-app-open-multitasking-fidgety-chaos as is it now. I can work with both, but I believe the in app experience is better than what microsoft has chosen now. And I know microsoft can do it. I already know there's competition coming from third parties of and intergrated ink-to-text experience in the pipeline. It's only a pity that microsoft is still promoting stylus as a gimmick and a true and valuable tool. I am not blaming microsoft, but I do wish, they put inking and the stylus more seriously on the agenda. The power for stylus is inking is here. The experience is better than ever, it's only its implementation that needs to change on a software level.

I actually thought it used to do this, but then one of the updates (6 months ago?) actually removed the ability. I agree this is very silly of Microsoft on this one.

Strange that I don't get the onscreen keyboard. Nice upgrade, still 2nd fiddler to Evernote for serious note taking.

Not in a million years, Evernote is a child's toy in comparison

IMHO, OneNote and Evernote are two different things. OneNote is far superior in note taking, whereas Evernote is superior in maintaining paperwork.

Surely, you jest.? Can you name one feature that Evernote has that Onenote doesn't do better?

I find Evernote's ability to import documents simply by putting them into a folder is easier than having to open every PDF I want to import into OneNote and sending it to a software printer. (There may very well be an easier way, but it's either not apparent or I'm slow on the uptake.)

A great update to what was already an awesome touch app!

Here we go. My most lovely note taking application got updated !

Whoa! It looks beautiful!!!

For you ink fans, Microsoft has improved Ink support to help you create some unique notes. It's now possible to take notes in colour and choose desired thickness. What's more is you can also use the ol' finger to work some magic in a more natural environment.

What! This has been available since last update. By the way, I find it strange the screenshots used here are from the last version

The OCR feature will not work on Surface 2. Just tried it. Surface 2 has a fixed focus camera and you cannot get the text close enough to get a got picture. It's allways out of focus. Or too far to be readable. Anyone tried??

Does it still annoyingly not use your Microsoft Account as the author? I use OneNote 2013 on my PC, MX on my Surface Pro 2, and the WP8 version. Editing from 2010/2013 and WP8, no different author noted between each other. With MX, if I edit a page, it shows a different author on the other devices. Not a major functionality problem, just irritating annoyance. But it's the little things that make life, isn't it? :P

Killer in combination with the new Dell Venue.

Finally... Been waiting for the 50/50 snap.

the drag and drop feature is a great addition, too :)

Does this update let you turn off spell check?

I don't understand... I've been sharing to OneNote via the Charm since forever. What's new about this feature?

That is so damn sexy . . .

Why can't I print from OneNote?

Agree. That is the one thing that i stopping me using Modern UI OneNote over the standard OneNote!

So now the app has some features OneNote 2013 desktop (I pay for) doesn't have. great.

When will these features come to windows phone? Wacom stylus will be useful.