OneNote's updated design now rolling out to Fast ring Insiders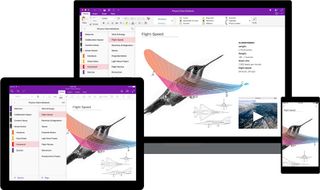 Microsoft recently announced a redesigned OneNote would start rolling out on all platforms soon, and now it looks like Windows Insiders on the Fast ring are getting their first taste. The redesign comes with an updated layout intended to maintain consistency across all platforms, and there are some handy new features to boot.
Here's a full look at what's new, according to the official release notes (opens in new tab):
OneNote Reimagined: It's easier than ever to organize your notes with an improved layout. All of your notebooks, sections, and pages can be found in columns on the side of the app, efficiently navigable with screen readers, keyboards and more.
Resolve page conflicts: Page conflicts sometimes happen in shared notebooks. We've made it easier to find and resolve the differences. Pages with conflicts will be marked with a triangle icon.
Your pages, your way: Page previews provide a glimpse of what's in your notes by showing the first few words of text on the page, and a thumbnail of any pictures.
Hide subpages: Create more room in your page list by collapsing your subpages. Select one or more pages, and from the right-click menu, choose Make Subpage.
Find text on a page: Use Ctrl+F to quickly search for a specific word or phrase on the current page.
You're the expert with Tell Me: Click the light bulb in the upper right corner of the app window, and simply type what you want to do in OneNote using your own words. Tell Me will guide you through the process as well as offer additional resources such as Help or Smart Lookup.
See what's changed: When someone else changes content in your shared notebook, we'll make the page or section name bold so you know.
Nickname your notebook: Add a nickname to your notebook to make it more personal and easier to find.
Change the notebook color: Red for work, blue for personal? Change the color of your notebooks to keep things organized.
That's quite a bit of new stuff to absorb if you're a heavy OneNote user, and it's good to see the Windows 10 app getting consistent attention. If you're an Insider on the Fast ring, you should be able to grab this update, which comes in at version number 17.8269.5756 now.
Download OneNote from the Windows Store (opens in new tab)
Windows Central Newsletter
Get the best of Windows Central in your inbox, every day!
Dan Thorp-Lancaster is the former Editor-in-Chief of Windows Central. He began working with Windows Central, Android Central, and iMore as a news writer in 2014 and is obsessed with tech of all sorts. You can follow Dan on Twitter @DthorpL and Instagram @heyitsdtl.
I got the update on Fast Ring. But had to turn on the "Experimental Feature" to get these features. :)

That's not the new update then.

The version number is 17.8269.57561.0 which is same as the article says.

It rolled out to iOS more than two weeks ago. That's enough to show how much Microsoft cares about its own platform.

Yes, it does show how much they care about their own platform. Make sure it works, works well, and works right. Meanwhile dump it on the other platforms, find the bug there, fix them and then release on Windows.

That's not even a real answer.

That's some really wishful thinking.

It's been on Windows for ages as long as you turn on preview option

I have this update on the Release Preview for about 3 weeks now...
Odd. :/

It's been out a while as long as you had preview features turned on

No. This is the Store app only. Office"desktop" is feature frozen.

Office "Desktop" is feature frozen.

What the entire suite? Indefinitely? What about subscribers to O365 Personal/Home?

No just OneNote. The other apps get updates every month pretty much. OneNote is kind of separate from those in that its positioned as free app more than anything

Hmm might be time to install the Tablet/UWP app, currently only have the Desktop version; Still hardly ever use it on my SP3, one of these days will hopefully get into the habit of using it!

Used the desktop app for years but the UWP has enough of the key features for me to use that as my default now. Definitely recommend it unless you use a lot of add-ins for the desktop version

Onetastic plugin is something i can't do without. I'm quite torn.

Onetastic is great. I miss picture crop. But I have moved to the UWP app now, and won't be going back to desktop.

problem with UWP app is that it doesn't allow me to use my printer's own dialogue box for options and have to deal with basic print settings.

Almost all of those features look like catch-up to the desktop version, which has had them for a long time. Good to see the mobile and UWP version closing the gap.

I love the passion and awesome work done by Office team!!

Literally one of the best applications in the world.

And probably the best UWP app

I miss fast ring. I had to hard reset due to the latest failed build.

Just turn on preview features in OneNote. Voila

The problem with OneNote is that you can't create tasks and reminders in the mobile apps. And on the desktop app that's sort of not build in the app itself but depends on outlook for that. It's very unfortunate because I have to use another app to manage tasks properly.

But the name Onenote suggests that its a Note managing app, not Task or To-do based app.
So separate app is better. Microsoft To Do is there.

Use the checkbox tag on your todo list page, and you can then search for all todos if you want. That won't sync them to Outlook but all of it should converge eventually. The To-Do (Wunderlist) team have said they are looking at how they can converge tasks across Microsoft products including Outlook tasks

Am I the only one to notice an Android phone and an iPhone instead of Windows in the video?

Maybe the only one who cares enough to notice? The features are on W10M and I've been using them for a good while now

I do care that Microsoft (and Windows Central) promote iPhone and Android more than Windows

Meh, still a useless POS with it forcing me to sign in with a skynet account...

What about just not using it then, instead of calling it POS only because you don't want to create or use a MS account?
I don't want a Google account, I simply don't use their apps (and doesn't criticize them by the way), is it that hard?
There are a lot of alternatives you can use, with no cloud integration if this is what bothers you.

Just ignore him. Babies like to cry

Cry me river. It is my opinion about the software, and I have the right to post it, just-as you have the right not to agree with it...

You absolutely do NOT need a Microsoft account to use OneNote (except the web version, but obviously you need some kind of an account to log into the web site so it knows whose notebook to show you). It runs just fine with a local-only notebook. In fact, it works on a LAN to share the notebook between multiple computers all w/o a cloud account required. I have cloud-based notebooks to use with my Windows Phone and others where privacy is a bigger concern that I only share via the LAN. The same copy of OneNote can even access both OneDrive and local/LAN-only notebooks. I can take the LAN-only ones with me on my convertible laptop/tablet, by simply making the network share available offline and it all syncs invisibly in the background when my laptop is back in range of the LAN's Wi-Fi. It's a beautiful thing.

That's the Desktop OneNote, which I use on my Surface Pro 2, not this useless POS windows store app...

@MrElectrifyer, that's true, but this whole article is about how the Web and Store UWP versions are catching up and closing the gap with the Desktop version. OneNote as a whole is a fantastic app. Sounds like we agree on that. It's only a good thing that the store version, which even runs great on Windows Phones, is improving, yes?

If you use a PIN to login, OneNote will ask you to login each time you start the app. Annoying!!!!!

That shouldn't be happening. I use password, pin and Hello across a range of devices and it doesn't ask me to do this

I really hope they leave that navigation as optional for the people who like it. Personally, the tabs approach for sections has always been so intuitive for me and easy to navigate (like a real notebook). The columns design wastes so much visual space. And it's garbage on mobile.

The new UI is there for quite a long time now (January 2017 ?), as long as you checked the "Experimental feature". All the other features are available to anyone, since beginning of May (I have currently version 17.8241). See "One Week with OneNote for W10" I am wondering whether this new version will end the "Beta" / "Experimental" status, and make the new UI available to anyone...

Cant use my templates grrrr