Open installed apps from within the Windows 10 Mobile Store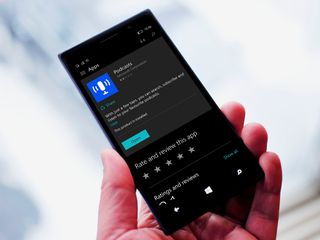 After talking about how the Windows 10 Mobile Store now lists in-app purchases for apps which contain them, there's another cool little feature that's in there too.
Once you've installed a new app you can open it up right from the Store.
The Windows Phone 8.1 Store gives you an option to view your new install, but not to directly open it and go into the app. That's changing it seems with Windows 10 Mobile. A small, but welcomed feature, and is one of a number of refinements to Microsoft's app shopping experience.
The new Store is now the only store as of build 10166 and thankfully it's had a lot of work since the really early builds. It's still pretty buggy and crashes frequently, but it's perfectly usable. The bugs will get ironed out as we get closer to launch but it's getting better with each build, so it's going the right way, at least.
Thanks to everyone who tipped us!
Windows Central Newsletter
Get the best of Windows Central in in your inbox, every day!
Managing Editor - Tech, Reviews
Richard Devine is a Managing Editor at Windows Central with over a decade of experience. A former Project Manager and long-term tech addict, he joined Mobile Nations in 2011 and has been found on Android Central and iMore as well as Windows Central. Currently, you'll find him steering the site's coverage of all manner of PC hardware and reviews. Find him on Mastodon at mstdn.social/@richdevine
Thought the app in the pic was the new recorder app. But then I zoomed in.

Yeah, it appears to be an app in which everyone wishes to uninstall.

You can uninstall it now :)

You can also pinch to zoom text in WC app if you can't read on picture XD

If it was it would have been posted about already ;-)

:D Richard is strictly testing the new store.. Small feature.. But nothing can hide from Richard ;)

What? The podcast app wanting to be uninstalled? Nearly every single review in the store for the Podcast app is someone whining about how they can't uninstall it haha

Glad we can finally uninstall it! :) I dont listen to Podcasts. Now, they need to fix the 'Update' button. It still shows 'Install' even if an app is already installed. On a side note... WE CAN FINALLY ADD MULTIPLE OUTLOOK.COM ACCOUNTS and pin them to the Start screen :) You get the live tile count again for each one. Before, in the Win10 Preview it was locked to only one Outlook.com account, and it was one of the top-requested features to bring back. YAY! http://forums.windowscentral.com/windows-10-mobile/366218-yes-we-can-finally-add-multiple-outlook-com-accounts-again.html#post3151858

Did they fix the gmail issue?

Finally! This was the feature I've been waiting for!

.Waiting for to download recovery tool,don't want windows 10.

Yes it is. It allows me to open Glance from the store since I don't have it listed in my settings. The only thing we need now is a way to delist apps from our history. I have so many junk apps (especially the ones that are no longer available for download or just no longer function) I wish to no longer see in there.

Glance doesn't show up in my store, nor do a couple of other apps I looked for. TubeCast suggests there is a new 360 mode app called Webrox 360 which also doesn't show in store. I did the reset through settings this morning which foxed my background image not being able to be changed. I really don't want to go through that hassle again. Could it possibly be fixed on it's own through the next insider preview?

You can't search for Glance and certain apps in the store. You have to google/bing them. Look for a search result that gives you the direct link. Glance https://www.windowsphone.com/en-us/store/app/glance-screen/106e0a97-8b19-42cf-8879-a8ed2598fcbb Video 360 (Webrox is the maker of the app) https://www.windowsphone.com/en-us/store/app/video-360/d2547e4f-d2e4-476e-9271-c9753644de8c

Thanks for the info. TubeCast led me to believe you could search directly through the store. As for your link to the Video 360, I came up dry, error code at the bottom of a blank page. A Bing search didn't yield anything either. Glance, on the other hand, did work through the given link.

Super helpful tip on Glance. Thanks!

You can now swipe up the action centre from the middle of the panel.

Ok. Now please include when latest update date for apps on store. I can't find it.

He means the 'last updated' section.

I know, Android's had this capability for years :)~

But android couldn't download two apps at a time.

Ok, maybe this was a joke or sarcasm and I missed it... But Android has been able to download 2 apps at the same time for years. More than 2 apps. I have done it plenty of times. As far back as 2010.

Hmm. I guess you are half right, Android does download one app at a time but can queue over 50. And I am pretty sure Windows Phone does the same. Android's Play Store also doesn't only allow you to open an app, but you can directly uninstall it from the same page. Not to mention that there is a progress bar in the notification centre that can tell you the expected time it will take to download an app. I suppose most of the above functionality will come out in Windows Mobile 10 pretty soon. They've been a roll lately copying Android and iOS. But it's shaping up to be a nice operating system.

Hope there will be lot more developers will come soon and kill IOS (internal operation s***) out of topic

Yeah. I still like Android. But iOS, its just too generic and there is too much iOS devices. I wish I lived in a world where there was no iOS devices EVER. I hate them with a passion. I still don't know why I have my iPad 2 and my iPod Touch!

I use iOS every day although I am not really fond of it... I dont envy a world where Google and Apple make the only mobile OS that mattters... fingers crossed..

In my opinions iOS I great and android is crap. But luckily everyone have a different opinion and choice. Android design style is horrible to me (and I'm a modern graphics and logo designer for a living), andorid also slows down over tie, every single android device I owned slowed down over its life, and I owned quite a few. My windows phones and iPhones never had this problem. My iPad however does, its is very slow now. That's just my personal experience. But that is why apple is known for its good experience, people typically chops android for its ability to be different, but with that comes some cons.

We're living in a time where all of the mobile OS's have gotten really good. The only reason anyone would have to "hate" another OS would be that they're a huge fanboy/cheerleader for another company. Which most of you guys are.

You replied to mine? I dont k ow if that was Inteded but nothing about what I said made me a fan boy. I've owned android devices and still have an android tablet, it just isnt what I like anymore, and the O.S. Itself is know to slow down over its life cycle, even in current additions. Its like the one gripe about android that doesn't seem to change. I also own an iPad and mac book pro (although I primarily use windows in it for my work and fun these days), and I own an iPhone 5c that I used to use but now is just for snapchat. I use windows phone as my daily driver now, I have a Lumia, but can't wait to upgrade in fall since my screen is severely cracked. I think all OS's have their UPS, but the downs if the different ones can make them not be as desired. The only single handed down about windows phone is lack of 1st part app support and availability. But I still choose it over android or IOS now myself. So I think I'm one of the least fan boyish in the way that I've tried all and used all for years. Hopefully that makes sense, I didnt understand why you were replying to me.

I have to disagree a little. I think having 3 different OS's is actually q good thing. Competition is the key to innovation. I just wish the carriers in the U.S. would change the business model to how it is in Europe. That would certainly level the playing field for all OEMs and OSs here

There are dozens of different operating systems available now, just many of them are based on the same platform. iOS, Windows Phone, Touchwiz, Tizen, Sense, Android, AOSP, Ubuntu, Firefox, LG, XPeria Home, etc. It is kinda tough to call AOSP just one OS.

Let's stop bashing other platforms and just hope W10 boosts WP sales!

Second that. So counterproductive

This. Stop with the bashing. Don't be jerks if you want others to see what's great about this OS. Otherwise people will just say: "I was interested in Windows phone but I checked out Windows Central and they were a bunch of fanboys! Why would I want to be a part of that?" I carry an S5 as my work phone and although I don't see why everyone says it is immensely better than WP, I do get why they might like it. I don't think they'd love it as I do WP, but I see why they don't switch... No need really.

People don't say it is omensly greater than WP. I'm jot sure who told you that, now what people have said is the hardware is as good as some windows phone devices, but when it comes to android vs windows phone, I've owned multiple of both and from personal experience I prefer windows phone. It just doesn't slow down overtime like android does, and the looks of it are just more appealing. But the looks part is opinion, the speed part is not that is wide spread known.

I don't so much bash other platforms as I get real frustrated when the trolls come in here spouting off, be it Android or iOS. IMO, this negativity from people who really don't have a dog in the WP fight has been one contributing factor in the slow growth, retreat of WP. I can't count all the negative reviews where it was plainly obvious that the reviewer or blogger had not used WP for more than a few days or that they clearly were championing other platforms or OEM. They claim they hated the tiles, but from their comments it was clear they didn't know how to pin more, remove unneeded or resize them. They bemoaned apps and championed being able to open apps, not realizinfg that some of that was baked right into WP. They compared Live Tiles to widgets, complained about never ending scrolls (rich from iOS adherants) and touted the app gap as being the only differntiator worth noting. WP is a far more coherent OS than the others. And certainly far more misunderstood.

After what they've done, sales will only get worse. 8.1 is much more enjoyable to use than W10M, at least so far. Adding the extra features to 8.1 would be better than this. No one that uses their phone with only one hand could possibly like the new hunt and peck desktop-centric W10M.

iOS is over priced and only gives less features.. Android is not secure but it's full of features.. W10M , well it's not over priced and has enough features to satisfy an Android user..

I was mentioning the OS.. You know that I'm talking about iPhone itself.. Don't eat my head please

How is iOS overpriced? With carrier subsidies the phones are on equal footing when it comes to price. Full retail, then yes I understand. Windows phone is the value proposition. I try to turn people on to it every day when they can't upgrade I say buy this phone at full retail for 120 or 200, yet they want the iPhone at 699 LOL

Seriously my icon was more expensive than an iPhone 6 lol I've never understood why people say the iPhone is expensive, it is not!

At retail the icon is cheaper, also the iPhone doesn't have wireless charging and half the memory, and an inferior camera, no HAAC mics either.

At contract price the iPhone and icon were same price, if anything the iPhone 5c and 5s were both cheaper than the icon when I bought my icon based on deals and stuff they had going on. The I con sold retail at Verizon brand new for $777 but that wasn't what was important, the upgrade price is primarily what is important in America.

In Nigeria here, where there is nothing like subsidy, iPhone 6 plus (128Gig) is 220000 naira, while a Lumia 1520 is 96000 naira. Do you see the overpricing now?

In America we don't pay full price for phones we get a new upgrade every two years some times less for far less then full price. My Lumia icon retailed at $777 but at upgrade price I got it for $200. The iPhone 5c was always cheaper at upgrade price when deals were going in, and the 5s was the same price as the icon some tines higher sometimes lower depending on the desk. It just doesn't make sense when people say iPhones are overpriced to people in the U.S. since the big popular carriers all have upgrade plans. I don't need to upgrade my phone more than that once every 2 years so I love the upgrade system. To pay full retail price will never happen across America as a whole as we love getting things inexpensive. If someone wants a new phone every month that is up to them to pay full price, but I don't need that.

You paid every month for that Lumia Icon and you don't even know how much. You could have spent $1000 in the end for all you know. Verizon is not cheap.

That's not how it works for families who aren't on the crappy waste of money "Edge" payment plan and family shared plans. We literally pay $120 a month for 3 smartphones, 1 of them unlimited data, 1 4 gigs, and the other 2 gigs, unlimited text and talk for all, and 2 dumb phones. Considering that, we no other carrier in the u.a. Can match our price. They have tried and said we might as well stay on Verizon lol. Upgrades dont cost you $1000 dollars they literally only cost you the $200 for the upgrade, the only reason they get to do this is because we agree to stay with them for 2 years there fore resulting in a "contract." Not everyone likes contracts but I've always been abe to get things more affordable when in contracts, it just sucks if you ever want to leave in the middle of a contract. There is a reason Verizon is the largest, fastest most successful American mobile company right now. When something is worth it people pay for it, luckily we don't have to pay any more for it than others do for normally less expensive networks. Upgrades work well in America for a reason haha.

I would be in Verizon even if I was buying at full retail, Verizon doesn't add costs in there to make my upgrade not be just a subsidize. Especially based on how I described it below.

.. I'm talking about other countries where there are no carrier subsidized phones and have to buy full retailed one.. And for the price of buying an iPhone, I can buy a bike.. That's something more than over priced .. :p

Yeah that's not the problem in America and so people in America that say that are what confuse me, so that makes sense though. I feel bad for yall on that matter, because atleast we get to choose between a upgrade for less price, or retail price full phone whenever we want, atleast the option exists because in America if it went away plenty of people would be upset and would not afford these phones. The only reason we all got smartphones so fast is because of carrier subsidizing.

On 24 month contract, I get unlimited everything, with Lumia 930 for £35. With iPhone same deal is £60. How is it not overpriced with carrier subsides?

I have no clue what your talking about. But with upgrade costs, the Lumia icon was $200, where the iPhone 5c was always lower than that when it came out with the deals going on at the time for iPhones, and then the iPhone 5s was either less, the same price, or more than the Lumia icon by +/- $50 so it was pretty much the same cost. That is why it makes no sense to people in America when other people say it is more expensive for an iPhone. The iPhone is no more expensive on contract here than top android and windows phones, if anything too android phone like the m8 were more expensive, and now the iPhone 6 plus was up there with the top android phones too.

let's not worry about other developers ... Hope microsoft's own developers from garage develop apps first for windows and then for remaining platforms

Should've been there from day one... SMDH.
......
What we need is the ability to set a different color for the start screen tiles, and the theme.. What color works for the start screen doesn't always work for the entire OS.

Hey rodneyej, did you see the windows hello demo video by winsupersite? ... That's gonna be the main selling point of W10.. It's toooooo awesome.. I hope the same with Lumia 940/XL as well.. It doesn't even take one second to recognize the user....

Dude, I posted a video of a hello demo over a month ago from the Intel press conference in Taipei. Only so many times you need to see someone unlock something with their face.

Lol.. Chill, man!! Hahahah!

Sorry, I was busy during those days and I must have missed it.. Just saw the demo .. And I'm impressed.. ;)

I did see that demo. It's pretty cool.. Gonna need new hardware though, so it's gonna take a minute for it to really be a big selling point for 10..... Read my comment above, just modified it.

Agreed on both the comments ;)

Use a solid color wallpaper as your tile background.

We also need marketing...

On an unrelated note, with the latest Windows 10 technical preview build, I don't seem to have the ability to pin individual settings. Can somebody confirm if this feature has been removed? Sorry if I missed this if it was covered elsewhere.

It's not there anymore... And it's definitely an unwanted feature considering the easy to use settings app and more quick action toggles..:)

Actually, I just discovered how you can. Long press the setting name and it will give you the pin to start option. :)

Options are good... But doesn't feel like necessary ( thanks to 3 more rows of Quick action toggles in Action Centre )

Yes, and its also present in WP8.1 GDR2

I pray everyday Nadella doesn't cancel the WM10 development.

Due to what has happened that could also might happen..

I've specifically asked several times when I downloaded build 10149

And Now you have the answer ;)

There's a bug when certain apps, amazon for one, doesn't seem to say installed or give me the option to open through the store. It only says completed. I'm about to report it now.

Same here... But not anymore

Build it and they will come...

I was hoping I could safely install the new W10M now that this build is out, and I was about to do it (I just can't wait to have W10M *-*)... But the 2nd sentence in the 4th paragraph now makes me feel like I shouldn't do it yet :(

It's a preview, it's gonna be buggy. Right up until they fix them all and decide to launch it.

I dunno about it being all that buggy. I'm running 10166 on a 1520, 925, & 1020, and it's been really a massive improvement over all. In fact I'm running the 1520 as my daily driver, and am seeing only low key issues.

That's because the devices you're running W10M on are all mid-high end devices. Ask those who're using 512mb ram phones and you'll realize what 'buggy' means. Like my test device Lumia 520. I have a feeling that it might never be able to handle W10M smoothly, unless, of course, some features are cut-off. While my 930 will still be rocking W10M as it did WP8.1 or maybe even better than that.

You are absolutely not a windows insider kind of guy.. Don't install until at least RTM/Dev preview release... :)

Greatest pet-peeve I had with Windows Phone…

Is the music section ever getting reviews and ratings? I can't take it seriously with iTunes if it doesn't even have that.

Pretty neat feature for developers. Since, lazy people like me doesn't even open those installed apps most of the times otherwise.
Another perspective: Apps will get uninstalled instantly if they don't hook you up.
All in all nice change.

I'm confused on why this wasn't included at first, it should have, it encourages the accessing of the apps when installing. At times I download something and one reason or another I forget some apps like opera mini is even installed

Maybe the microsoft engineer is forgot to add this feature prior to wp8 launch

Wow... finally. Windows Phone can do well, fi they focused some times on the detail. This is one of those things, so minute, yet so infuriating, that one can understand why some flock to other platforms that take detail to another level. Not saying it should always be, but it should be in place... UX is important. Now I juist need them to improve list searching/sorting accross the system settings (like storage sense for sifting through apps on SD or not etc) and I'll be a happier camper... Now excuse me as I scroll for 5 minutes to slowly discover if this app is on the SD or not...........

Microsoft Band app seems to be older version in new store. Anyone noticed this? I can no longer get guided workouts. While there are perks in new store, plenty of functional glitches.

Now if only it would show the version number and publish date like the old store did.

This has been on android for a long time.

Glad you told me! I never knew :O /s

Why there is no lumia camera app in the new store ??

It's now just 'Camera'. Incorporates all the same features from Lumia camera but those features will now be on all devices.

I want to see "Trusted Developer" and number of downloads statuses.

Number of downloads would be very useful.

Many apps like Lumia Creative Studio, Hyperlapse and Here Transit are not installing from the Store. There is no the Install option.

I've encountered the same thing and it says the store doesn't support the application and has a link to windows support site.

Folks should remember that Windows Hello will require all new hardware, or the Intel $120 luggable camera. Check the hardware requirements folks!

Amost wright ... Windows Hello require new hardware on Windows 10 Mobile, not on PC if jou have already USB 3.0 out. And is not $120 luggable camera ... is $99 and only for developers. And in some countries in Europe not available. But, your warning is on wright place.

small but well appreciated feature.

Should also have feature to add apps in the store to wish list so that we can download it later, will be good if it comes in windows 10 store.

I cannot install apps like here apps, zomato, glance from the new store

Why don't I have insider hub in mine.? Do I need to install it.?

I have no issues with this. My only input on the matter: I thought they originally designed it to open "View" to increase discoverablity and show users where to find their apps in the apps list, so they wouldn't dog through the Store every time to open an app? I personally don't care either way, I just thought that was the original rationale.

Wizhlist and functions like steam's.

Does w10 build 10166 lag on 512 mb devices such as NL630?

This feature reminds me of my first love, Symbian

Should have this in day one

The store on PC somwhow has lots of wasted space. They could ateast somehow.. Make a video or an image in the header beside the app icon. The right side are empty.

Think I'm going to wait until this is pushed to the slow ring. Don't want to be in a position where apps don't install from the new store. Have had to install all apps from the old store, the only exceptions were the office preview apps and OneNote. All of which appeared to be over a 100 meg for me.

Does have the feature to add favourites?

​ Nice feature. Windows mobile OS it's getting better and better with these refinements. Really wish for the huge success of windows phone 10. Will there be a native feature for recording calls? And will we be able to reply from the action center without having to open the apps ranging from messaging to WhatsApp? ​ ​ ​ ​ ​

Hi how latest build working on 640 xl?

its working fine. But everything seems stretched out. OS is not refined to look visually appealing on larger screens. I was using lumia 630 earlier. Now on 640 xl it seems that the OS is just streched to fit in on larger screens. there is more spaces between keys on the keyboard ,,etc etc.. but i have checked on gsm arena that its using the same chipset as 630 ,, it should have upgraded to latest cpu and gpu models ,, but ok no problem as long as it works for me.. camera is good. loudspeaker volume is not much, just decent...

That's something MS can't do.. WhatsApp will add that feature after W10M release

Does it (win 10) have such provisions which will allow replies from action center without needing to open the app? what about native call recording ? will there be 3rd party keyboards (swiftkey etc) allowed on win10 mobile?

Good now I can launch apps again since start menu don't work

What I don't like (putting it mildly) is the horizontal scrolling of the search result. Weather does the same thing, seems to be another bad thing copied from Adroid. By the way another new thing in the store: searching for Windows Central no longer gives Windows Central as the first result, but Windows Camera. Another feature copied from Google?

Can someone please let me know if they could find the lumia selfie, creative studio, movie creator and video tuner apps in the new store? I cant find them and I don't know any other video editing tools as good. Running W10M on 925.

So we can uninstall that featured app?

One of the best store features!!!

The windows central app on win 10 mobile is a little slow to start I guess.! XD One of the reasons I'm thinking of rolling back! XD

Thought this was always there

No you could click "view" and then it would jump to the app list

"still pretty buggy and crashes frequently, but it's perfectly usable." Really? Having a hard time understanding this sentence. :o)

It's usable but it'll crash a lot. Instead of it crashes a lot and you still can't use it because it because it's so damn slow ;-)

The store needs more work. It's my biggest disappointment

"It's still pretty buggy and crashes frequently, but it's perfectly usable." o.O

I like this feature, it'll be very handy.
Windows Central Newsletter
Thank you for signing up to Windows Central. You will receive a verification email shortly.
There was a problem. Please refresh the page and try again.