Opera Mini has once again been removed from the Windows Phone Store [Update: It's back]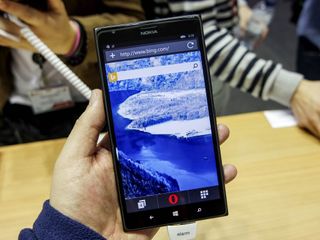 Update: It's back in the story. Everyone can relax.
Original story: If you have been wanting to try out the Opera Mini web browser for Windows Phone, you will have to wait a little while longer. The app has once again been removed from the Windows Phone Store, and an Opera rep has confirmed on Twitter that it is working to resolve the issue.
The browser was taken down earlier this morning and, according to this message from an Opera rep on Twitter, it is indeed aware of the problem:
So far, there's no word on what the issue might be or how long it will take before Opera Mini comes back to the Windows Phone Store. This is not the first time this has happened; the app was removed from circulation for several hours in June.
Source: Opera (Twitter)
Windows Central Newsletter
Get the best of Windows Central in in your inbox, every day!
Dear opera please make the normal mobile browser not the light versio

They might one day, but not on Windows Phone 8.1. Windows 10 Mobile they might!

IE and Spartan is there for Normal browsing... Opera mini and UC Browser are for people without unlimited data packs..... You also have Surfy and Maxthon browser for large data consumption and better page rendering

I use Nokia xpress when I am in roaming.

Ie and edge takes lot of data. Opera and uc takes low data and loading fast

They already stated months ago they will bring Opera Mobile to Windows 10 in the future, so just bear with it for now.

They add then remove , going on... Better stick with default only.works good to me..

Lol... I was searching like a MAD for it today..... True story is pulled out....!!!!!

i dont like Opera, pages load like we're using a phone from 2001.

Bcoz that's what opera mini is meant for

And Bing is horrible on opera too. Doesn't give suggestions while typing.

That's because its a Mini browser! It pre downloads a light not live copy of the website, so things like ads wont load since Opera Mini is basically a snapshot browser

Thought it sucked. Doesn't matter if we can't select a default browser anyway

They better keep the app or permanently remove it from store.. This the 5-6th time they have removed the app.. :/

Opera mini is fast on my Lumia 620.and using it from 7 years

Opera always been my Favourite for Phones Since last one years I am using Opera for PC ... It is The Best Browser for PC ... Perticulary if when you are working on low speed internet connection. Chrome suck & crash most ... Without doubt Fastest Browser.

That browser is a piece of crap anyway on my Lumia 920

Yeah crap on my 1520, only loads half a page and only lets me scroll up and down, so can never use any website. Only positive is secure browsing works for torrent sites ;)

I hope a universal windows 10 opera browser sees the Light in the future

Ahhh that's why I can't find it! Opera is the only browser that can open my lotus notes..

I am not sure if it's the same problem as mine but last week my app VBA8 was taken down due to store migration issue. It's not until I contacted Microsoft that they resolved the issue and put my app back.

Confused developers!! I don't care.

Are they playing Game??
Remove Publish Remove Publish!!!!!

Good cause it's useless and terrible.

Good anyways its useless app

I like Opera Mini... But IE and soon Edge are way better than Opera Mini... ☹

Team viewer is also down.

Maybe, just maybe landscape is coming...

This is Opera Mini. The browser is meant to aid users with limited data allowances or sketchy data connections. The browser can (and does) offer data savings and can make the most of a poor connection. When it's working, it's a great goto browser for this market segment. If you want a full-featured browser, this isn't it.

I want to use opera regularly, but I honestly have to say it performs the worst among all browsers.

Even f-secure and Kaspersky browsers perform better than opera. Their main business are in security! Opera from a European company is supposed to be different and better, but internet explorer in PC and mobile is a lot better than opera.
Windows Central Newsletter
Thank you for signing up to Windows Central. You will receive a verification email shortly.
There was a problem. Please refresh the page and try again.