The ORIGIN CHRONOS SFF PC is a small Windows 10 desktop packed with powerful hardware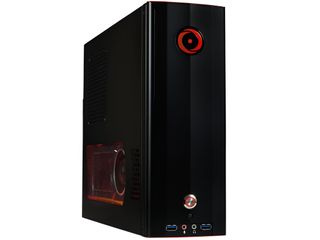 As part of its CES 2016 announcements, ORIGIN PC has revealed plans to sell a small form factor Windows 10 desktop called the CHRONOS SFF. While the case is just under a foot high, it will still be roomy enough to pack in some high-end hardware for hardcore PC gaming.
Measures 11.75"(H) x 4" (W) x 13.75" (D)
Ability to Place in Any Horizontal or Vertical Orientation with Detachable Magnetic Feet
Illuminated Rotating Logo
Supports all Mini ITX Platforms (Z170 and X99)
Supports up to an Intel Core i7 5960X Processor
ORIGIN FROSTBYTE 120 Sealed Liquid-Cooling
Supports up to an NVIDIA GeForce GTX TITAN Z Graphics Card
Professional CPU and GPU Overclocking
Free Lifetime 24/7 U.S. Based Technical Support
The ORIGIN CHRONOS SFF PC will go on sale sometime in February but pricing has yet to be revealed.
Windows Central Newsletter
Get the best of Windows Central in your inbox, every day!
Off -Topic: Windows Central, do you guys know I won the Rise of Tomb Raider Contest? Received a mail this morning.

Woo. I love Origin!!!! I own an 8 year old Origin 17x and it still kicks ass

Origin wasn't a company 8 years ago though : / lol

I'm pressive size makes you consider a sff over a full tower that supports 4 graphics and water coooling using 4 rads

I haven't wanted a desktop in a long time. But I want this! That's a badass PC.

Mitx what a goal that is I built a new whs that used a constrained case what a challenge that was. Luckily its running all 2.5" HDDs

Hey Daniel I know this is off topic but I'm so excited for the new Windows Central application and I really want to know if a release is imminent (I know I'm impatient). Also, did you guys implement the swipe-from-the-left gesture to open the hamburger menu?