Outlook Mail and Calendar gets new 'undo' function, intro screen on mobile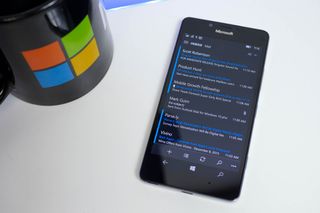 Outlook Mail & Calendar has scored a new update, bringing along an "undo" feature along with a new "What's New" screen on Windows 10 Mobile.
While neither feature is astoundingly groundbreaking, the intro screen explaining what's new is a nice touch. You can check out the screen below, along with the Undo feature. Do note that, as far as we can tell, the only thing that's actually new in this version is the Undo feature, despite the intro screen's listing of linked inboxes and the ability to select and act on all messages at once.
As for version numbers, this update cranks Outlook Mail and Calendar up from version 17.6515.64022 to version 17.6525.42272.
Additionally, Windows Alarms & Clock appears to have received an update as well, but there's nothing new of note. However, if version numbers are your thing, Alarms & Clock is now on version 17.6525.42272, up from 17.6515.64022.
Be sure to hit up the links below to grab both updates, and shout out in the comments below if you notice anything we may have missed.
Thanks for the tips, everyone!
Dan Thorp-Lancaster is the former Editor-in-Chief of Windows Central. He began working with Windows Central, Android Central, and iMore as a news writer in 2014 and is obsessed with tech of all sorts. You can follow Dan on Twitter @DthorpL and Instagram @heyitsdtl.
Great. It keeps getting better.

Probably unwise to do that

Side note, anyone have issues with the Xbox app. Random crashes and always crashes when I go to messages

I've already found use for it. Great feature.

,INCREIBLEMENTE ULTRAFANTASTICO

Very glad to see the undo feature as I've accidentally deleted messages a couple times and was disappointed to see that you couldn't undo (had to switch to the Trash folder to fix it). But really, the big two things I'm missing from this are still Outlook.com aliases and Outlook.com Junk/Sweep support. If those get added, it's pretty much perfect for me. (And personally, the alias support is the more important of the two).

I use aliases just fine on the W10M app.

How? Can you send me any screenshots of that?

You can receive from any of your aliases, but can't send from one.

The "Sweep/block feature" is sorely needed. And the "empty folder" option for trash. I miss that from 8.1

Well, at least you can now select all messages from a folder at a time.

Does that mean with the alarm update we actually have alarms to choose from yet or just that single incredibly annoying one that works only sometimes?

Use multiple alarms at different times every day and have had zero reliability problems. I do dislike that they removed one of the tones I used to use... but there are lots of options to choose from. What specific issues are you having?

Ever since updating to Win 10 mobile preview I only have the one alarm tone to choose from apart from any music I have stored locally and the alarm has started to be delayed when going off by a few minutes each day, nothing major but still annoying

Me too, with a twist; I can choose whichever sound I want, but regardless, my phone always plays the 'Americano' alarm.

Make sure the sound is set to "Default" under notification for "Alarms", and then it'll play the one you set using the Alarms app.

It is set that way but I cant select any other tone, just choose music that I have saved to the phone but no specific alarm tones

Hmm.. just checked, my Lumia 640 has dozens of available ringtones. I installed Insider on it a few days ago and upgraded to W10M and had been having numerous issues including not being able to access my default email account/contacts/calendar so I did a Hard Reset (about->reset phone) and although it wiped everything, the phone is so much better starting fresh like this, and many of the bugs I was experiening are no more. Did you do a Hard Reset after updating to W10M? Back up the phone first!

What about the timer only going off when the screen is on, making it completely useless?

Ah yes, how could I forgot that totally helpful feature

You can choose your own music or custom tones.

That what's new thing is great

... and then, they broke its live tiles again. Still showing 4 new mails that deleted.

Yeah, same here... Live tile broken

Live tiles in 10 in general (even on PC) are a broken mess. Far less reliable than they were in 8.x.

My live tiles for each mail account on mobile have started working after removing them and re pinning them. Have to see if they stay accurate now

Same here. Re-pinnig it didn't fix the problem.

Same for me too
The live tile cleared once I unpinned and repinned, but it doesn't fix the problem, it just came back the next time I got an email

I always had this problem.

Did Alarms allowed choosing your own music? If it didn't before then it does now.

Can you unsend emails now?

No. The best way to do it is by quickly navigating to the Outbox folder and deleting the to-be-sent email.

No, the best thing is to think twice before sending.

Yup :) But it does happen sometimes. Like when I had used this app for sending an email for the first time, I accidentally tapped the send button. I hadn't completed that email.

https://www.youtube.com/watch?v=lSdlMzzXGHU

There's an option for that?

Or quickly turn off the wifi.

That would be nice. I know you can do it in Outlook win32 version.

The intro screen with undo and all showed up on my laptop too. And actually, it didn't show up on my W10M. Something's fishy. PS:- the mobile app is updating. Maybe after updating it will show the intro screen.

Did they fix the HTML rendering issues in Outlook for W10M?

Now now, let's not get carried away here.

The emails render like poop and are very slow to open compared to mail on 8.1!

Can't confirm whether it is improved or not. I do agree with you. I thought it was just my phone acting strange, so it's nice to hear it is a known issue.

so i am not the only one who waits for what feels like an eternity (i know a slight exageration!) when i click the "download message and pictures"?? i know, also, that i could leave this to always download,,,, but that leaves me to the mercy of spam messages that then get alerted that that i downloaded their images....

Has anyone been having problems lately with their Linked Inbox live tiles not clearing after you check your emails? Wonder if this will fix it....

I didn't have it until this update. I sent myself an email and deleted it and that cleared it but wonder what will happen next.

Snoozing calendar reminders still doesn't work on mobile.

How so? Seem to be working for me.

Try snoozing a reminder when it pops up as a toast notification. Then see if it pops up again after the snooze duration. Snooze just dismisses my reminders ever since I got my 950 on launch day. Many people have this issue. I'm not sure if it actually works for anyone.

Calendar reminder snooze issue still exists for me. Desktop and mobile. Why does MS need to break all the simple things that have worked good for years? STUPIDITY!!!

I got the "undo" feature, but not the "what's new" screen with my update. Lumia 950.

Mail notification doesnt pops up like before 8.1. Despite enabling the feature it isn't working.

I got the update to Mail and Calendar but my new version number is 17.6525.42271.0 not 17.6525.42272 and the update to the Alarmsand Clock for me is version 10.1512.58020.0 not the version you have listed. Any idea why this is? I always keep my laptop updated.

I believe it's the Windows 10 Mobile client that gets updated. Not the desktop client.

On mobile client i havent recieved any update, even if i manually check for updates nothing.

Same here. I received the alarm update but nothing for outlook.

I have seen this behaviour before. It is just Microsoft who are slow to roll out the update globally. Might be deliberate, to see if the update was successful in the first roll out phase. If yes, they expand the update to more users, and eventually to everyone. If no, they can just cancel the update without tens of millions of people getting issues.

Still the terrible rendering. I just want my emails to get displayed properly.

i used an iPhone 6S for a couple of days last week and the e-mails rendered so beautiful in there, the difference was incredible and really sad.

Exactly. The Android outlook client event supersedes it in terms of rendering. I am more than disappointed.

That is so helpful!! Ever swipe to delete and then realize you shouldn't have deleted? This may come in handy.

Nice. Doesn't work, but nice.

Now on both my phone and PC, when I delete the emails in my inbox, the number stays the same. It doesn't seem to have affected my live tile on my pc though I had to send myself an email and delete it to get the live tile right on my phone.

Inbox and live tile problems seem to be working themselves out. I have learned not to rush to Feedback whenever there is an update. They always seem to mess up things temporarily. I did remove the inbox from favorites and add it back. That sped things along.

Also, before when I deleted my inbox messages, I could quickly hit delete at the bottom and go to trash and permanently delete them. Now the undo is there. I guess since I can quickly delete everything in trash, the need to do this is obviated though in my google account, I have the option to empty folders, which I don't have with my Outlook account. Wonder why?

Any chance that soon we'll get quiet hours turned back on when calendar says we are busy?

Undo works on one deleted email at a time. If you select 2 or more and then delete. It shows the undo choice, but when selected - nothing happens other than the undo choice is gone. The multiple delected emails are still deleted.

Mark all read on Gmail accounts still crashes.

I still dont get any new mail notifications. Have to manually open outlook mail and refresh it. Same for messaging. No notifications

Remember to check if battery saver is on. If on, it will block a lot of background processes to save battery. You may otherwise have blocked Outlook manually from the battery saver options in Settings. If you still experience issues, it is worth reporting it to Microsoft.

Better email formatting would be great though!

Please work on the mail format. Mail doesn't seem to appear properly on my lumia 920

Guess I'll skip this update as it looks like MS doesn't know how to do sufficient quality control testing on anything anymore! Fix the godsdamned Calendar reminder snooze issue and emails rendering like assss first!!

Guys they seem to readded the quick select feature which allows you to select multiple emails by pressing the space to the left of your emails

This has always been there for me...

Wow, I totally missed that. :P

On the PC version, I finally have a unified linked inbox. That wasn't there before...

It's been there since the last update.

Maybe for insiders but I haven't enrolled my Surface Book I'm the program so this is my first time seeing it.

same here.. any one can help?

Almost always I have to wait several hours (up to 24 hours I think?) between Windows Central reports an update and my phone to get it. I'm Swedish, so I guess Microsoft headquarters in Seattle (USA) roll it out in the US first, then gradually let it "propagate" to the rest of the regions.

Still missing the Oh so important phone number recognition to open up the phone app. This seems like a much more important feature. Both in calendars and emails.

Good feature ...will be useful

I didn't get"Mail and calendar" update on my L730.

There's a new icon on the glance screen showing that you have an alarm on.

That's always been there.

Any one with problems following this update? My calendar doesn't open. Just been screen (950(

Sync error 0x8500201c still. Not been able to use my Hotmail account since April now. It was error 0x85002025 for months until I deleted all emails and folders but no matter what I do and how many posts I make about it nobody seems to be able to help me. WTF thank you MS

Can't find the update, only updated alarms

Did this update bring the "Yesterday" grouping or is it just turned on now, or have I really just not noticed it?

Calendar live tile working again

These versions for the Alarms & Clocks app don't make sense. The old version is 10.1512.490xx, the new one is 10.1512.58020.

Update is not showing up.