Outlook Mail and Calendar for Windows 10 Mobile adds linked inboxes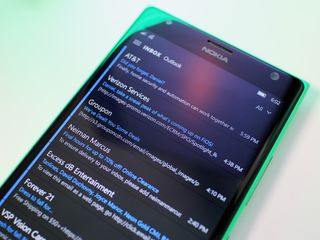 Microsoft has updated its Outlook Mail and Calendar apps for Windows 10 Mobile. This update adds the ability to link the inboxes of all of your email accounts into a single, unified inbox in Mail. Calendar has also seen some love, and now features a month view.
To activate linked inboxes, open Outlook Mail and select the three-dot menu in the bottom right corner. Tap Manage Accounts, then below all of your email accounts, select Link Inboxes. Select the accounts you wish to link, tap Save, and you're done.
If you're using Windows 10 Mobile, you can go ahead and grab the update from the links below.
Thanks to everyone who tipped us!
Download Outlook Mail and Calendar from the Windows Store (opens in new tab)
Windows Central Newsletter
Get the best of Windows Central in in your inbox, every day!
And it crashes when you open email security. But the app is good!

Now the notification center shows all emails under Outlook mail, even if you're not using linked inboxes.

My two mails accounts showed separate groupings in notifications previously. Haven't downloaded the new one yet. Outlook mail and Gmail.

One of the things I hate most about this App. Even on desktop it doesn't tell you which account the email came from.

I agree with you, it's messy.

Unfair assessment. You're in the insider programme. Anyone who isn't aware of it and picks on a W10M device will never know that it was a last minute addition. To them it will just be a feature that's THERE.

Okay, but that doesn't hold true for those using W10 on a PC since July 29.

And if people didn't complain about it so much, it may not have been included. Seems like they caved at the last minute. The squeaky wheel gets the grease, as they say.

We don't know if it was excluded to begin with just to cause grief or just some where on the priority list that just got added. They make odd design choices sometimes no doubt, but I don't believe they didn't offer this at inception just to annoy us. LOL

That doesn't hold true for W10 on a PC; I'm talking about unified email for all W10 devices. W10 for PCs has beeen RTM since the end of July. It could have BEEN on it, but Microsoft decided to do it now just for mobile. So hopefully, this trickles down to the mail app on W10 and I can finally use it for my mail client.

Oh, sorry for the confusion, I was replying to @SammyD97.

That's right! I've been sending feedback about this feature from like forever! Finally they've made it! Even though the app crashes as soon as I select more than 2 accounts, but I guess this is fixable.

Haven't tried it yet but if they're working on it that's good news even if it's buggy right now. Posted via the Windows Central App for Android

Not true.. I've added 3 accounts and no crashes...

Yeap, it crashes on my Lumia 925 when linking more than 2 accounts

Yep. But you link boxes again by by restarting the app. Still, quite dodgy...

Now people can stop complaining about not having linked inboxes... But I'm sure they will complain about something else ;)

It's a great feature but yes, there is still something to complain about. Still can't choose alias in from.

Still can't select all in the pc version

I can finally mark all as read, on the mobile version at least ☺

Oh yes that too! Its really quite a hassle to go to Outlook.com just to send from different alias.

Yes, MS has brought loads of requested features but there are always them trolls/drama queens whining about MS not listening to users

And that's the beauty of insider programme.....users always keep developers interested..

It was a feature that appeared to have been taken away. Those are typically the majority of complaints. It's that "step backwards" , or taking away a loved feature that people get riled about. Glad that they brought it back, even though I don't use it.

Ditto.. A welcomed return for me :-)

Oh wait! Me! Me! I have something to complain about. The "For this sender" function. We have it online but not in the apps. Super useful to manage your inbox and getting rid of your junk. There. That's my complaint.

Rather than complain why not spend the energy with a suggestion on uservoice? Does android and apple offer a preview program with user suggestions like Microsoft is doing?

Well if the responsible people at Microsoft were so sensible they would have mentioned a long time ago that they are implementing linked inboxes. People continued to compain because they didn't know this feature was ever going to be implemented.

That is likely the biggest problem. we know many beloved features definitely aren't coming back, so people have become adamant about them bringing back their particularly missed feature before RTM.

What features has Microsoft said are not coming back?

We never had that in 8.1 either, which was a big negative.

Many of the pivots, apparently square people images, integration, a consistent and uniform design, simplistic and flowing swipes with one handed operations while barely looking at the screen rather than hunting and pecking through numerous menu items, etc. They have rectified many things, but not sure many of those would have been rectified without lots of complaining on the part of users who were upset about their absence. Features are okay now. It's the lag and stability that is the most worrisome remaining obstacle. Time is running short.

Family rooms... but they've just said they are removing it. Not one single explanation about why, so still hoping they come to their senses.
Linked inboxes are great to have back in W10, just missing rooms to take the step up to W10. Or the family is going to stick with 8.1

I really hope they will return Rooms. It was a good concept, it just needs more flexibility and integration to other services. Also if Microsoft reasoning is because there is too many few users, then they should make an app for Android and iOS.

Right. Then the "Coming Soon" whine on repeat crowd would chime in. There's really no way to win. Posted from this here device.

Well, to be fair the did mark every bit of feedback about it as received...it was simply a matter of time. For every bug fix, it pushed new features back further and before you tell me they had this before, this is a completely separate app built of Accompli so whatever

Well this is indeed another communication problem from Microsoft too. We don't know if these features existed from 8.1 are planned or not. Windows phones based on record didn't do that well and these missing things just make users frustrated to the platform that still have uncertain future.

Well gapless music playback was updated like in last 8-10 weeks? I don't think the demands for some features are unreasonable.

Sorry i will complain about email filtering only last feature i think

The problem is that they are starting from scratch and therefore windows insiders have lost some of the most useful qnd basic features that wp8.1 had. That's frustrating when you think about the fact that you are using a supposedly new version of an OS. I know that this is a beta and months ago it was an alpha version, but still, the frustration for missing some of the most basic features is understandable. Anyway, it's good to see that microsoft is adding one by one all of the features that made wp8.1 a great OS and improving where there was a need for that.

Did Mario step on you again :P? You've posted the same comment several times.

Is it just me or can't we add a new folder?

It's fine that we complain as long as it's too the right ears. Feedback is necessary to ensure they know what features we want. We may not get them all, since a lot of it is low in priority, but at least it's something they can put on the back burner for after the OS is largely bugfixed.

Yep. x4 my dear Goombaya.

Well there will be always something to complain. ;) But people stop suggesting or complaining, maybe that's the sign people also stop caring. We just want Windows to be successful and bring something that it should be there in the first place.

"Now people can stop complaining about not having linked inboxes... But I'm sure they will complain about something else ;)" Isn't that what feedback is for? Of course praise is also feedback, but let's not get ahead of ourselves. ;)

Crashes when I edit them :D pretty darn sweet!

Will lumia 1020 get slowmotion video ????

Nah, it has an ancient processor so the answer is most probably NO

Is there any alternative ???

Slow motion apps like Sport Camera

It has a 1.7GHz dual core processor... And 2GB of RAM. I think slow motion can be pretty much achieved with that spec.

But if the S4 Pro doesn't support it, then it could be a 16 core 10GHz cpu with 16TB ram, and it still wouldn't have slow-motion video

The processor doesn't support WhatsApp execution or panorama pictures, guess what? That's what the software is for

But not all features are a matter of software. Some functions just needs newer CPUs

I am a beginner when it comes to the knowledge of multimedia. So can you explain me why special functionality needed from SoC level for shooting more than 30fps videos? Can it handle, day 480p resolution at say 45fps through software encoding if special hardware not present?

This relates specifically to the giant 41mp sensor, if it had a smaller one, maybe the cpu could handle it, but that sensor is incredibly taxing, try taking a picture with the 1020, watch how slow it takes it and how long it takes to proccess itafterwards, try recoridng a vidoe and feel how hot it gets, that sensor is a LOT to handle for that old cpu Also, just read your post below me, that phone doesnt actually have 2 gigs of ram, it has 1 gig, the second gig is dedicated soley to the 41mp sensor.

It's not about specs. Most of the image and video processing on the phones are done through hardwired controls. It means there is special circuitry in place in the phone's SoC to do the job of processing images and videos. You can implement software decoding but the it requires a LOT of power. Even a modern Core i5 processor (4th gen) can't software decode HEVC 4K videos without chopping it up.

I am not looking at a x265 encoding in a phone. What I am thinking is, whether it is impossible to implement slow motion video in 480p in a high end dual core processor with 2GB RAM through software. Even 60 to 100 fps with 480 resolution is not possible? I kind of understand that it will take lot more power for making 120fps slow motion video at 1080 and I do agree that we cannot expect such from a 2 year old tech.

I actually prefer it unlinked. It's easy enough to just select he account I want. But, this should satisfy those who prefer linked accounts.

Same here - but only because I only have two accouts now. All the others I added into Outlook.com as pop/imap account

Same for me now that I only have two accounts. I used to link all but one into one live tile, while leaving my main account as a separate tile. Hope they included the ability to pick and choose which accounts in each tile like 8.1

You may prefer unlinked accounts but have all my accounts linked in one place is essential for me and I'm glad they brought it back

I preferred linked, but now I have gotten used to unlinked and think I like it better now.

@vincent
You do realize in 8.1 even with linked accounts you can still go to the individual accounts by selecting"folders". Just fyi if you didn't already know.

Yes, I do remember. But, I like the current setup better, in terms of choosing accounts.

I have quite a few work emails and it's nice to have those all in one place. Now, I don't need to click on the hamburger to jump around a long list of accounts.

Calendar now shows weather. Don't recall seeing that before. Sadly, still no Outlook tasks in Calendar.

I'm getting the feeling they're trying to replace Outlook tasks with Cortana reminders.

Well of course maybe wunderlist

I second this, just waiting for this to complete the story...

Highly possible and I hope they will make it truly official and make it to the Office family. We need Wunderlist + Cortana. That would be great!

Probably, but they should give us more flexibility fir repeating reminders.

Where did u saw whether in calender app

I just noticed the weather, only if we could change providers though. I submitted feedback already for it

Nah, the weather on the calendar has always been there.

Weather is still there in the calendar on WP8.1 It was removed in the early builds of 10, now its back

Yes, weather is new addition for me. Glad its back.

Mine shows 5 unread email and I already read them, did a soft reset as well too.

I've found live tiles across all of the apps are sketchy in 10. It's improved a bit in the latest builds but still far from where 8.1 was.

I've been on all of them but after this morning it still shows the same notifications.

I prefer them separated as well. Makes it easier to distinguish personal emails from the emails of the two companies I own.

Can I intern at one of your two companies. (I was waiting for this my whole life!!! To ask for internships on a public forum). BTW, on a serious note, what are your companies about. I'd like to check them out.

Off topic. Help needed. since the day i upgraded to build 10581 , my photos app is not detecting my SD card. is your app(default) showing pics which are in your SD card

Try opening those photos using File manager..
If it gets opened through that ., then Photos app should sync your photos in Sd card..
And also check settings in Photos App.. ( Source should be both D : Drive and This Device ) If this doesn't work then unfortunately you should Hard Reset your Mobile.. ( Prefer formatting your Sd Card too )

That's a known bug in this build

Any one else having problem since this update using windows central mobile app click on the icon (tip us) to send them a tip for news story it no longer works? Can any give it a try..

Dots, Manage Accounts, tap the root of a set of linked mailboxes. Uncheck the ones to unlink from the group. Leave at least one checked to avoid a crash when saving the new linking.

Finally lol. But so not needed. But thank you MS!

Aliases the next big request to address.

Where is d link to download?not working

Just head to the Store, search for Outlook, and tap the right one. The Store will then check whether you have the latest and let you update if not.

I still can't believe it took them this long to add month view, a pretty basic feature for a calendar lol. But I am loving the update, go Microsoft!

Too bad its not the same style as the week view, allowing you to open a day and see its appointment. Month view's only use now is to navigate to a different date, which makes it useless, you can do exactly the same in day view.

Great! This was pretty much my only gripe with the new Outlook mail app.

Aha, finally! Good job Microsoft.

Still no tile, 1 event item only makes no sense at all on a tile that seems to flip?

The only thing missing is mark a folder as read or unread

The only thing missing is mark a folder as read or unread

The only thing missing is mark a folder as read or unread

I have zero use for linked inboxes, but the month view in calendar is nice.

Sadly the month view really just is day view with shortcuts to jump trough the month...
Hope they'll soon make it even better and also add more entries to the tile. One entry is just useless.

I've always found month view to be not so useful, even on full-blown desktop application Outlook 20xx. I typically have way more than three meetings on any given day, but for some reason there was never the option to see all appointments in month view. I wouldn't have minded scrolling up and down through extra tall day boxes.

TrueCalendar8 has a great month view. Its strange that with the online MS calendar you can expand a week at a time in month view to see all appointments. For some reason this hasn't found its way to neither the Calendar or Outlook Calendar on desktops. Very strange...

Tried the linked inboxes & now can't figure out how to unlink them.

Tap the link group root, then unselect the mailboxes you no longer want in the link group. Leave at least one checked to avoid a crash.

They also fixed forwarding attachments.

Does anyone has problem with outlook live tile not working? Mine is not working since I updated to 581. Is this a known bug? I am on l1520.

Doesn't work for me, and no updates on the lock screen. L925.

Why isn't it possible to sign mails from my outlook.com mail account?

No idea why it was removed but I'm very happy person now!

Great to get this back, kept forgetting to flip between my accounts, now not a problem.

I wish there was a different colored dot for each account with an appointment on each day.

... That said, I like the new feature on agenda, day, and (the new) month view.

Why isn't anyone complaining about it then ;)

On a different note. On the last update to Onenote, the ability to email or share OneNote on the mobile app was implemented.

Yey, I'm glad they got to this. Check mark!

Still Missing - (i) Quick link to 'Empty Trash'. (ii) HTML email rendering is atrocious on mobile devices.

I'm not sure if it has been there before but at least you can now mark all emails in the Deleted folder and delete them all! :)

What about the Windows 10 Desktop app?

crashes when you link them

Some one kindly suggest me some good live tile app for step counter, since msn health & fitness is ni more, I dnt find any, fitbit sux with d live tile

Has anyone with a gmx.com email account get it to work with w10 Outlook? Mine stucks at "not synced yet" for a few minutes and then it gives the error 0x80048830!

After installing build 10581 my phone won't charge normally and showing slow change

Anyone knows how to unlink inboxes?

I'm also searching for this. I removed one account and added it back :)

Sad to see average rating for such good app :(

woah, finally month view! just in time for prime time. :) Posted via the Windows Central App for Android

This was the biggest feature I was missing from the new Outlook on W10M Give me my 950XL already... Posted via the Windows Central App for Android

I'm already thinking that when I get my paws on my new 950xl, I won't know what to take a picture of to see how well it does....

Yeee-haw! I like this. They are listening.

Calender displays weather now. Was this there before? I only noticed it today after the update.

Would you recommend me to install 10581 on my 920 for daily use? I just don't want to wait more for 10586 but if 10581 its too buggy tell me please and I won't

It's not too buggy. There are no critical device threatening bugs. I would recommend installing.

They also added the ability select all!!!

Yup, nice addition indeed!

Hate that when I am finished with checking or writing an email and I hit the back button to exit out of outlook mail, it just suspends the app. I have to close out the app by going into task view and then close it out. Why do most all of MS apps do that? I don't need to suspend certain apps because a quick resume isn't necessary for all apps, i.e. the outlook mail app.

If it's truly universal, why didn't the desktop app get the same feature?

Should have said "Welcome back Linked Inbox, missed you much" :)

We're totally ignoring the revamped settings hub?

Yeah, surprised that none, including the author, have noticed that.

I cannot see my Hotmail account.
I tested linked inbox and then tried to undue it. I ended my deleting my 4 mailboxes and my Hotmail does not show up in the list of accounts even after it is successfully added.

Hi richv77. Maybe this will help. Go to settings. Choose manage accounts. If you can see your hotmail account then choose it. When choose "settings for synchronization" (I have a Danish phone, I am not quite sure what it is called in English). Then scroll down to the bottom of menu that comes up. You will see a toggle where you can enable mail synchronization. Very intuitive ;-). I had the same problem once and this solved the problem.

The wp8.1 email app still have better, simple, well-thought interface design. Can't beat that.

Still can't get Lotus Traveler to work. (I know it's shit, but I'm stuck with it at work). I keep getting errors about security. Worked in 8.1...

Linked inboxes are fine but since installing my first preview build a few days ago NOTHING from my primary account has been imported. It wiped all my contacts, email, ems etc and refuses to acknowledge my primary account even though it is there.

Guess what I named the linked inbox: Inbox One! :D

I have updated my Lumia 928 w w10m and can see the settings and have added 3 accounts to the linked inbox. But not able to see linked in box in outlook. Am I missing a step? Do u have to pin the linked inbox yo start screen to use it?

Discovered my issue that was preventing my linked inbox from appearing or working: Gmail. Unchecked Gmail and outlook and Hotmail link just fine. Anyone else having issues with linking in Gmail account?

PPCFreak. I'm having the same issue. I can link outlook, yahoo and exchange accounts, but the app just close when I try to link Gmail.

Please bring this to desktop as well (though at least Yahoo Mail has an official app on desktop that I get 99% of my email from).

Works fine for me - Lock screen can also use linked box for notifications (i.e. separate from ones unlinked mailboxes).
Only Glance and pinning Onedrive folders to go for me to move primary handset to 10.

Very glad the feature was added back. I tried it and it worked for me. Now, if i wanted to UN-link them again, how do I do that? I can't seem to find that capability.

This update is pathetic, now I can't see two different accounts using pin option by pinning different accounts...why did they remove it....

Wow this is good, but i can't undo it.

It crashes on every swipe to delete

Yes - sad. Rushed job - no QA

Oh good, been waiting for this a while.

Well it would be nice if it worked. Crashes when I try and link them.

This is not new , at all.

If you want a great livetile and calendar functionality that MS is slowly catching up to try CAL.

The outdated account settings bug has been brought back as well. Many crashes too. Great to have linked inboxes back but it feels like a very rushed update.

It shows two unread messages even if every mail is read. Deleted accounts but still shows two unread mails

I did the linked email boxes but now I cannot move emails to folders. I had to delink the email accounts to get this to work.

Looks like they added ability to empty folders too.

When they get the bugs worked out, it needs to be an option on desktops too. It would be especially welcome to smaller tablets.

I'll be psyched if/when this feature comes to the PC version If the app as well.
Windows Central Newsletter
Thank you for signing up to Windows Central. You will receive a verification email shortly.
There was a problem. Please refresh the page and try again.