Outlook Mail's new colorful contact icons are now rolling out to everyone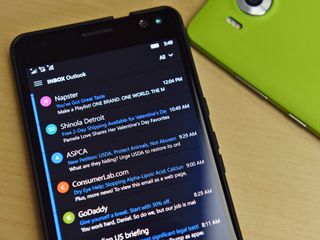 A fresh update is headed out to Outlook Mail on Windows 10 PC and Mobile, bringing some colorful UI tweaks to everyone. Previously only available to Windows Insiders, this update adds some new contact icons that brighten up the interface with an extra pop of color.
The new colorful icons pop up with the contact's initials next to any that you don't already have a picture assigned to. If you do have a contact saved with a picture you'll see it instead. It's a pretty minor touch, but the added color jazzes things up a bit.
Again, this tweak is now available for everyone on PC and Mobile with the latest version of the app. If version numbers are of interest, you'll want to make sure you're on version 17.7922.42018.0 of the app. And if you happen to notice anything else that we missed, be sure to give us a shout in the comments.
Thanks to Amandeep S. for the tip!
Download Outlook Mail and Calendar from the Windows Store (opens in new tab)
Windows Central Newsletter
Get the best of Windows Central in your inbox, every day!
Dan Thorp-Lancaster is the former Editor-in-Chief of Windows Central. He began working with Windows Central, Android Central, and iMore as a news writer in 2014 and is obsessed with tech of all sorts. You can follow Dan on Twitter @DthorpL and Instagram @heyitsdtl.
Pictures should show but don't most of the time. But it's nice.

Yeah I have some profile photos showing but most are not.

As updates to this product are reasonably often, they are using the 'agile' model to release small fixes / new features regularly. That being said - this is a UWP app so will have had to have been written from scratch - so hopefully all these issues (photos not appearing from non-outlook contacts in the people app) should be fixed sooner rather than later. I like this new approach but it can be frustrating when a feature that is common in other apps is missing. That being said, I like the app supports native icloud, gmail and Exchange / Office 365 for both mail, contacts and calendar. Hopefully they have a good team working on this now and we'll see regular feature updates unrelated to operating system updates, by default, on both desktop and mobile (as they are effectively the same UWP app).

It seems that Outlook.com has pretty much dropped contact photos from the service. It will sync over photos from twitter and Skype, but you cant add them to an Outlook.com contact. This one feature may actually drive me to Google. I miss not having the photos when people call or text or email. It worked ok like this when Facebook allowed you to sync them, but they've pretty much killed it and MS didnt fill the slack.

You can add photos to your contacts in Outlook.com using the Windows 10 People app if you have the app linked to your Outlook.com account.

This is true. However, I challenge anyone with the task of doing this on a desktop. The People app launches the Photos app instead of File Explorer to browse for a photo...most annoying thing ever. Try to browse for a photo a few sub-directories deep within your OneDrive folder and tell me how easy it is to sort by file name or any other aspect. Yeah...try it out.

Yeah, the problem is they killed the Facebook integration and the Social Media integration in general is been neglected for a long time that they seem to forgot to exist, that it left a gap in functionality. Now we go back to pre WP7 where we have to manually add contact photos and other details instead of more automated solution. Not perfect and there was a room for more improvement, but they simply didn't care now and neglected. I hope that when MyPeople arrive, MS will also return to give focus to improve the state of contact management and social media integrations. People app need public APIs for any social apps to integrate on People app and have those details actually import to Outlook.com easily. Lastly improve and polish People app again and bring back nice features such as Favorites, Most Contacted, and Me contact page.

Actually WP7 had amazing integration with Facebook and Twitter, I never had to add photo myself :) Now those random colors are misleading, it doesn't indicate any category or anything.
​BTW this tells a lot what scale of 'development' we are having here :/

Most contacted is there in the form of suggestions from the phone app

I like it. Nice to have the same look and feel desktop and mobile.

I like these but most of my contacts' photos don't show up sadly. They should probably have given an option to turn them off too as not everyone will like this change.

I agree, some of my contact photos don't show up and the initials are anoying and don't always represent who the email is from. Please add a toggle to turn this off!!! Or at least fix the issue of not having all contacts with photos show up!!!!

They also changed the notification sound :D But this update is nice :D

Colored icons started showing up for me a few days ago. Looks nice.
Interestingly contact pictures/images are only shown in the inbox of the email account which is the same as for the contacts, there it shows the contact images or colored icons where no image is set on the contact (an outlook.com account). But in the inbox of a 3rd party mail address only colored icons are shown, no pictures. Does someone else observe the same? (when I open the contact from there it opens the contact with image in the contact app though)

The only image I see is my own picture.

I can't even see my own picture in emails

Head to People and open the person in question. Check to see if the person's account is linked (a number over the link button). I noticed a lot of missing contact photos after Skype/Outlook.com imported a bunch of people from Skype, linking their Skype contact to my original People contact. The photos are still in the linked People contacts.

Skype Contacts integration is a story on its own... In this case the related contacts are properly linked and have a contact picture.
I have even duplicated several mails from my non outlook.com account to the outlook.com account. While the contact pictures do not show up in the inbox of the non outlook.com account they show up correctly in the inbox of the outlook.com account. :(

Very very very good, finally

The added colors are nice but with just the slight boldness in subject line and color bar on the side, it's a bit difficult to discern the unread messages from the read messages. Wish they brought back the old Outlook method of having preview lines showing ONLY for unread messages, and read messages only show subject.

How do you get this on mobile? It says installed and there is no update available. I'm on slow ring build for w10m

I got it a few days back but i'm on the fast ring. I wondered at the time if the colors had a legend to go with them or if they are random.

Sure that it is 17.7922.42018.0? I'm on Release Preview and I have 17.7922.42017.0 )on PC, ...18 on Mobile) with no updates available...

Thanks this is huge, I didn't get the blue title line though (on mobile), mine all white after update. But I have the contact icons now Lumia 950XL

The blue title lines on the article photo are because the emails are unread. ☺

Notification sound changed. Some graphical glitches, but it's nice anyways.

I recieved this (Versie 17.7922.42018.0) on monday 27 feb, mail and agenda both same versie. Works fine by me. Only cann't find how too select an email as "phising"mail on my mobile. Wrote it in the feedback app.

Do the colors mean anything? Can you assign a color to a contact? I do not use contact pictures, so this is better that the picture place holder. I would like the option to turn off the picture completely.

Looks nice. Can anyone tell me when they implemented full screen view of emails in landscape mode? That was the one feature I really wanted and now I suddenly have it. Sweet!!!

My contacts sync with Google and there are no pictures at all......

It looks terrible. Remove them out give us the option to disable them.

I totally agree. I loved the mail interface on my phone. It was clean and with one glance i could check my inbox. Now I have multiple colours screaming so loud for attentation that I cannot easily see anymore if an email has been read or not

Yeah, I hate it so much... the first thing I did was hunt through all the options to see how I could turn it off (no dice!)

Yes, a way to disable it would've been nice...

It randomly linked contacts for me - made no sense why it did it. I can do without it.

The app looks really nice 👍🏽

Is there an option to turn it off as well?

Not yet. Go into the menu and tap Feedback to upvote the several people that have asked for them to be removed or allow users to turn it off. I think that's our only chance to remove them.

Color icons disappeared in People in latest build on PC.

I got it yesterday itself.. Nice!

Maybe if the profile pics synced with twitter Facebook etc as they used to in windows 8 this would be good, but as they don't how can I turn them off just wasting space

Gmail color must be red for differenciation

I got this, it's different but I could get used to it. In all fairness, it kinda forces you to have frequent mailers on your address book together with a photo or avatar, which is not bad. I wish it could be automatic though, like the icon websites had for bookmarks.

I wish there was a way to turn it off. It looks like a bag of skittles :(

It looks really nice when you have the light theme. Don't like it on the dark theme.

For me its looking nicer on dark theme.
Also I use dark theme everywhere as much as possible.

Got that last night, thought it looked good.

It takes some getting used to. Preferred the old, basic email. This is too colorful for my tastes

On my Outlook email account I have only myself as a picture. Exchange shows all pictures and Pop3 shows no pictures.

I'm liking this change. It's a great UI update.

I also happened to get the focused inbox feature only on my Surface which I immediately turned off. As far as the new notification sound goes, I would just be happy if I reliably got notifications period.

This update also brought a small but important change in my opinion, notifications that come from the mail app now play Windows' actual mail sound rather then the default generic notification sound. Allowing you to know what the notification is without even looking at it ☺

How does one reorganize the order of accounts?

Do it by linking your accounts. Then unlinking them in the order you want but making sure the account you want to appear first is the last left. For example if you have accounts abc and you want to have the in the order cab, unlink a first, then b and c will be left to appear first

I really enjoy the mail experience on Windows 10 mobile, it's faster than my iPhone and android tablet. I wish more apps to show the same passion as the outlook team.

I wish they'd get some consistency with this. You STILL can't change Contact pics on Outlook.com for example. Considering how long you've been able to do this with other Email options (Gmail etc), this is ridiculous why they haven't implemented it.

Yes you can. I do it in People at outlook.com

I like it, It's a welcomed change for me at least.

All this is very welcome and nice from MS but they should give us some new mobile hardware while they develop the surface phone or whatever is coming.

No and please stay on topic. Twitter is good for off topic suggestions. You can also tag Microsoft accounts in your tweet so they will actually read them.

Great, nice feature, bit how about phone number links. I sound like a broken record but adding feature when functions are missing is not a good plan IMO.

I don't need the contact icons and would like to be able to turn them off, I find them an unnecessary, annoying distraction.

OMG! my bad! Lagging, unresponsive mobile site get me bad finger tips. Sorry! Exidently tap "Report" on your comment while scrolling 😱😅. Btw they should put the option to turn it off.

Probably not the first time that has happened, some ma have even been deserved. :)

It's Magical!😍😍😍 Love this new update!

Yeah, and in doing so they broke the app for some of us. If you have preview text disabled and messages sorted by conversation the app crashes as soon as you try to open it. Does it on both PC and Mobile.

It's looks nice n colourful....

Cant update on my pc says error 0x80246002
Other apps install just fine

I am still waiting to be able to use "colors" and " categories" in Outlook on my phone as I had.. in WM.
I do not like these bloody coloured icons at all.

I think it looks nice and easier to find emails from the same sender.

was so annoying when my wife's 950 beat me to the update by a day and I'm on insider, she's not lol

While I have no strong views on this, one way or another, it looks OK. But, what I wish MS would do is concentrate on fixing issues such as syncing between Outlook.com and Outlook 2013/2016 on the desktop. The whole integration of devices - mobile & desktop is, in my opinion, one of the best features...if it works!

The app crashes if I try to open an email where I'm one of the recipients. Lumia 950 non-Insider. Anyone else getting this issue?

The same on my Lumia 950 XL. After the installation of the new version Outlook doesn't start anymore.

The same on my Lumia 950 XL. After the installation of the new version Outlook doesn't start anymore.

It's really weird. Accidentially I found out the new Outlook starts if I connect the power cord to the phone. I still can't believe it but it is 100% reproducible.

How do I turn it off? Looks like a candy-shop! And my teeth are bad enough already!

The photos should come from the people app, which in my case gets photos from Facebook sync.

Still no delegate access syncing on mobile. I have set up delegate access for a calendar on office 365 in outlook. This works fine in outlook and on office.com, however this feature is not available in outlook mobile.

I wish they would enable color coding of the email accounts in the linked mail box on mobile

I also got the parcel tracking feature as well as the contact pictures. It has limited functionality. Like as people say, you can set a picture in the people app. However the majority of email that I get is from people I don't know, so there won't be any picture. But it does look look nice, on contact I have setup. But might be useful to have off button for users who don't want it.

Is this version U.S. only? I don't get the new 17.7922.xxxxxx

Its a very nice UI update. But the circles are small compared to the used space. So a significant amount of space is wasted.
But the notifications for new mail don't come instantly 'always' as it was in windows 8.1.
Don't know if its a server sync problem or the app.

Contact icon should also be colored in action center notification...

Can't access the app after the update. It crashes seconds after opening.

Earlier one was much better, Having dark colour and bigger in size. Now it is slightly dull.

Quite honestly I'm not a big fan of these colourful dots. GMail shoved that down my throat on Android first, now Microsoft and everyone else is gimmicking it. Is there a way to turn this off?

On my phone I have the bubbles but on my pc I have forced email.

Loved the new design of outlook app on windows 10 mobile! Thanks to Microsoft finally bring something Good for windows fans

Where can I turn this off?

Where can I shut off the Jelly Bean look?

I like the colors. Reminds me of the old Lumias with Windows Phone colourful themes and backs. Dusting off my Lumia 735 as I write. Finally a nice change you can see.

Windows 10 Mobile (Official Build) - Outlook Update #myTube http://www.youtube.com/watch?v=MAGSIGedbzI

One man's "jazzy colors" is another man's chaos. I really really wish they had provided an option to turn the colors OFF. I don't find the palette particularly appealing and I definitely don't like all the extra 'noise' in my inbox. Would it be difficult for them to add an on/off toggle for this feature under Personalization?

This SUCKS. The screen is way too "busy" now, and most of the "initials" it is displaying aren't even correct. however... The WORST part of this for me is that my Windows phone now looks just like the 5 year old Motorola Droid android phone that I have to use when I've got the on-call rotation at work.

I like it and haven't had any issue with the contacts photos.

Hopefully the next update will allow you to disable this... It's a waste of space IMO. On a semi-related note, I'm still shocked that Microsoft doesn't let you add photos to Outlook.com contacts...

I just recieved this same update again!? In the list off app-updates the date 27-2 is gone?

Well this sucks. Emails grouped in conversation view crashes Mail. Expand a conversation and poof. Conversation at the top of the list? Forget about launching Mail until you receive new mail.

Work-around: turn on Show preview text (Reading page)

That's cool feature. But MS must add HTML signature feature to this handy mail app

Utter BS because all my people's pics got lost somewhere without notice 😭 These circles are of no use to me!