Outlook on the web for Office 365 business users to add 'Likes' and @Mentions to emails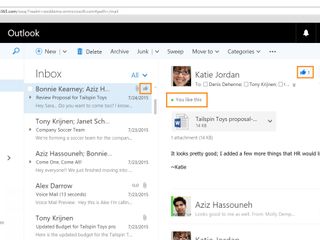 Microsoft wants to make business emails work more like messages on social networks. The company has announced it has started rolling out new features for Outlook web users with Office 365 business accounts that will allow users to 'Like" an email along with adding an @Mention option.
Microsoft described the new Facebook-style 'Like" feature:
Here's how the new Twitter-style @Mention feature works:
All Office 365 commercial customers should see the new Likes and Mentions features in Outlook on the web by mid-November. In addition, users of the revamped Outlook.com site should see the Mention feature added by December, and it will be added to the Office 2016 clients for Windows and Mac, along with the Outlook iOS and Android apps, in the first half of 2016.
Source: Microsoft (opens in new tab)
Outlook gots a lot going on for her this week.

One might say it has a positive outlook.

Oh brother, and there was me hoping this social network thing would die and we stop giving importance to ashton kutcher beltching or kim karashian farting. Like Like. Worlds gone mad. @everyone #worldsgonemad #dumb #notcool #what_the_heck_use_is_a_hash_tag_anyway

One of the side benefits of AdBlockers -- being able to define 'features' like this as ads and have them disappear. This method works quite well on Mint.com ;-)

That's a good idea ... will save a lot of replies that only are there to agree with the original mail. Sad thing only is that Outlook 2016 was just released and won't come with this feature ... and as long as this is not integrated in Outlook, it makes no sense. Let's hope we don't have to wait for such features to be added until Outlook 2019 ...

True. Weird to have these features counter to the Web but not the app. That said, a Web-first world is kind of the dream, is it not?

or the typical.... reply to allwith just : "Thank you" email .. I don't need to be thanked dammit..spare my inbox from that extra email...

On the other hand... Hey Bill, I see you didn't like the last few emails from our team building exercise. We really need team players. I'm gonna need you to go ahead and come in Saturday.

This made me chuckle, thank you

Ah-some!!! Posted via the Windows Central App for Android

I need a gmail like button so I can like the e-mail thread about switching to outlook.

This sounds really interesting and innovative. This can really change how we email at work. Glad it's rolling out to the desktop apps as well! :D Can't wait to try this out at work.

This is a brilliant idea. Especially the like button. As mentioned before, the liked will let you know it's been read without the user needing to reply and create useless email chains

I love the office 365 look in my office along with skype for buisness

There's been some really nice additions lately. The new Onedrive for Business Web Interface is much better now that it's closer to the consumer version.

Looks like an interesting addition - This could work well in comments on a Word Document to draw a specific persons attention to something that needs changing or updating. It doesn't say specifically whether "Office 2016" for Mac and Windows would include the apps on Windows 10 Mobile, but hopefully it will.

This seems a good features....
But do you know what could be great feature? Ability to have multi-level Flagging like we can on MS OUTLOOK (from MS Office) on office 365. This feature is only available if configured email account is POP.
So it would be great have this feature in Exchange Servers.
Windows Central Newsletter
Thank you for signing up to Windows Central. You will receive a verification email shortly.
There was a problem. Please refresh the page and try again.