Outlook.com to remove chat messaging history - backup your pastime conversations today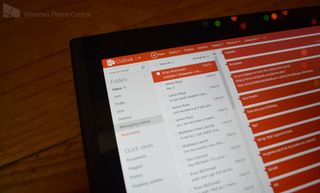 Today Microsoft made an announcement for users who use the messaging feature on Outlook.com; if you currently use the Outlook web interface to chat with your friends on Facebook, Google Talk, or Messenger, the site keeps a copy of your chat history in a folder. Starting this fall, the Messaging history folder will be removed.
If you are interested in backing up your chat conversations, here is how you do so:
In Outlook.com, right-click Folders, and then click Add a new folder.
Enter a name for the folder and press the Enter key.
Click Messaging history, and then click the check box at the very top of your message list.
Click Select everything.
Right-click any message and then click Move.
Select the folder you want to move your messages to, and then click Move.
Microsoft states that the messaging history folder is being removed as part of adding Skype video, audio, and chat messaging to Outlook.com.
If you have never used the site to chat or don't care about backing up your chat history – you are all set.
Enjoy.
Windows Central Newsletter
Get the best of Windows Central in in your inbox, every day!
What about the messaging feature in windows 8, Facebook chat for instance, doesn't sync between my win8 and wp8, horrible

do you have sync turned on at messages settings?

on the phone or on my win8 tablet?


Its syncs for me on my W8 laptop, Surface RT, Nokia 928, & 8X.

same here, It seems that he's just realized that he could do that lol

LOL Love how people complain before taking a look. My mom did the same thing "why doesn't my iPhone work Ryan?" I drove over to her house and it was turned off.

lol !
Just like my grandma!

OT: What type of AMG do you have?
C63 AMG is my love :)

I have a C63 I've tuned her to 528BPH and 519ft lb torque

Got any pictures of that sexy beast?

Just posted some on twitter @Ryan_AMG

Don't use that feature so nothing to worry about :)

Same here. I never even used MSN Messenger back in the day.

Seriously? What's the harm on keeping this anyway? Ugh.

Outlook.com to remove chat messaging history - backup your pastime conversations today

Probably for privacy concerns. Microsoft has to comply with U.S. laws, but if they are not there to be found then would it be their fault if PRISM doesn't get anything? IE was first with do not track, Office already has end to end encryption built-in for quite some time, and now past conversations. Nice Microsoft, really nice. ;)
I'm still going to push for net sovereignty with my government ( my data gets stored only on servers in my country and not in the U.S. ), but I'm a little bit more ok with your services now.

Considering that all our data sits on Microsoft's Skydrive servers unencrypted, removing Messaging history would not do much to improve privacy.

No worries. If you need a backup just ask the NSA. Just think of them as free cloud storage!

My question is is this going to mess with text message backups when I get a new phone? I'm assuming no, but as you all know, to assume makes an ass out of u and me.

I asked Outlook.com on Twitter earlier this evening, so let's see if I'll get a response eventually...

Good question, seems like the text message backup situation is only getting worse.

Text Messages backup from Windows Phone won't be affected by this.

It is! It will effect your FB messages in your phone.. Thats why microsoft told u to move the folder

We are talking about 'Text' Messages (SMS) here, not Facebook messages.

I does affect it. I follow the instructions and all my text messages have been removed from my phone. I still have them in the new folder I created though. So where are our text messages going to be backed up from now on????

Sorry for the terrible grammar, wrote this super quickly before a staff meeting...

That's not supposed to happen. Text Messages backup is not connected to Outlook, it's on Microsoft Drive.

Microsoft Drive? Oh Gawd, they already changing it so soon :-(

Its not supposed to happen but it happened to me on my Lumia 920. I followed the instructions above and a little later, maybe a couple hours, I noticed that some SMS (text message) threads completely disappeared (erased) and other threads the most recent texts are missing and is only showing texts that are weeks or a month old.

WTF MICROSOFT... FIX YOUR FUCKING OPERATING SYSTEM.

Mine are all gone, except the ones using Skype!!!

SAME HERE!!! I'm so pissed off!!! But I don't see them in any folder, they're just gone!

Wish this would have happened sooner. Ex-Girlfriend wouldn't have found my very brief conversation with that other girl.

Fail! hahaha lol
why did you let your ex read your conversation though?
In the other hand I can't judge you since that happened to me too... damn message history -.-

Please fwd all my messages to the NSA. Thanks MSFT

That's probably why they're doing this, so that there are no messages for them to fwd.

This is dumb. Truly why does anyone think an OPTIONAL feature of keeping a history of messages is a bad idea? C'mon, MSFT!

It's not going away. From the email: "After the Messaging history folder is removed, a history of your Skype, Google Talk, and Facebook chat sessions can be found in the messaging pane."

So basically once the new version is in place it will once again save chat history, it's just that in the transition from old to new they cannot automatically transfer over the old chat history, do we have to manually do it? That seems odd.

I expect that it would take a massive amount of resource to convert all the data for all accounts, vs just ask the user to make a backup if they care about it (which would usually be no).

I wonder if this affects the ability to view text messages via URL hack?

please tell me who you can vieuw text messages via URL hack?


What you forget to mention is that History is now in the Messaging section. But because it is being stored differently (eg no longer a folder) it can't be migrated. "After the Messaging history folder is removed, a history of your Skype, Google Talk, and Facebook chat sessions can be found in the messaging pane."

Agreed. Every time I turn around this Skype integration is taking away a valuable and perfectly functional feature from the old Windows Live Messenger, and replacing it with some half-baked alternative that is unreliable or just doesn't work as well.

I think you missed the point of my comment. History is not going anywhere.

No, but the functionality is being significantly reduced. Once history is only accessible through the Messaging pane it will no longer be searchable like email is and it won't be possible to back it up since it won't appear in a folder like email does. It's a downgrade no matter how you spin it.

Unless of course they add those features to Messaging.

I know this is kinda off topic but does anyone get annoyed typing in "@outlook.com". I don't mind it but didn't have to type it when I used Gmail.

That's cause Gmail only has Gmail.com. Outlook/hotmail has hotmail.com, live.com, outlook.com, and any personal address people may use as a Microsoft account (real nice thy have that as an option). Because of that, I can't see them removing the typing of the entire email I did used to find it annoying, but just kind of got used to it I guess. I also have three ms accounts ending in Gmail, outlook, and live... So I can't complain if it can't figure out what I want :P

Ahh makes sense now thanks!. I already got used to typing the ending too :p

I use google apps for my personal domain, so when I sign into my Gmail I have to type "@passic.com" :) Outlook just happens to have multiple domains built in

Outlook also has personal domain features, as it is a subset of the MS Account features.

That's because there are 3 domains: @hotmail.com @live.com and @outlook.com
There was @windowslive.com too, which is no longer available.

I only see the chat icon on the top right. Where is this "Messaging history" that one supposed to click?
Thanks

Under your folders, on the right.

I am very excited for the whole chat / messenger / Skype / outlook situation to improve. I hate being in this coexistence phase. Make it good, Microsoft!!

Stop panicking people. My email from MS states. "... After the Messaging history folder is removed, a history of your Skype, Google Talk, and Facebook chat sessions can be found in the Messaging pane." history isn't gone... They are moving the location of the history

If you move the text messages from the messaging history folder away, it will disappear from your WP8 phone too.
Also, there's no way to move only non-text messages.

Don't move them, only make a copy of them. Wait until Microsoft removes the folder and the messages during their migration process.

Cannot copy.. Only move option available..

"5. Right-click any message and then click Move.
6. Select the folder you want to move your messages to, and then click Move." No... Do not MOVE your messages.
Copy them to the new folder instead. Wait for Microsoft to migrate the messages and delete the folder themselves before you remove the messages from it. If you move the messages from the folder before Microsoft migrates this feature, clients that use the messaging folder will no longer have your messaging history.

Does this relate to Family Room messaging?

Another step backwards, congrats MS.

I trust in the NSA to maintain my backup for me.

They most definitely do. But I'm not sure they will hand it over if you fail to back up your data...

They better improve Facebook chat on Windows Phone. While it works great in Oultook.com, it's very unrealiable on my phone. (I often have to wait several minutes before new messages appear.) Also, sending pictures would be great.

This means Skype for outlook.com is rolling out soon. Yummy!!!

Yes! Very soon... Sometime in the fall :/ yayyy

Until today I received the notification email, only knew that there is such a function in outlook.com

Got it! You only will lose message history. But, the actual message is not the message history. So, you wont lose anything

Hello! Thank you for your article. I'd like to try to compare it to my previous experience of learning Italian lessons through Skype on online classes for free. I did around 10 conversations over Skype with a native speaker from http://preply.com/en/italian-by-skype. And I was pretty satisfied with their Quality. I think they have a strong teaching quality.Following their course curriculum now I can speak Italian like a native,you don't need to go any school. but I Want to try another option.
Windows Central Newsletter
Thank you for signing up to Windows Central. You will receive a verification email shortly.
There was a problem. Please refresh the page and try again.