New images reveal an overhauled Store for Windows Phone 8.1, includes automatic app updates and more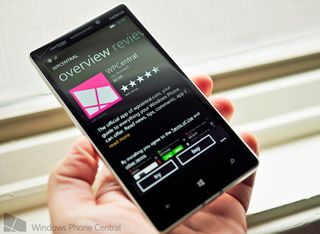 The Windows Phone 8.1 core has been finished today, so it seems appropriate to take a look at an area that is need of some improvement: the Windows Phone Store.
The Windows Phone Store has been both a source of inspiration (e.g. trials), and tribulations (e.g. weak tools for reviews). Luckily for you, it looks like the Windows Phone team is delivering some user-requested features and parity with Windows 8.1. Hopefully these changes will deliver a more satisfying user experience.
The information comes to us from people familiar with the matter, and we have been able to verify that the information is accurate. Having said that, there may be some changes to the final design for the RTM release of Windows Phone 8.1.
NEW Store layout for apps in 8.1
When it comes to graphic design, the Store has quite a few noticeable changes:
'Store' is now capitalized
'Featured' is now the first pane, with more than one app or game presented
'Quick Links' with featured apps, games, Top, New + Rising Apps, etc.
'Categories' section with general games, entertainment, lifestyle, etc.
'Personalized' for app recommendations based on your history, likes and interests with the ability to dispose of recommendations via a 'not interested' button
Overall, the new scheme looks to be tighter with a heavier focus on promoting fresher and higher profile applications. It also resembles the Store on Windows 8.1, which should be expected as Windows Phone and Windows 8 come closer together in their development.
OLD store layout for apps in 8.0
Regarding new features, we're told there will be quite a few that Windows Phone users have been clamoring for, including dedicated sections for:
My apps – Checks for updates
Downloads – See active downloads
App Updates – Option for automatic updates; only over Wi-Fi
Use my location – For better app suggestions
New Store design for 8.1, including Settings
When diving into an app or game listing, consumers will have various new additions to make the Store more potent:
New layout – overview, reviews, details, related (versus: details, reviews, screenshots, related)
Menu (via ellipsis) – New shortcuts to Home, Share, My Apps, Settings, Downloads
App screenshots merged below app description instead of own section
Reviews – This section gets a graph of stars for reviews; ability to sort reviews by most helpful, most recent, highest rated or lowest rated; users can judge user reviews as helpful/unhelpful
App details such as language, version number, last updated is now on a separate page
While the screenshots here are from a slightly older build of Windows Phone 8.1, they should convey these general changes that are expected in the final release. We'll have to reserve final judgment until we get our hands on 8.1 in the coming weeks, but so far it looks like the Windows Phone team has taken pointers from Windows 8.1 and consumer feedback to build off of an already solid foundation.
The ability to automatically download app updates see app update history and a more logical organization of software should make the Store an even better experience going forward.
What do you folks think of the changes? Let us know in comments!
Daniel Rubino is the Editor-in-chief of Windows Central, head reviewer, podcast co-host, and analyst. He has been here covering Microsoft since 2007 when this site was called WMExperts (and later Windows Phone Central). His interests include Windows, Microsoft Surface, laptops, next-gen computing, and for some reason, watches. Before all this tech stuff, he worked on a Ph.D. in linguistics and ran the projectors at movie theaters, which has done absolutely nothing for his career.
Great, looking forward to this update!

You didn't even use it right anyway -_-

Then Mr. right how should I use it

We hate it every time, but it is usually for updates, ESPECIALLY Facebook app updates...

just..stop.. I hate reading that joke because I have to dig the funny part in it. so please,

Seems getting smaller..... here..... :(

lol lets reply 4ever to make this 1 px :)

Well you're saying it wrong :P

There's a special place in hell for you....

Would you rather debate about the Store's ability to 'run crysis'?

It's funny cause it didn't make any sense

Cool, but I hope they will change the boring black background to something like the main picture of this article ;)

A design close to the Windows Store would be nice. :)

That's not a bad idea. The store would feel a lot more greener (xboxish) xD

That's true, this one rocks. Looks a bit XBOX-themed.

How is black boring ???Who gives a fook about colour?? Windows Phone ain't for sissies.

Who gives a took about color, says the man using a screaming yellow Lumia.

Your reply is really........ disappointing.... Don't tell others you are a windos phone user. Disgrace us.

I find it quite funny that the Playstore App look a ton more Beautiful then the WP store App. Thats hilarious and sad at the same time. Fix that Microsoft.

The dark themes are one of the most appealing"things" in WP imo. If they're to change it at least make it optional.

You know everybody is begging for the background pictures, I think Microsoft will include that option but they are keeping it as a secret to be revealed in April. Maybe that's most requested feature!!!

Background pictures creates a translucent effect which is visually appealing.

No, no... You mean "Store". The "S" is now capitalized. :P

Ah, finally a more detailed WiFi icon in the status bar! :)
I really like the new review section. So much better!

Nice spot there. Could never really tell how good your connection to WiFi is.

I actually have seen but it was like it's normal thing but when I read this comment I like omg O_O =)

Wait, does the WiFi icon right now actually not show signal strength?

Yea it shows all bars or none

Unless the screen shots were taken mid-connection when the icon animates..

That can also be true, but I think it will show you the signal in 8.1

sweet!!!!!!! Keep them coming WPCentral & Microsoft!!! WP8.1 is gonna be AWESOME!!!!!!!!!!!! cant wait to get in on my phone!!
+925

Awesome! Automatic updates will remove the need to have a store live tile. I currently only have the store live tile to know when updates are available.

I'm not sure im a fan of automatic updates. You then don't know what's updated. Usually i check out a store listing to see what's new the the time i update the apps/games

Its an option so you can still update manually if you want

IOS tells you what's new when you have automatic updates, so I don't think that's a problem.

Auto updates on my iPod are very annoying, it leaves the "Updated" section for about a week or two, so you have piles and piles of already updated apps, most of which are minor bug fixes. Glad this is an option for 8.1

Android tells you when and what apps have auto-updated as a listing in the notification center. Hopefully WP8.1 follows suit.

I hope that list can be cleared on demand though, it gets crowded quickly.

It's great for developers. I occasionally check my crash reports and I still see crashes from people using really old versions of my apps...crashes that have all been fixed in the latest version. It seems that a lot of users simply don't bother (or know) to update apps.

Unfortunately those same users may not know/bother to update to 8.1.

The Action Center features ghost notifications right? Maybe there will be a section for the Store, that show us new updates or done updates. I think this would be the best way. I also hate to have the Store Tile on my screen, I don't use it unless there is an update.

I have to say, I'm not a fan either. There's no way to look at update history of store apps. There should be an update history for store apps, just as there is for Windows updates.

I don't care about automatic updates, but I'm really looking forward to manually checking for updates all at once. No more having to go to each app if I want the update before my phone checks in the evening.

Oh yes. One of the most annoying things on Windows Phone.

I cant wait for Build; April 2 :)

I just cant wait until build:(
And im afraid if they say that pushing updates starts later ....

Do you really believe you'll get 8.1 by "build" time?! Really?!?!

Off topic, but why is when I leave a review, it always shows up as User?

I know this happens due to one of two things, if you havn't fully setup your Microsoft account with info, besides a email or if your privacy settings are set to private to protect you info.

Because you are a user, perhaps.

At least you can see your reviews! I can never find mine, and it leads me to believe they don't get posted.

Auto-updating and being able to look for updates are the two things I'm most excited for with the Store overhaul.