Pandora is finally here for Windows 10 for PC and Surface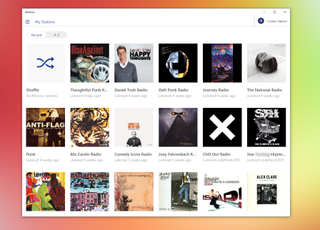 A few weeks back, Pandora released a rather lovely new app for Windows 10 Mobile. The app also clearly worked in Continuum, which made us wonder if and when the desktop version of the universal app would hit.
That time is tonight.
Heading to the Store and searching for Pandora will now let you install the app right to your PC, laptop, Surface and, of course, your Windows 10 phone.
The app is essentially the same as the mobile version, but now can adapts to your PC's display. There is also lockscreen support, which is a nice touch as well.
One interesting bug or limitation we have noticed is when the app is minimized it will stop playing audio. Groove Music too had this issue for a while, so hopefully it is something that can be fixed in an update. The app also supports a Live Tile although we have yet to see it turn on.
Regardless, we're just thrilled to have this app finally on Windows 10 proper to complete the circle. Go and download now and let us know what you think!
Download Pandora for Windows 10 and Mobile (opens in new tab)
Thanks, Jonathan T., for the tip!
Daniel Rubino is the Editor-in-chief of Windows Central, head reviewer, podcast co-host, and analyst. He has been here covering Microsoft since 2007 when this site was called WMExperts (and later Windows Phone Central). His interests include Windows, Microsoft Surface, laptops, next-gen computing, and for some reason, watches. Before all this tech stuff, he worked on a Ph.D. in linguistics and ran the projectors at movie theaters, which has done absolutely nothing for his career.
Holy crap, I literally just searched Pandora on the Windows Store and was about to tip y'all on this! (then saw this article) Edit: Now that I've tried it, the audio is playing in the background for me with it minimized, it works perfect.

No background audio makes it kind of useless for now.

He is saying that background audio works for him.

Oh cool. Yeah it's working fine for me too.

It's a only-radio service.
For the sake of simplicity, it's Spotify without anything else but it's radio.

US, Australia and New Zealand only. Good to have it, though.

Well, so much for that then. Are we missing much?

If you go to their website, it says it's because Pandora had to shut down many of their worldwide services due to licensing issues. This is not just for Windows... it's for all their apps and website.

Wow the flood of apps is real!

This has been the best week yet for Apps in years. Although I think most of these devs are targeting new users who are getting Windows 10 laptops for Christmas, it's still really good to finally see. Microsoft still need to be more active in courting the big other missing players including Snapchat, Machine Zone's games and Supercell's games. Even though I'm personally leaving Lumia next week, I still use my Windows 10 laptop 10 hours a day so more fun popular apps are great news.

What's the different between PC and surface?

I mean I know its mostly a touch based device but its still PC. Is not like they had to develop an app just for the Surface. Just thought it was funny.

Lmao Daniel strikes again Posted via the Windows Central App for Android

Calling out a commenter on spelling when there is a typo in the article?

I think you guys misunderstood the little joke he said. When he said "Mostly spelling" He was answering my question by saying that there really isn't much difference between PC and Surface.... Just the way they're spelled. You guys need to chill some more lol

It was a meta joke as I fixed the typo he was speaking of ;)

"The app is essentially the same as the mobile version, but now can adapter to your PC's display". Mostly spelling you say?

You have an error in your sentence, should say 'adapts'.

It should be adapt singular the way it is used in that sentence. I also think the commenter that said adapter was correct as that's how it originally read (as a commenter below pointed out).

You're right. Either "can adapt" or "adapts."

Bye bye gap app! LET'S GO!

Just downloaded it. Thanks ... BTW ... the audio still play when the app in minimized.

Pandora's box is open ;-)

It very well might have, there is a jewellery outfit also called Pandora lol.

Literally bought some presents for christmas there today

The bane of most male partners this Christmas.
"special sale! Our absolutely worthless bracelet with weird symbols for only $300"

Trying to make fun of what people like? There are people our there that giftwrap Google's phones for their beloved.

Oh yeah... they do lol. Some times I wonder have they spent more time thinking about the wrapping then the gift itself?
I've seen very expensive and fancy wrappings for low end droid handsets. It's pretty hilarious to see people's faces light up and their eyes go dark when they finally see their present lol.
No, I'm not that cruel.
Edit: Strike that last part, I don't people knowing my secret to present giving lol!
Some friends I know use windows central as well and they know my username on here too. So keep that secret to yourselves as my unedited comment will be in the notification email :).

Great news for Pandora listeners :). I wonder what the jewellers will do? Hmm...

Cool. Day started losing "path", but gaining a few updates and universal apps. Hope it continues!

Well, maybe they just lost their way?
:P.

Nah. I just think they took a path where it only leads to iOS and Android.

Basically they lost their compass in mirkwood :P.

Downloaded earlier today but just assumed it hit when the phone version did. App gap getting smaller by the day

Does it have to do anything with KMPlayer?

Good start, but the mobile version is more full featured. This doesn't include any audio quality settings if you're a Pandora One subscriber or the ability to edit your shuffle. Anyways, glad to be able to stop using the adobe air version.

Man with all these apps lately I guess it's time for me to upgrade to W10M.

WP8.X is history now. All about Windows 10.

Looks like a well put together app. Pretty satisfied.

it looks super clean i wish they would support countries outside us so i can use it

Flood of universal apps hitting. If it keeps up at this pace, things are looking good. I have to wonder if this is all building up to CES. Hearing that Brad Sams, Paul and Mary Jo are going there because of MS makes me think we'll see some interesting announcements there concerning Microsoft's OEM partners and Windows 10 mobile and otherwise. The flood of universal apps is a nice build up. I can't remember the last time Paul went to CES. There's something brewing and I think Daniel has hinted that OEM partners will be showing their Windows 10 Mobile offerings there. I wonder if we might here some big universal app announcements as well to bolster the platform.

Now it can adapter? What?

Too many good news today! More apps please!

Audio still works when minimized on my PC...

I've moved onto Spotify but I still have a soft spot for Pandora.

I can use Pandora online, on my Xbox One and on my Lumia 950 XL, but when I open the app on my laptop .. "Access not allowed due to licensing restrictions for your country"

I hope the Pandora app is successful so they make money and can continue to support the app.

Most likely will be as it is on the desktop. Essentially it's a desktop app, and on a growing ecoysytem, where developers have a opportunity to directly communicate with users to download their app Posted via the Windows Central App for Android

But now can adapter to your PC's display???
Lol!!! Been drinking a bit Daniel!!!

We need a universal Spotify app on Xbox and pc not just desktop and mobile

Forget about Xbox One, Spotify made a deal with Sony and PS4. At least for now.

Balmer: "Universal apps won't work." LOL

Nice! Good to see! Keep them coming!

I was hoping Pandora included lyrics and bios with the new Windows Mobile 10 version.. I miss that since coming back to Windows Phones from Android :(

On my laptop (a cheap ThinkPad E535) music continues to play while the app is minimized. Perhaps the stops-when-minimized behavior is restricted to devices that support Connected Standby? Or is there something I'm missing?

Anyone noticing excessive battery drain with Pandora on mobile?

YES!!!!! Love the onslaught of major updates + new apps! Keep 'em coming!

Now we just need a Spotify UWP App!

Not get ads just yet that can not be good

And only, like, 6 years after I stopped using it!

Awesome. Such a great app to have. Spotify next!

I don't know but mine contiues playing even when minimized..

Finally!!!!!! I was getting sick of using the web browser.

NETFLIX win best update today

Also on Xbox One. It's one of the few apps that's available across all the Windows 10 platforms.

Well, it's about F'ing time!

It's about time! My app plays fine minimized. The only issue I have with the app is the lack of shuffle options like in the mobile version (at least I can't find it). It remembers which stations I have for the shuffle, but I can't modify/view them using the W10 app.

Has the shuffle issue been resolved yet? I can't modify or view stations in the shuffle

I found a bug: Pandora randomly played, and it wasn't on the task bar. I had to open and then close it.

I missed your comment ... but I just commented on the same issue.

The app starts playing seemingly randomly always starting the last radio station that was playing. Sometime it shows the app as open some times the only proof that is running is WWAHost.exe.

I have the same problem. I haven't had Pandora on since yesterday yet it started playing tonight while I was away from my Surface Pro 3. The app wasn't open.

Great to have a native app... even though it is quite spartan in it's features at the moment.

So, I have the weirdest issue with the app. As I stated previously, the app works fine minimized. The odd issue I have is that when I start my computer - confirmed multiple times, and although i DON'T open the app after loggin in, it starts to play automatically. I have to open the and stop it.

I have the same issue. Did you find a fix?