Pandora will buy 'key assets' from Rdio for $75 million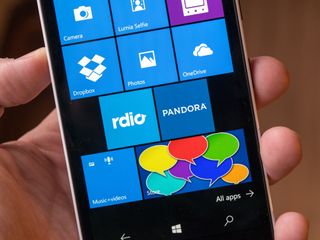 Pandora is looking to expand its music streaming offerings with a new deal that it says will include acquiring "several key assets" from the rival Rdio service.
Pandora will buy those assets for the cash price of $75 million, according to its press release:
At the same time, Rdio is planning to file for protection in United States Bankruptcy Court for the Northern District of California:
Source: Pandora (opens in new tab)
Windows Central Newsletter
Get the best of Windows Central in your inbox, every day!
Lol guess vdio killed the rdio star

That was rfunny right there... I don't care rwho you are

Hahaa :) https://www.youtube.com/watch?v=W8r-tXRLazs The Buggles on YouTube

Now thats sad vevo blocked it in Canada

In the United States also it's blocked Posted via the Windows Central App for Android

Sad. Engadget won't even acknowledge Groove music in their article.

Wonder when they will go out of business :)

And what other site will beyond dedicated Microsoft sites? Oh wait...WC didn't either. Are you going to complain about them not stating Groove as an alternative as well?

You don't understand, really. Enagadget mentioned Spotify, Apple Music, Tidal, Google Play Music, and Rhapsody. But not Groove Music even though it clearly belongs in that club.

You don't understand as well so I will ask the question again... What other sites besides dedicated Microsoft sites will mention Groove? Edit grammar: Happy? You still can't answer my question, can you?

I understand the difference between would and should.. Keep trying.

Same day that Zune shuts down. Hmmm

That WhatsApp's Store image ...

You will see more the market where folks will pay 10 month is very small Lots more music providers will go away in 2016

Only if you live outside US

My wife uses rdio on her iPhone and it costs us 17 a month. Ridiculous!

We have a rdio family plan and it's 14.99/month...she's getting robbed..

Groove music pass cost us the equivalent of $2.67/ month
So...

Yep. I have six years worth of prepaid groove cards myself. She just likes rdio.

Rdio just launched in my country about 3 months ago. Good thing I held off getting that subscription.. I'll rally with Deezer. Btw, the Rdio app is just awful to use...on any platform I tried. WP, Win10, web and Android. The app was slow, buggy and downright a chore. The Win10 app is a resource hog too.. anyways, $75mil is a steal.

Rdio bought Dhingana and no one ever heard of it since in India. And now it's bankrupt. Dhingana used to be so popular once upon a time here in India.

I pay for PO every year and I hardly ever listen to Pandora.. Not sure why, I just dont..

Lol I was reasearching alternative music streaming services only last night and was going to check out Rdio today as I hadn't heard of them before :P

This will eventually happen to most of these "amazing technology firms" that just don't have the earnings to keep up. Rdio was pretty big for a while but never really got to the desired level. Hopefully the team finds something else to do.