Password manager mSecure finally arrives on Windows Phone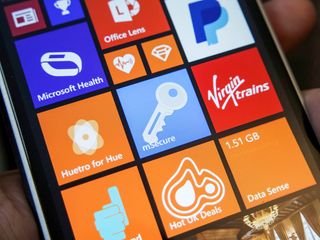 Popular password manager, mSecure, has long been absent on Windows Phone but that's now a thing of the past. Finally it is here and to celebrate the launch it's available for the special price of $4.99 for a limited time. That's half off the regular price.
Having been available in desktop and modern app form for Windows for some time, the lack of a mobile client was a definite missing link. It's a case of better late than never, but it's an app we're thrilled to finally have in the Windows Phone Store.
For anyone not familiar, here's a few of the security features of mSecure:
mSecure uses ultra-secure 256-bit encryption to protect personal information such as account numbers, usernames, and passwords.
Auto-lock to protect the app from unauthorized access.
Password Generator to create unguessable passwords.
Sync Everywhere cloud data protection architecture, independent of the security provided by the cloud service.
Optional self-destruct feature in the event that an unauthorized person tries to guess your password.
Sensitive fields can be masked to protect your sensitive information from prying eyes.
Security is paramount but so is ease of use, and mSecure is, from personal experience, a breeze to use on any platform. And with the ability to use Dropbox or OneDrive to seamlessly keep your account in sync across all of your devices (mSecure will store a secure file there, not your actual passwords) you don't even need to worry that much about always having access to the right details at the right time. You also get an auto-lock and auto-destruct feature built in to keep prying eyes away from your private items.
I've used mSecure for many years now across various different platforms, so I'm definitely pleased to see it finally arrive on Windows Phone. Password managing services aren't something you want to switch between once you're happy and set up. Now, thankfully, mSecure owners with a Windows Phone in their pocket needn't worry.
Grab it now from the Windows Phone Store at the link below.
Thanks Bruno for the tip!
Windows Central Newsletter
Get the best of Windows Central in in your inbox, every day!
Managing Editor - Tech, Reviews
Richard Devine is a Managing Editor at Windows Central with over a decade of experience. A former Project Manager and long-term tech addict, he joined Mobile Nations in 2011 and has been found on Android Central and iMore as well as Windows Central. Currently, you'll find him steering the site's coverage of all manner of PC hardware and reviews. Find him on Mastodon at mstdn.social/@richdevine
Not sure. I had to pay for it either way and I already have the Windows 8 app.

Then, no, it isn't universal.

Well...when I go into the Windows Store now it has the little icon for universal apps. But either way, you gotta pay for something.

Universal app have no access to the clipboard. So you can't tap the button and copy password/login to the clipboard. This is the reason why I am not updated my own password manager to the universal app.

I use password padlock, it's universal and I can copy/paste everything

You can copy by taping text, not by taping separate button to copy text.

Do NOT use online services to store your logins. EVER.. Fixed ..

Is it better then last pass?

I have been using the two of them, and lastpass is much better, in my opinion. The only downside of lastpass is that it saves your data to its servers, whereas mSecure does it in dropbox. But feature wise, lastpass is more complete.

Lastpass is a leader in cyber security... How is them saving the data to their servers and not something as insecure as dropbox a downside?

I see Last Pass and mSecure as two different things, although it would be great if they merged. I use Last Pass on my PC which works great to auto-logon to web sites in a secure way. I also have Last Pass on my Android phone but it simply doesn't work well enough to bother with. My wife and I share one mSecure. That way no matter what data she wants to save, or I want to save, we can both see it. We store all kinds of data on mSecure such as licence numbers, safe combination, social security numbers, etc. Both Last Pass and mSecure can generatre passwords.

9.99$?(4.99$ on sale) No thanks. I'll remember my passwords. :v

Oh really? If yes, then tell me your microsoft ID and password lets check do really remember it? xD :D

ID :bikeonwheels@live.com
Password: ***********
There you go ;)

You rock man haha!! Kudos for awesomeness ;)

well, that's a neat feature. Obviously windowscentral automagicaly replaces any password you might accidentaly enter into the comments with asterisks. Cause when I type my password (************) it never shows up. :D go ahead, try it. My password is ************

I Have a password for every single site. Good luck remebering 600 passwords

I check iOS app store and it's also $9.99 there too, so at least no partial treatment.....same price no matter where you go!

Yeah I get it. I just meant I don't have so many passwords to remember. Yes I do pay for apps. But just not this.

I won't either because at the moment I use password padlock and it works fine for me, but some people probably like this one. I personally don't know how there apps makes expect their app to take excel web there's so many of the same type out there with minute differences.... Guess it won't be in the store long and when it leaves, Microsoft will get the blame!

Enpass is better and universal/desktop apps for windows and mac. Truly the epitome of password apps

Enpass is the best by far.


I've been quite happy with Sky Wallet, so if anyone can compare the two that would be great.

Yep, Sky Wallet is pretty nice, not sure I want to change that, but like Jim_920 said, nice to have a comparison just in case...

I use Sky Wallet as well and am happy with it too. Nevertheless I'd like a comparison as well. I am willing to spend $5 on these types of apps.

I too use SkyWallet but it hasn't received an update in over 18 months (e.g. Cloud backups still go to SkyDrive instead of OneDrive). I tweeted the developer over a month ago asking if he intended to maintain the app for WP8.1 & WP10, but I received no reply. The developer's Twitter account appears abandoned, as he hasn't tweeted anything for over a year. (@skywallet)
I'm afraid the developer has abandoned the app altogether. Now I'm looking for an alternative password management app.

Me too, use sky wallet every day, but would like a universal app to replace.

Enpass is a universal app that has been available for some time on Windows and Windows Phone as well as ios and android. It has recently been updated significantly on Windows and Windows Phone. I use it and have been more than happy with it and the support it has received from its developers. $9.99 gets you both the phone and desktop apps and there is no ongoing subscription costs.

Looking at it, but looks like manual entry is the only way of getting passwords in?

The problem with password manager apps on windows phone is... They don't integrate with browsers or apps like ios and android..

I just had to ask. In this situation useless app. BTW. thanks for the info about integration on Android and iOS and lack of it for WinPhone. Another reason to get rid of this shit. Thx.

Gotta love how people never want to pay for apps. Android really spoiled some of you... Damn... Installed it the second I saw the tweet about it. This app made my life a whole lot easier back un my IOS days and is going to again.

Been using Lastpass for a couple of years, love it

Does anyone else buy major apps when they're announced just so the average revenue per Windows phone app rises? Just me?

Does this app provide something better than Lastpass? I've been using it for a long time.


Stick to Lastpass. That's what I'm gonna do.

Anyone know the benefit of this over Password Padlock?

In the face of bofa, chase and vevo!

Just installed the app and it says I already own it which is true - bought it for Windows 8 Metro - so definitely universal app. Thanks for the tip. I was waiting it for a long time - using it since I had a I9100 Galaxy S II :)

Don't use password managers that save to the cloud. Do you really believe nobody can break your files?
Try my KeyRing app, it's free and guarantees not to disclose your personal information.

How do you sync or transfer to another service when you switch devices?

There's always a catch. On WP7 and 8 you can't. That's the price of security. But it's guaranteed that the data doesn't leave your device if don't do it yourself (via clipboard or NFC). For WP8.1 I made a Pro version (2,99$/€) that can save to a file in a user-selectable folder and then copy to PC via USB. And back to another device maybe.

Your passwords are saved in a secure file within OneDrive.
Since I trust Microsoft's ability to secure my data, I personally feel confident that the passwords are safe too...

And on the way? If grabbed a brute force attack might compromise the data. You never know which way the packets go.

Hey Richard, I noticed you have my application (Bandsaround) installed on your device :). Let me know what you think of it. I just released an update today for it and its out of Beta, so hopefully everyone will enjoy it :).

I prefer Vault since it syncs between phone and PC via wi-fi. Call me paranoid, but I don't like keeping my passwords on the cloud, even with encryption.

I'm with you BobPro2. I just downloaded mSecure on my new Windows Phone 8.1 phone and it does not provide WiFi sync. I've been using mSecure for years on iPod Touch, Samsung Galaxy S3, and three laptops. All of those versions provide WiFi sync but the new Windows Phone 8 mSecure doesn't. If they don't fix that I'll have to move onto some other app and go through the huge hassle of copying all of my hundreds of accounts and passwords to some new system. I'll check out Vault. Thanks for the hint. I've turned in a feature request. If mseven doesn't fix it soon I'll have to make the switch at great cost and effort to me.

Slightly off-topic, but couldn't help noticing the phone in the picture has both Microsoft Health AND MSN Health & Fitness pinned to start screen. Maybe it's different in the US of A, but even though I have both of these linked to my Live account, they don't play together here in the UK. Perhaps this will change when the Band lands officially next month. Just curious as to whether or not the two work together in America.

Nothing better than KeePass + 7Pass for WP

Today is a great day for WP

Why wouldn't someone use OneNote or evernote to store thier passwords for free.

Has anyone used keeper how good it is

I use keeper all the time and I love it. I can copy and paste, sync my passwords to other devices, and just received an update yesterday. The app is sadly much better on Android. Every time you go to a log in page, a small icon appears on the screen which lets you log into the app and retrieve your password easily.

I don't know this app, but it seems good

$4.99 is not too much. I will get way more value out of this app than a typical crappy McDonalds meal that costs more than $5. I even have multiple apps that do the same thing to support the community. :)

I need a password manager that lets me define fairly large numbers of custom fields and organize them. I need to store a lot of client information. I use an ancient program that was on Windows Mobile called Spb Wallet... I have no mobile access since sitting to WP. But every other password manager has lame support for custom fields and templates. Any suggestions? Thanks!

I use one note and put a password everytime i open certain notes

We need a round up of these programs. I need one but this artilce and these comments leave more in doubt than ever about which one to use. I'm still using my desktop manager for now.

Does Windows 8.1 or windows phone allow for autofill? For lastpass, I have to open the lastpass app, copy the password, go to the app I want to log in to, then paste. On my wife's android, she just opens the app she wants to log into and is immediately prompted to enter her lastpass master password with no switching or copying/pasting needed.

That's not possible on WP.

Lastpass urgently needs digipass login in his WP app. I hate it to always fill in ny master psw

My app will reach Universal very soon. Search for BluSmartbox.

Try xCrypto Password Manager Universal App

Keepass for me. Don't like the idea of any one company holding my password data.

Try KeyRing. Not even a data connection. So the data stays in the app. For sure.

Lastpass is so much better

We've used mSecure at our house for a few years. We store accounts and passwords but also a ton of other things like licence plate numbers, vehicle IDs, social security numbers and much more. I just downloaded the Windows Phone 8 version and I'm very unhappy to see there is no WiFi sync feature. They want me to use dropbox or one drive which I don't want to do. I don't want yet another account, and I don't like cloud drives at all. I just want to sync between our laptops, desktop, and phones as we always have. I sent a feature request to mseven.
Windows Central Newsletter
Thank you for signing up to Windows Central. You will receive a verification email shortly.
There was a problem. Please refresh the page and try again.