Stitch your way to victory with Patchwork: The Game for Windows PC and Phone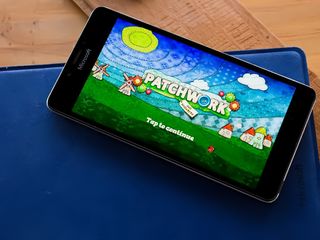 Patchwork: The Game hit Windows Store shelves just a little while ago and offers an exciting gaming format that combines elements of a board game with a puzzle game. In the simplest of terms, you have to patch together a series of fabric tiles to create a colorful quilt. With each piece of fabric put into play, players will move around the corresponding game board.
Patchwork is not a difficult game to pick up and play, but it may take a few games before you can nail down the gaming strategy. Graphics are colorful and have a minor children's book feel, which is not a bad thing. Gameplay does have its fair share of challenges and with three gaming modes, Patchwork has a bit of longevity.
The only downside to the Windows game is that it lacks a trial version. While that may turn some away, if you like multiplayer puzzle games, we see the price of admission well worth the cost. It didn't take long to realize that Patchwork: The Game is an entertaining title to pass the time with.
The primary menu for Patchwork: The Game will present you with the three gaming modes available along with a host of options lining the sides of the display. The three gaming modes include:
Ranked Game: Challenge players from around the world in ranked matches
Casual Game: Join unranked, online matches
Local Game: Play against the Computer in three varying difficulty levels (easy, medium and hard) or play against a friend in pass and play fashion
For online play, you will need to create a gaming account that is email based. The account is free and only takes a few minutes to set up.
The menu options that line the sides of the primary menu include the options to play the tutorial, access the gaming options, visit the gaming store to choose your theme, view any online games in progress and see the game's credits. You also have a few social options where you can message other members and view your friends.
While you can pick up on gameplay fairly easy, it is best to visit the tutorial. The gaming concept has you patching together a series of fabric puzzle pieces to create a blanket or quilt. As you place fabric pieces on your blanket, you will earn buttons or points, and every hole you have in your blanket will cost you points. Pieces will cost you buttons, but in the end, you should earn those buttons back as you fill in your blanket.
Additionally, as you put fabric pieces into play, you will advance around a gaming board. The gaming board serves as a timeline, and your movement is determined by the fabric piece you put into play. For example, a fabric piece could cost three buttons to put into play and advance you around the timeline board two spaces.
When both players reach the end of the timeline board, the game ends, and the player with the most points wins.
The mechanics of gameplay has you tapping/holding on a fabric piece and slide it onto the empty blanket. Fabric pieces can be rotated and moved around to get the right fit. Once in place, tap the green sewing button to stitch the fabric piece into place. If you cannot afford a fabric piece, you will be able to pass on your turn and collect buttons for the spaces you occupy on the blanket. The tutorial does an excellent job of walking you through gameplay and can always be revisited as needed.
Overall, the more I played Patchwork: The Game, the more it grew on me. It isn't an overly complicated game to learn but a challenge to master. The matches against the computer are a great way to learn the game and the online games offer you a nice variety of players to test your skills against. Plus you get the added bonus of Patchwork being a cross-platform game (also available on iTunes and Google Play) that increases the number of players to compete against nicely.
Appearance wise, Patchwork: The Game presents itself well with plenty of color and a style somewhat reminiscent of a children's book. The game's presentation helps support the casual style of gaming Patchwork offers.
The only downside to Patchwork: The Game will likely be the absence of a trial version. It would have been nice to have seen a trial version that gives you access to the local gaming mode. I see Patchwork as a fun game, well worth the $2.99 price tag, but I also understand the importance of allowing gamers the opportunity to try things out before making the investment. All in all, Patchwork: The Game is an entertaining strategy puzzle game to pass the time with.
Download Patchwork: The Game for Windows PC and Phone (opens in new tab)
George is the Reviews Editor at Windows Central, concentrating on Windows 10 PC and Mobile apps. He's been a supporter of the platform since the days of Windows CE and uses his current Windows 10 Mobile phone daily to keep up with life and enjoy a game during down time.
Phew.. Just another Tetris like game... BORING

That's definitely a mischaracterization for the game. It's a very strategic two-player tile placemet game, with full future knowledge. You can see every single upcoming tile and attempt to plot out multiple moves in advance if you can also figure out your opponent's strategy. There's a time/money management problem as well, as tiles that earn you money cost more, and gaining incoming in the game early is super important, but isn't as important/worth it towards the end of the game, since the game is won entirely on who has the most money (buttons) at the end. You can be strategic in how fast you travel through the board if you want to get to the single-tile patch before your opponent, or if you want to go slowly to get multiple turns and take tiles that your opponent might need. I was able to initially "sell" playing this game to my wife because she loves Tetris, but this is not really a Tetris-like game...it's a tile placement, money/time management two-player strategy game. We both think it's awesome.

Omg league of legends ---------------------------------------
Sent using my Lumia 1320 W10 mobile build 10586.164

Why no xbox live???!!! Posted via the Windows Central App for Android

I want this game on lumia640 xl duel sim
Windows Central Newsletter
Get the best of Windows Central in in your inbox, every day!
Thank you for signing up to Windows Central. You will receive a verification email shortly.
There was a problem. Please refresh the page and try again.