Path for Windows Phone just got real with 'media moments' to share everything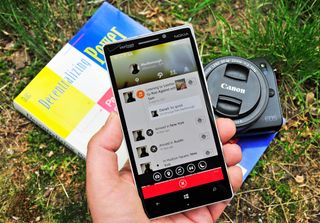 The private social network Path is slowly getting better with each update, especially after coming out of beta a few weeks ago. The app was first introduced earlier in the year and after a hiatus, it's back with another significant update. Version 2.1 is now live in the Store, and it introduces the most coveted feature of 'media moments.'
For those who aren't familiar with Path's media moments, it's enables sharing what you're reading, a movie you're watching or music that you're currently playing. It may seem like a trivial thing, but it's a core aspect of the social network, since presumably you want to be able to tell your friends what you are up to, including entertainment. With it missing on Windows Phone, the app was never complete for most fans of Path.
Version 2.1 finally brings that feature to Windows Phone users. After loading the update to your phone, you can now tap the '+' button to enabling sharing of photos, location, media (music, book, movie), text and when you go to sleep/wake up. When you choose media, you can type in what you're watching or listening too, with a lookup feature. Once found, you can post that information along with who you are with to Path. From the changelog:
Path 2.1
Post media moments like music, movies, and books
Post photos from all photos albums on your device
Path is still slow to load for our liking, but there's no denying that today's update is significant. With parity with iOS and Android, Windows Phone is today a little more complete.
So why use Path? The social network is private with only your closest friends and family allowed to view what you share. It's like Facebook, but more private (and less crap). Users are limited to 150 contacts with fine-grained controls on what is being shared. Likewise, you can use this app to post to Facebook, Foursquare, Tumblr or Twitter, meaning you don't have to give anything up (even if you don't have many friends on Path, it's a good mass-publishing app).
Pick up Path 2.1.0.2465 here in the Store. Thanks, Loay A., for the tip!
Daniel Rubino is the Executive Editor of Windows Central, head reviewer, podcast co-host, and analyst. He has been covering Microsoft here since 2007, back when this site was called WMExperts (and later Windows Phone Central). His interests include Windows, Microsoft Surface, laptops, next-gen computing, and arguing with people on the internet.
I'll take Path over Facebook any day. Just wish it were a little bit...faster.

I see what you did there Danny. LOL

Ha ha! You should write an article detailing why you hate Facebook so much.

I should and could. I like the core theory of FB, just not what it's morphed into. I get why people want to be social, stay in touch, etc. and FB in that sense is awesome. I just hate all the sharing/liking/spam/game invites, etc. In the race to add features, it's turned into this information overload site that I'm sure the NSA just adores.

My exact opinion... All I use it for now is the occasional message, if that...and to deny said game requests.

but now path has opened to 500 people in contact already. with an inner circle feature that we are able to select.

I agree and if more people where on it.

Indeed, it just the matter of time

Many people in big cities in Indonesia already prefer and uses Path more than Facebook. And.. Didn't they raised the number of friends to 500 recently, Danny?

As I always say, you get out of a social network what effort you put into it. Facebook isn't perfect by any means. However, its fairly easy to control much of the content you contribute and what content you see from your FB friends.

What the... ? Sharing "media moments" and what time you woke up? I weep for our society.

lol, you're reading a site about phones. Mirror, dude. Path is actually less insane than that inane oddity called Facebook.

Ha the truth hurts. And arguing the point would mean either nominally defending Facebook or adding to the list of hypocrasy-related charges so I'll just shut up.

lol, it's all good. Social media/networks and the 'like' generation are certainly an interesting twist on modern culture.

it's so freaking bad on wp :(

Dont have any friends to share it with :(

Finalllllllllllllllly!!!!!!! Edit I was hoping to have the ability to share it from the music app itself. That would have been great.

Nice, getting closer to its Andoid/iOS version. Still missing private message though. I love its concept better than FB, but no love to its buggy app....even on other platforms. It also crashes occasionally on my android. Posted via the WPC App for Android!

Indeed, they have to concern about this

It is nice to see WP Apps maturing to Droids and iOS ability. WP 8.1 is a new chapter. Remarkable.

Media moments is ok, but the fact that it actually shows the most recent pictures first when posting is even greater. Finally I won't have to scroll through 1000+ pictures to get to the one I want to post. Yay! :)
And it will even lower me post saved collages now, without using my iPad. :)

So like right now I'm listening to " the killer" if you know who he is you win the dime.

I just don't get Path it's just about who you know & not about meeting anyone...

anyway, it's not only 150 friends limit anymore but 500 friends. Path seems faster now, and step by step got all it features which is this is good for windows phone cuz Path is popular in some country.

i dont get it. just updated to 2.1.0.2465, but i didn't get the sharing media moments feature. :| still 4 buttons on the (+) menu.

Just another transition social media from facebook, like how people moved on from friendster into facebook, since facebook is getting freakin annoying with those notif about game request or kind of it.

Off topic - WhatsApp and hike updates with new stability improvements ... Check that's out at store

Hi. How do you connect fb with this app so that I come to know who all are using this. ?

I'll definitely choose path soon over facebook. All I want to see it become a more powerful and stable App on windows phone. Path is more appealing than fb. I just hate fb really.. FB is overloaded with trash and spams.. That's why last year I've chooses WhatsApp for all my social networking... And now WhatsApp is matured with latest update on windows phone.. I am just loving it. But I would like to use path also..
Windows Central Newsletter
Get the best of Windows Central in in your inbox, every day!
Thank you for signing up to Windows Central. You will receive a verification email shortly.
There was a problem. Please refresh the page and try again.