PayPal back in the store for Windows Phone 8 devices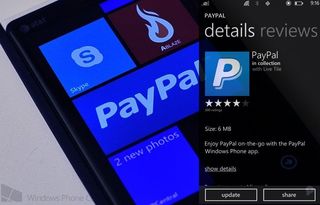 The past few weeks we've seen apps pulled from the Marketplace with little to no explanation. A few days ago PayPal was one that went MIA for Windows Phone 8 devices, but was still available for those running a 7.x device. Crashes were the most likely culprit for the dissapearing act. Good news though, it's back.
For Lumia 920 and 8X owners this should be a welcom return as the app would always crash after logging in. I held off updating PayPal on my 920 and sure enough a crash occured right after entering my credentials. After updating PayPal, everything is peaches and cream. My account showed up great with no crashes.
Now you can look forward to sending and receiving money on the go. Another cool feature, is you can pay for point of sales transcations at select locations. Just check using the app for places near you that allow you to pay with PayPal for Windows Phone.
You can download PayPal for both Windows Phone 7.x and 8 right here or use the QR code below. Let us know in the comments below how the update is running on your devices.
Get the Windows Central Newsletter
All the latest news, reviews, and guides for Windows and Xbox diehards.
Not much difference for me but glad that it came back, especially those who suffered from crashes. Now they should remove skeuomorphism from app's ui (stitches and iPhone-ish fabrics!)

Its not showing up for me. Maybe its only in the US marketplace right now. I'm in Canada.

It didn't show to me aswell but just scaned the code it directed me to the app.

Also missing in Finland... :(

In Calgary here- code worked. Can turn on location without crash now but no PP merchants here :(

Why isn't this app available in Australia? We use PayPal too believe it or not

Im in Estonia and it didnt show up in store either. Just scan the QR code on this page and it will show up and install just fine.

No. QR code didn't work either. Hope this is made avail for Australia soon!

So what ever happened to being able to pay in store using NFC? I thought that was a function of wallet.

I posted in the windows phone forum and a microsoft employee(i beileve) replied saying its because our carrier does not support the feature, basically sounds to me the US doesnt support it

I thought it was a carrier issue too, but the first NFC payment in Canada was with a blackberry on Rogers, and I'm with Rogers. Would they have to enable that feature on a phone by phone basis then? That would be silly.

Carriers have to activate NFC. As far as I'm led to believe a special secure Sim card allows Wallet to be used for payments & on WP8 it is not functional yet. Only apps can be purchased at the moment.

I'm in the US and don't see it either.

Not available on Australia, great! I wish the WP8 market would bring out some really decent apps! Ie Facebook, eBay

Yup just downloaded and works excellent on my 920

Scanned the QR code and directed me to update the app. No more crashes.

No luck for me here in Australia , scaned the QR code, and got a message saying that the app is not available for my device (lumia 920)

Try using the wpcentral app to download it. I also couldn't download the rington maker after scanning the QR code ut i was able to download it today using the wpcentral app.

Sorry, I'm new to windows phone.I got the app how do I download it from there?

Updated by scanning the QR code and still refuses to log in by either pin or password...hmm for some reason when i was trying to log in, my pinned app link on my home screen was still using the old version, hence my problems. It has since updated and is now working perfectly!

Hmm the "download app" option is not listed in the wpcentral app for this. Should it?

I just downloaded app this morning..now working..people having trouble to log in with their pin need to remember that you must setup the pin online at your PayPal account first..then you should be able to logon using your pin..also..don't forget to link you're phone # to PayPal account while online..this worked for me..have no problems logging in now with my pin..hope this helps

Seems like pulling apps for bug-fixes is pretty common these days?
Wouldnt it be better if app-downloads was disabled with a message showing it will soon be back, instead of it magicly disappearing and not showing up in the search?

or sometimes at makes even more sense to just keep the app downloadable and add a little warning to it, instead of removing it completly. because sometimes its less annoying to have a buggy app instead of no app...

nice, but where is whatsapp for wp8?!?

Not available in Australia. I'm amazed considering how many THOUSANDS of users there are here. A complete and utter joke.