PayPal may be working on a Windows 10 Mobile app [Update]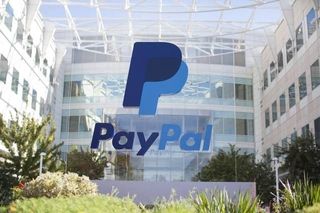 Update: We received this official response from PayPal. Unfortunately, it does not confirm or deny it is working on a Windows 10 Mobile app:
PayPal's now discontinued Windows Phone app is posting a message hinting that a Windows 10 Mobile version of the online payment app could be in the works.
As previously announced, PayPal shut down its Windows Phone app on June 30. However, people who opened up that app today got a message that indicates a new version is "on its way":
While this in-app message is no guarantee that PayPal is in fact working on a Windows 10 Mobile app, it's certainly very promising. We have contacted PayPal to see if they will comment on any future developments in this area.
Thanks to Mark for the tip!
Good news indeed. Cheers!

Good Just need it for Pickit app

This is where Microsoft keeps failing. They need to be more Active with Developers. Tens of thousands of Enterprise customers are about to get new HP Elite X3 devices, yet the biggest "banking" App in the world is missing! Same with Snapchat, that most businesses are now using, not just kids. It's a shambles. Bill Gates used to understand the importance of 3rd party support. Yet Satya Nadella's too busy writing a book!

I have not run across one business that uses snap chat except as a marketing tool for teens and 20 somethings. I don't even know any individuals that that use snap chat. Not even my 20 something son and nephews.

Marketing IS Business you fool! Even JPMorgan are on Snapchat. Stop being a Microsoft Fanboi, its embarrassing that Windows isn't been taken seriously.

When Snapchat has surpassed Twitter. Something's up #TeamLumia 950 XL

Snapchat will never come. The CEO hates Microsoft, for reasons that only can rhyme with raking rayoffs from mother bone danufacturers.

There was a recent confirmation from Microsoft that they are working with SnapChat on a app.

All I have to say to this one 19Michael87 is ....... SUCKER. MS will tell you anything to shut its users up.

here maps, pay pal bank app wireless pay gestures, official you tube app with notifications, google maps are all things i put way ahead of a snapchat app. Still im sure the 200 million that use it wouold like it on all platforms.

Hoping for PayPal here universal app for windows 10, so we can send our guys to shows with windows tablets and not have to bother with Android or iPads anymore

There is a WIndows 10 PC Here app....

Not in the UK... I believe it's US only for some reason

Hope every retired app comes as universal app

I just wish they'd not turn off the old app until the new one arrives. This makes people uninstall the app, and then when the new one comes, the user is oblivious and never installs it (unless they read Windows Central or one of the other less popular blogs)

Hey, but they follow MS practices: remove feature and promise solution in future (Skype UWP app, Messaging everywhere)
Today is July 1st, and it is already after shutdown :(

Neither of these apps have been released yet. The two were developed in parallel. Now that they've decided that people like the Skype app more than the Messaging app, they are now in the process merging Messaging everywhere functionality into Skype... Coming Soon™

Looks like WC app removed "sarcasm" tags from my previous reply. I just wanted to note that MS removes features with long gap before new way/solution will be available :(

I'm sure PayPal will send out an email or ms will showcase in store. Probably will integrate with wallet.

Great news if true! Hopefully others such as Amazon will follow suit.

Happy to see apps is coming. Nice..

Mine doesn't say that. Mine just says that the app isn't available right now and directs me to the browser

Same here... Why did PayPal bother with different messages per region?

Cannot confirm or deny since mine won't even let me log in...

I dropped PayPal. Find other options.

Crazy to say, but I think MS is pushing companies to ditch their WinPhone 8.1 apps in favor of Win10.

all i see is developers leaving the platform cause of the 1% mobile ownership space.

Great. Hope amazon and GoPro apps follow soon.

Good. PayPal is a service I use. Will use this app surely if it suits my use case.

Have an update for my app today

They better be ! And while they are at it, ebay universal pls. Ty Btw Amazon has a great UWP Audible app on Windows, dont you think they would also make Amazon UWP app? Especially to compete with Flipkart But oh well they also own IMDB and havent made an app so.

Well if you scroll down at imdb site there is written "an amazon company"

'while they are at it' PayPal and eBay are not one company anymore... they each have their own developers now.

Paypal showed up as a "recently added" app on my phone, today. I thought that was weird because I didn't recently add it. I now have 2 Paypal apps installed, but neither of them work.

Could be a standard message

Use the mobile website, you got it all there.

What else it can be?... Definitely another gem in the treasure of UWP apps

nice, i can't even login in the currently app

You can't *use* the current app right now :p

i know that, i mean, back, before they announce that the app would be removed from the store... i can't remember the last time that i was able to login in this app

I got a reminder to update PayPal this morning then got an error during the download. This explains it.

You guys didn't need to reach out to PayPal to confirm, that email is enough confirmation

No it's not. PayPal was updated again today with a different message

Paypal better be working a new app to surprise us, or else.....grrrr......

It's keeps getting better to the best. Apps keeps coming to windows store and that makes me happy.

I just got update for Paypal and showing other message saying "Sorry about that our app isnt available for Wnindows right now. You can access bla bla through our website" I like how it says RIGHT NOW. And it even changed logo of the app after update. Its pretty obvious they are working on new app why would they change the logo if they just cancelled it.

Of course, they are, they should be working on that, if they're not they're crazy.

too bad the mobile web experience sucks....

It sure does! I dont know if its that bad on Android of iOS but that site is terrible on EDGE.

I'm hoping they are. Their Support of Windows Phone to date had been rad and super useful.

they update the app just to give you that message, they must be retarded or something

These app developers teasing us about apps and then when contacted they try to deny,
Argghhh,first it was uc browser,next snapchat now PayPal.. So annoying

A PayPal UWP would be massive. I love UWPs.

I guess we can take their reply as positive. If they were not working on one, they would have said straight that. It kind of became trend saying we are not working on Windows 10 mobile app.

At this point it wouldn't surprise me if we get the UWP version. It just makes sense (if you're going to write any Windows app at all going forward).

im speciasl. Ive been using pay pal app on windows mobile already and havnt stoped prety much sindce its release. On a huge positive not skype works great now, 3 days and no problems, its unheard off. Acording to my friend who i had the issues with he contacted them told them issue, they did some stuff and now its workling exellently.

wow it really didnt work, just got home and first thig i did was test this, wow nmo idea that id had been removed, i really hope they bring in another app, paypal i use alot and although important to me its not as impotant as wireless pay or even gestures bete, those are things id like over paypal but yeh pay pal and a bank app would be nice too, it does sometimes fel like windowws 10 is loosing more apps, which is shame cause i think on mobile phone everything now is working great, id actually say windows 10 mobile is runing beter and more reliable than desktop 10 adn the only issues on desktop 10 insider for me is menu bar on edge being removed and edge crashes these days alot. but without menu bar it doesnt mater i no longer care about edge, give me extentions after how long a wait but remove menu bar that i loved on edge lol. Thant 1 to many times ive been broken by microsofts edge experience and its one too many. Thk god the phone doesnt do this.

Also spend 3 dasys on adroid wow some apps have a extra feature like netflix on mobile has a cast buttone, something missing from my windows mobile but wow mostly crashing and isses in android for me. I definalttly have a stronger respect for my lumia 930 on windows 10 its reliable and works unlike alot of my androic experience. Granted it was android kitkat but wow so unreliable. There was even 2 missing apps i wanted that wasnt on android and plex didnt work as well.

In short. We're working on one.

Time to dump PayPal if they don't develop win10m App!

When I opened the app after it updated to see if they had killed it I got a very different message that in no way would lead you to believe they are going to release an update soon.

I can't not see Paypal coming back with a UWP, especially with Tap-to-Pay now fully functional on Windows 10, which Paypal is sorely in need of..

PayPal updated again with a different message saying the app is no longer available and to use the website.

I just got that too. Sucks because I use this app quite often.

So did mine. I was all excited at first becasue the update gave the app a new logo! Oddly they havent de-listed the app in the store but did update the screenshots and the description to say the app is dead.

Hi sir my name is Monu and I need to windows 10 update tall me how this possible nokia Lumia 925 phone please tall me

pay pal isnt working on one right now or at least havent indicated they are. i have a felling that 1% of windows mobile users is about to shgrink to nothing. Paypal leaving is a hugely popular app and i think for most people its one app to many leaving this year, i know its the last straw for me, sghame casue windows mobileparticually 8.1 mobile 10 being second is the best os for a mobile in my opinion. Still its done. ill have to find a way to cope with my galazy s7 edge with its here maps, its paypal, its pokimon go, its much better google maps and a you tube app that has notifications and a very reliable viewing experience, all things i havent got anymore in windows 10 mobile, i even have a speakerphonme app that puts my loudspeaker on when the phones away from my face, something windows mobile 8.1 did with gestures and over 1.5 years later windows 10 mobile still doesnt do. Its easy to see why people like me have given up. I hope they can make it work but comeon how many apps are we as mobile users gona put up with missing.
Windows Central Newsletter
Get the best of Windows Central in in your inbox, every day!
Thank you for signing up to Windows Central. You will receive a verification email shortly.
There was a problem. Please refresh the page and try again.