Paytm gets updated, but still doesn't bring mobile shopping to Windows Phone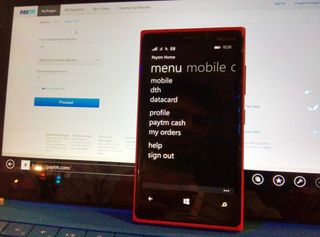 With over 12 million registered users and 6 million app downloads overall, Paytm is India's largest mobile commerce platform. The service started by offering mobile recharge and utility bill payments and today it offers a full marketplace to consumers on its mobile apps.
The Paytm app for Windows Phone got a big update over the weekend. The latest update bumps the app version to 3.0.0.0, and introduces a design refresh and a better wallet experience.
The app allows a secure and quick way – under 10 seconds as they promise – for your mobile recharges, bill payments, and DTH recharges. The service packs in a great repertoire of coupons that you can pick on each transaction.
You can load money securely in your Paytm Cash, the virtual wallet, a PCI DSS security certified commerce platform that uses VeriSign's trusted technology. Paytm Cash is the foundation of the mobile commerce platform that the company is working on.
It's disappointing though that the latest update does not bring the Paytm marketplace experience (paytm.com/shop), a feature that has been available on apps for other platforms and on the Web for some time and allows shopping on the go. I've learnt that it's in the works, but the major update at this point in time should have included it.
Download the Paytm app for free for Windows Phone 8 devices from the Windows Phone Store. There's no marketplace, but if you are looking for a quick and hassle-free recharge and bill payment experience, Paytm is one of the better apps in the Store. Give it a whirl and let us know how you like it.
Windows Central Newsletter
Get the best of Windows Central in your inbox, every day!
I like Mobikwik more. And waiting for Freecharge app.

Freecharge is also available... OFFICIAL app but to disappointment its just a web wrapper...

The official freecharge app is available.
"FreeCharge: Rechar..." for Windows Phone http://www.windowsphone.com/s?appid=353ad694-42a4-4b60-bfe6-c250a6526f17

Earlier, paytm was my favourite app. Later, I had some problem with transferring cash to 'paytm cash'. Fortunately, it was fixed by the latest update. But the problems are- 1.the user interface is very much confusing and ugly.
2. Transactions from 'paytm cash' is no longer the fastest transaction method... It takes few more seconds to do the work. I prefer 'mobikwik' over paytm now. Simple UI, much faster and users friendly..

I liked the old UI, this one looks like some one took the life out it...

Me too! Old one looked way better.

That being said, I'd like to note that this seems faster..

Maybe because it's barebones now

I often use Paytm for my prepaid mobile recharge, updating now ...
EDIT: Updated. It seems to work fine except that now it takes even more time to start... And what happened to the UI? Transformers? Optimus Prime??? It was much better earlier :/

It used to be beautiful earlier. Now its just boring UI. I have never seen any company fu*ked up the UI so much.

UI is disappointing now...was better previously...had tipped yesterday but the article just came too late at WPC

What's with all the black and white UI ? Did they just now learn how to code and design ?

The OLD UI looks way better!! This looks like DOS OS...

My first app looked better than this. What was the necessity to change the UI. If you can't make it better, then dont bother.

Read the app description in the store.... It is kinda funny...... Optimus prime.......LOL