People Can Fly is now independent from Epic Games, acquires Bulletstorm rights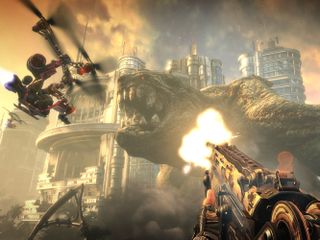 People Can Fly, the Poland-based developer which was acquired by Epic Games in 2012 and renamed Epic Games Poland, is now an independent studio once again under its original name. People Can Fly has also acquired the Bulletstorm game franchise, which it co-developed with Epic Games for Xbox 360, Windows PC, and PlayStation 3 platforms in 2011.
While now independent of Epic Games, People Can Fly is still working closely with the developer on its upcoming game Fortnite. People Can Fly is also working with Epic's Unreal Engine 4 on an unannounced game project. Indeed, the reason for the break up was because the Poland-based team wanted "to create their own games, a move Epic supports."
Formed in 2002, People Can Fly's first game was the original entry in the Painkiller first person shooter series that was released in 2004. People Can Fly first started working with Epic on the PC port of the original Gears of War game, and also worked with Epic on Gears of War 2 for the Xbox 360. After Bulletstorm was released in 2011, People Can Fly was fully acquired by Epic and handled the majority of development for Gears of War Judgement, also for the Xbox 360, in 2013.
Source: People Can Fly
Windows Central Newsletter
Get the best of Windows Central in your inbox, every day!
Need Bulletstorm 2. The game was short, but I had so much fun playing it. In fact, may have to load it up today!

Quite the underrated game. I played it through along with it's DLC on the 360; a rather satisfyling completion (1250gs). On the PC I completed the single player campaign and associated achievements, but never got around to getting the DLC, nor knocking out 3 co-op achievements. I would be all for a sequel - more environmental, leash and weapon skillshots!

You are damn right! That game was a lot of fun!. I had lost hope to see Bulletstorm 2 but this is great news!

Loved bulletstorm. It was the new age duke nukem imo. I would love a sequel.

Bulletstorm 2, MAKE. IT. HAPPEN.

I don't know how I feel about People Can Fly... Bulletstorm was fun but it was short, and replaying it got old quickly. There are only so many times you can hear the same dick-jokes before tiring of it. Also, they kind of ruined Gears of War with their work on Judgment. It was too different, and there were significant discrepancies between multiplayer and campaign that just made the whole game feel disjointed and not like Gears.

If only they'd left Horde mode in Judgment... I liked the short arcade-style levels of the campaign.

Bulletstorm was so outlandish and awesome that I had more fun with that than Gears. Bulletstorm 2 please.

I really enjoyed Bulletstorm. I didn't buy it right away, because it got mediocre reviews, but when I did get around to buying it for $12 from Gamely, I couldn't put it down for a couple of weeks. Fun game, with a cool mechanic.

Excellent. Glad to see People Can Fly wants to continue forging their own path. Between them and CD Projekt, Poland is well set for the future of gaming. Hell yeah.

Yessss YEEEEESSSSS! I am so happy to hear this. I read somewhere they wanted to make Bulletstorm 2 but the project was halted because GoW Judgement (and not so good sales of BS) I really hope they make the sequel because I want to save Ishi!

Do Epic actually make games any more?