Beta Testers Wanted: People Search for Windows Phone (Updated)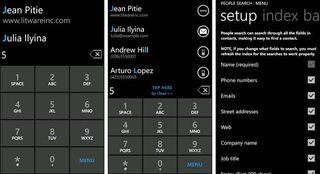 Ronny Gydar and Gydar Industries (opens in new tab), the developer behind the fantastic Windows Phone Game Trine's Hangman, is working on a new Windows Phone project. Nope, the new app isn't another word puzzle game but a contacts search engine for your Windows Phone. What started out as a project to help his mom with her Windows Phone has become People Search (Finn Folk for those in Norway).
People Search is designed to make the process of searching for contacts and contacting them with your Windows Phone a little easier. People Search indexes all your contacts by user selected fields (name, phone numbers, email addresses, etc.) and as you dial the number, name, email, etc. a list of contacts is generated above the dial pad. People Search reminds me of the old Windows Mobile type that would pull up a list of contacts as you began to dial out the number.
As you see the contacts and tap on the contact of choice, you will see options to call, text, email, and other options depending on how much information you have on that particular contact. People Search looks like it could be a useful app but Gydar Industries needs your help to iron out all the kinks.
Gydar is looking for Beta testers for People Search and if you're interested, head over to Gydar's website and use this contact page (opens in new tab). You'll need to provide them with your Live ID and the Beta is limited to 100 participants.
Got questions? There's a discussion going on over here (opens in new tab) in the WPCentral Forums about the Beta and the head honcho himself, Ronny Gydar, checks in on things regularly. People Search looks interesting and we'll keep you posted on its progress.
Update: Well that didn't take long. We just received word that Gydar Industries just received their 100th request. Unfortunately that closes the Beta to new users but you can always chime in over in the Forums and follow the Beta progress.
Windows Central Newsletter
Get the best of Windows Central in in your inbox, every day!
George is the Reviews Editor at Windows Central, concentrating on Windows 10 PC and Mobile apps. He's been a supporter of the platform since the days of Windows CE and uses his current Windows 10 Mobile phone daily to keep up with life and enjoy a game during down time.
Looks really good, but would love it if it were integrated with the actual OS than being an app, just makes the easy more complicating.

This guy is a quality developer. We need a very good dialer replacement like this with many features that makes these things easier. This is one of the only complaints I ever hear from anybody is calling is not easy enough (without voice dialing).

Having to have things in your history is also not what should be relied upon either.

SHOULD NOT HAVE BEEN A NEED FOR THIS APP
I totally agree that such an app should not have been needed, and the dialer should have had this built in. If Microsoft just add what they had in the dialer in Windows Mobile I would have been happy. I have a couple of people from the Windows phone team from Microsoft Norway that have confirmed that they want to participate in the BETA. Hopefully they too will make some hints to "HQ" about this being a functionality that Apollo should add. And for all we know, Microsoft might already have this in their road map...I certainly hope so. Since this really is something I keep hearing from people with WP7. They all love their phone...but many keep adding a sentence about "it is a pain to call with it though". Until then, I had to make this anyway, to stop my mum from turning back to her old phone, saving Windows Phone one user at a time here :)

THERE ARE SIMILAR TYPE APPS "OUT THERE"
There are several smart dialer apps out there, and some of them are really good, so I do not pretend to have invited something new here. I just could not find the things I was looking for, I needed something that quite litterally "my mum could use". So it had to first and foremost be super easy to use, and for my own part, I wanted it to be possible for it to search "smart dial style" in ANY field, since I typically have little tags in the notes and other fields on a contact, that are useful for finding the person later. Blame it on my horrible memory. Voice dial might work fantastic for all I know, but that is not even an option here in Norway. And to those that think such an app us useless, that is of course your prerogative to mean that. But there is no "requirement to use this app", it is just another option, and option is good, right? :) I am the developer BTW, if that wasn't obvious

There is a very good app I'd recommend you to have a look at, called Rapdialer. It's really powerful, and i think it does allow you to search contacts by some of their details(I believe it's company names).

Just an FYI. The People Hub (post Mango) already searches by Company. But adding additional search fields would be welcome.

We are right now at 78 people, so only 22 more slots.
And this limit of 100 is not something I made up, that is a physical limit in the BETA-solution Microsoft provide in Marketplace

BTW
My confirmation mail bounced for one person, so the person with "godyr" in his/hers LiveID, please contact me with a mail address that works, so that I can send you the BETA-link by mail.
I expect to send it tomorrow, as soon as the BETA-link is working, awaiting Microsofts system to "do its thing".

92 people now...only 8 slots left...man...I didn't think about the work it will take just answering mails :D

A person from the WP7 team behind the WP7-experience (including the dialer in WP) is in the BETA now, so Microsoft is certainly listening to input :)

BTW...just 4 slots left


******************************
THE BETA IS NOW FULL
******************************

Ronny, let me just say, do not listen to any idiot who declares your app useless. Most of us with half a brain can figure out why this is anything but useless. Even though you are doing this for your mom, many of us will appreciate your efforts just as much. There are still many features (some large, some small) that are missing or lacking yet in WP. I for one would rather have good quality apps to choose from to do these tasks in the meantime rather than wait and pray Microsoft gets it to us whenever the next update comes. Most people I convince to try the platform don't really care if a feature is actually fully integrated (as nice as it would be!). They just care that the feature is there and useable. So let me just thank you for adding to the experience.

Just please don't put any load screen on it AT ALL

I don't understand how this app is different than searching the People section. Is it just that it allows you to search right from the dialer?

Nevermind, I get it. It allows you to search more than just by name, which is really handy and should have definitely been possible without this app.

There is a couple of key things it does differently
"DIAL SEARCH"
Same as in old Windows Mobile, you search with a smart dial search. Meaning that when you press the large "2"-digit, you actually are saying "please show everyone with "2" in their number, AND you are also saying "and everyone with A, or B or C or Å, ++"
Advantage is fewer buttons on the search key pad, meaning large key pad, meaning easier to type without focusing so much on hitting the right place.
My mum have arthritis so for her, a big keyboard is a huge help...but it feels so much more natural too me too, I can tap more or less without even looking at the screen.

"ANY FIELD"
It searches (user can chose less or more fields in options) all fields on a contact. So if I don't remember the name...but I remember something else about the contact...you can find them by text in the notes field, or in the address, the company name so forth. People search name and company I think, which might be good enough for some, not for others.

"CLEANER"
The dialer in WP7 is super clean, and that is the level I want to aim, since my mum is not confused by the dialer, but there she can't search. She will have to pop into People hub (which is easily reachable from dialer, but still)...and then my mum just starts getting confused.
I am able to use People of course...but it still just ain't as easy as it was in old Windows Mobile, where calling was the simplest thing in the world. Problem with Windows Mobile, was that everything else was a pain though :)

"MORE ACTIONS AVAILABLE WHEN I GOT MY CONTACT"
When you have tapped 3-4 times and your contact is at top, you want to be able to call them, text, mail, and of course see all their contact info.
But why can't I tap an address on the contact and get it up in bing maps, and with driving instructions from where I am right now, so forth.
And forwarding a persons contact info.

So yes, you can do everything my app does in WP7, I am not inventing anything here. Just tries to pile it together in a way that is easier (I think, such things are of course a bit subjective).

But first and foremost, I wanted to stop my mum from turning back to her old Motorola phone :)

There are many dialers in the Marketplace. All of them are limited by the same OS restriction: cannot access inbound call history. But still I prefer 7Dialer


Absolutely, I have also mentioned that a couple of places myself. I am not trying to give the impression I am doing something totaly new here. Just a slightly different approach. Some may like it, some might not.

And yes, there is not just one, but MANY restrictions for us 3. party developers.

NO ACCESS TO CALL/MESSAGE HISTORY (or even open it from my app)
We can not access the call/message history, and that is a pain. So I can only show history for people you have done something against from within the app.

CAN'T EDIT (or even open contact directly in People Hub)
I can not let the user EDIT the contact data. Big pain really, since it is when I use People search I see I have lots of errors in my contact data, it just makes it easier to see. And then it is super annoying to go out of the app into People and find that contact to correct it.

LIMITED ACCESS TO FACEBOOK CONTACT INFO
For Facebook contacts I can only see photo and name, the rest is not visible to 3. party apps (just Facebook info though).

BACKGROUND CHALLENGES
I can not make a 100% safe way to do the indexing of the data in the background. I have two options, the first allows me to run in background for up to 25 seconds at a time...from my estimate I would be able to index 3-5000 contacts in a 25 seconds timeslot. Hard to say before we have tested it though.
If the user has so many contacts that it takes more than 25 seconds to refresh the index, I will need to use a different backround task-thingy...but that one will only run if the user is charging the phone, AND the phone has 90% battery or more AND is on WiFi...even though my app do not need Wifi at that stage. So some users who do not use Wifi will not get it working there either. End story is that all those limitations make it very hard for a developer to make a solution that "just works" without a whole bunch of "excuses" in the app.

I am a super happy developer, and even hope to live of this at some stage (I have a real job now), so don't take this as an "angry guy putting Microsofts API down". WP is improving for each update, so I will just adjust to whats possible, and do my best with what I got.

But in short, the best to fix this kind of app, is Microsoft. They can easily make this kind of stuff, and make it fast and super smooth...and with zero limitations.

And I am sure they will at some stage We now even got one of the leads in the Microsoft Phone team in the BETA, so they are surely thinking about improving stuff all the time. :)


There are 2 issues that developers are facing when creating a smart dialer app; they don't have access to link the People Hub, and no links to call history. If these were open then it seems so simple. I have been waiting since day one for windows phone release to get this feature natively.. I'm currently using rapdialer for smart dialing and the original dialer just to look at my call history. I shouldn't need 2 dialers :|

Totally agree, and as I see it, this should be possible for Microsoft to open up in their API's without concerns for "safety" (apps abusing user data).
A huge help for my app (and other dialer apps) would just be able to let me open a contact directly in People hub and then the user have access to editing++ the contact there.

And then do the same with call log, my app do not need to access the call log (great if I can, since I then can do more cool stuff for the user), since just making it possible for me to open the call log directly from my app...again a huge useability benefit for my app...if I could do it.

And you just mentioned another "irritation" that all 3. party dialers (including mine) have, namely that it is impossible for such apps to show "number of lost calls" on the tile. So yes, until Microsoft build a better dialer into the OS, the users will have to have two tiles on start.
One for the default dialer, just for the purpose of seing lost calls...which is crititcal for a user of course.
And one for a 3.party app for "making calls" easily

Rapdialer is a great smart dialing app btw, with lots of advanced features. It just was a bit to "complex"/confusing for my mum though.
..but that is not the fault of the developer, it just is practically impossible to give both "lots of advanced features" and at the same time make it "so easy your mum can use it", at some point you will have to decide where your app is supposed to focus. My app is not aimed at the "advanced dialer group", more for the "I just wish calling was easier/faster"-group :)

I had planned to send out the BETA-link today...but it seems the Microsoft-BETA-system is having some hiccups? Since the BETA-link still is not working, and normally the links becomes functional within 12-24 hours....now it is getting close to 48 hours here.
If it still is not working when I get home today, I will send in the BETA to Microsoft again. Might just have been that the system had a "hiccup" when I sent in this BETA. Have seen same issue one time before (that a BETA-link never became "workable").

Windows Central Newsletter
Thank you for signing up to Windows Central. You will receive a verification email shortly.
There was a problem. Please refresh the page and try again.