Pepper for Windows Phone receives massive update; now available in the US!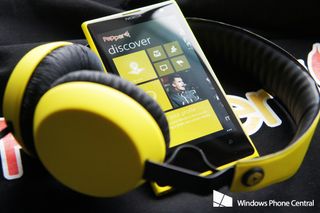 Pepper, the cross-platform music discovery service, has been available on Windows Phone and Windows 8 for some time, but the service itself has been restricted to just the UK. This is because the team behind Pepper are building more than just an 'app' – development time has been invested in creating services and tools for the live music industry, ensuring that the content provided is more detailed and accurate than standard event listing services. Folk in the US have been crying out for localised support and we've got some great news for you – Pepper is now available in not only the UK, but the US too.
Whether you're an avid music fan attending every local gig advertised or someone who enjoys discovering new talent with friends, Pepper is a service worth checking out. The Windows Phone app enables you to check out local venues in supported areas, seeing what's on the calendar, not to mention checking-in, sharing the experience and more. It's quite the companion for live music lovers.
So what exactly is included in this massive update? Clearly the largest addition to Pepper 1.7.5.190 is the US support. But that's not all. Not only are we sharing the music service across the pond, there's now support for Live Tiles, options to manage local storage (to view how much data is stored on the phone and clear local files to make space), as well as integration with Windows Phone Battery Saver Mode (meaning less communications/GPS etc. when the battery is low). More on improvements and features later, let's get through the new US coverage.
Should you reside in the US, you're now able to not only download the app, but search a maximum of 200 kilometers when looking for nearby events. So that's all well and dandy for those who already have the app installed, but what about US coverage? The team has managed to pull off (with some help from the community) strong coverage in California, Massachusetts, Florida, Georgia, Illinois, Louisiana, Michigan, New York, North Carolina, Ohio, Pennsylvania, Texas and Washington.
That's not to say you won't be able to use Pepper in other states, but the listings will be more focused around touring artists, as opposed to local events. This will improve over time as more venues are supported with even more events populating the database.
If the features above and added US support weren't enough, there are some fixes also included in 1.7.5.190:
Artist & venues profiles download more events (if any exist) once at the bottom of the list (previously only showed first 20 events)
Search results and Favourites now show the venue images correctly
Venue images weren't being shown in lists (such as search results)
Better testing for valid URLs in profile pages – used for artist/venue Facebook links etc.
Favourites – Venues & Promoters now have scroll bars when the list is long enough
Activity (both panorama & full page) – downloading items now shows the 'strapline' once downloaded.
Removed the text trimming from the query title of a search result – allows a few extra characters instead of cutting off a whole word
Bugs fixed when storing friend's photo albums, and some synchronisation issues with the database
Improved memory management with the communications to Pepper servers
Adding an event to the phone's calendar works again.
Viewing a photo also works again
More efficient search system, enhanced SoundCloud connectivity and integration with TicketLine (another UK ticket provider)
Living in the US? Download Pepper from the Windows Phone Store today for free (UK + US only – Windows Phone 7 support has been temporarily pulled) and get giggin'!
Be sure to also check out the companion Windows 8 app. If you wish to keep up-to-date with latest news, tours, events and happenings in the US, check out the Pepper Twitter account for the region.
Get the Windows Central Newsletter
All the latest news, reviews, and guides for Windows and Xbox diehards.
Rich Edmonds was formerly a Senior Editor of PC hardware at Windows Central, covering everything related to PC components and NAS. He's been involved in technology for more than a decade and knows a thing or two about the magic inside a PC chassis. You can follow him on Twitter at @RichEdmonds.
Didn't Jay talk about this a couple of podcasts ago?

Jay talked about it. Now Rich id writing about it. Now we've received the completed story

Crashes whenever I try to scan my area. :(

What area are you in, any chance of getting me your lat/long - also, have you tried typing the town name to see if that works. Feel free to send feedback in the settings of the app, we can communicate over email to get your issue resolved if need be

Does the same here too in UK. Sometimes says location services are disabled, when they aren't, but otherwise gets to step 3 then closes the app

Location disabled message, I'm aware of, just that the phone hasn't got its position yet - next update should fix that. Closing the app on step 3 is unusual, did you upgrade, or new user? Might find that clearing the database (settings, storage) will resolve the problem. Otherwise, it might be a bogus event that has a piece of data incorrect - does a different town out of your search radius have the same problem?

aww yeah method man at the Yost theatre. thanks Pepper!

Crash on location, crash on search for gigs, crash on add profile.
Not ready for active service!

Lets hope by U.S. they finally mean the whole U.S., and not the U.S. that U.S. companies conveniently select, such as the 48 contiguous states, or the English-speaking U.S... ... ...

Any particular areas that you have in mind? If they aren't in our current list, I'll certainly get them added

Well, ar least, Alaska, Hawaii, Puerto Rico, Washington DC, US, Virgin Islands... All the territory governed by the same president. Thanks for replying.

This service needs to come to Australia.

Both the WP and W8 app are quite buggy, but they do look nice.

So, when I click on here and now it crashes but if I go to search and put my settings in and then pulls up fine. Has anyone else tried that to see if that crashes too?

Can i ask if you are in the UK, or US - also which town?

I'm in UK, near Darlington.
Seem to have a number of different ways to achieve crashing at the moment.
Love the concept & look but for me unusable just now.

Does anyone know what headphones those are? edit: Found them. They're Coloud Booms for anyone else that is wondering.

I'm really liking the concept of the app. I am having a few issues, though. Like with others, "here & now" crashes the app on step 3. I can, however, do a search locally and it works. Also, it will not retain my profile picture. It persists for the session, but when I close and then later reopen the app, I no longer have a picture set. I am looking forward to using this, though. Hopefully I can get friends to jump on board!

I can confirm that there was a server side bug which was stopping the profile pictures from working correctly (not sure where that slipped in) - however, all fixed and your picture should be there. We are stuggling to replicate the crash on step 3 of the search, but we are working on it...once ew can replicate, we will fix it :)

Thanks for the response, Dave! I've responded to your email with all of the information you were looking for. I hope it helps!